Last year, we talked about Lauren Graham's beautiful Lab/Shepherd/Rottweiler rescue pup. Lauren fell in love with Mochi after seeing her online while working on The Mighty Ducks: Game Changers in Vancouver. She drove to Washington state to adopt her. Mochi ended up having several issues that required multiple surgeries. To help her fully recover, Lauren found a woman named Anita just outside Vancouver who help with Mochi's rehab. The lady had a nice big farm that Mochi could stay on during the week to maintain her therapy schedule while Lauren was filming. The good news is, Mochi got better, and she fell in love – with Anita's dog. So in love that she couldn't bear to be away from her. So Lauren let Mochi go live with her new love.
During a new episode of The Ellen DeGeneres Show, airing Thursday, Lauren Graham revealed that her puppy Mochi, who she rescued last year, is now living on a farm outside of Vancouver after falling in love with another dog.

The Gilmore Girls star, 54, told host Ellen DeGeneres that it has been "quite a saga" since she adopted the "beautiful puppy" as it turned out the dog had "a lot of medical issues and needed quite a few surgeries."

Graham said her dog began working with a "wonderful rehab lady" named Anita outside of Vancouver while the actress was filming The Mighty Ducks: Game Changers.

"[Mochi] required a lot of massage and therapy so she would stay with her while I was working," Graham explained.

"Over time it became clear that not only was she very happy on this farm with Anita but she fell in love with another woman," the actress revealed, clarifying that the woman was a dog.

Graham said that Mochi missed the other dog "to the degree that she would come back to me on the weekends and cry."

"They really became companions and partners, so she was better off there in addition to living with Anita who would just take better care of her needs," the actress continued. "So it worked out great but wow, it was quite a year. A happy ending."
I have no idea how Lauren's choice will go down here but I have to back her. It happened both ways to me. I had a cat choose my parents over me when he turned 15. I had another cat abandon my neighbor because she loved my cats. I've told you before I had to stop fostering dogs because my dog Truman could not handle it when the fosters got adopted. As Lauren described, he'd become so depressed, I couldn't take it. So we adopted his sister and found other ways to volunteer. Mochi has a story as a rescue, all rescues do. There may be a reason she needs to bond with another pup. Lauren lives in LA so if I was Mochi, I'd pitch a fit just for the chance to stay in the Vancouver area, I love it up there. It sounds like Mochi's needs extend past her heartstrings, though, with all of her medical issues. I think this was the right choice for her. But I'm sure it was very hard for Lauren. At least she can go see Mochi when she's working. Aw, my heart goes out to Lauren on this.
Mochi's absence wasn't the only change Lauren had to come home to. Her boyfriend, Peter Krause, made some domestic changes as well. Quarantine prevented Lauren from flying back home while filming in Canada, so Peter and his son, Roman, did things their own way back in LA. That included devoting a section of their home to stockpiling items and referring to it as COVID Corner. Apparently he's so proud of his supply center, he shows it off to guests. Maybe Lauren can move COVID Corner somewhere her neighbor and former Parenthood sibling, Dax Shepard, can see it. She said Dax has a massive tour bus parked in his front yard.
You probably shouldn't gnaw on your face covering, as Mochi enjoys doing, but wearing one is a great thing to do. I'd say it was about 50/50 on our walks today.
Stay safe, LA!

— Lauren Graham (@thelaurengraham) May 2, 2020
#mood 🙃 pic.twitter.com/bzrunuxpso

— Lauren Graham (@thelaurengraham) March 13, 2020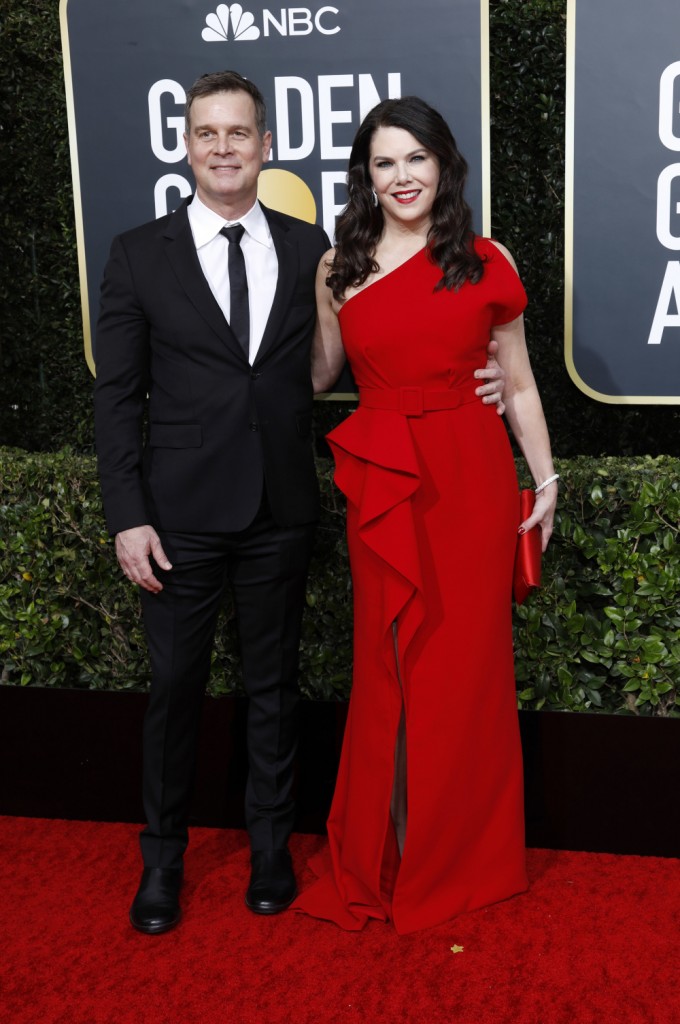 Photo credit: Getty Images, Twitter and Avalon