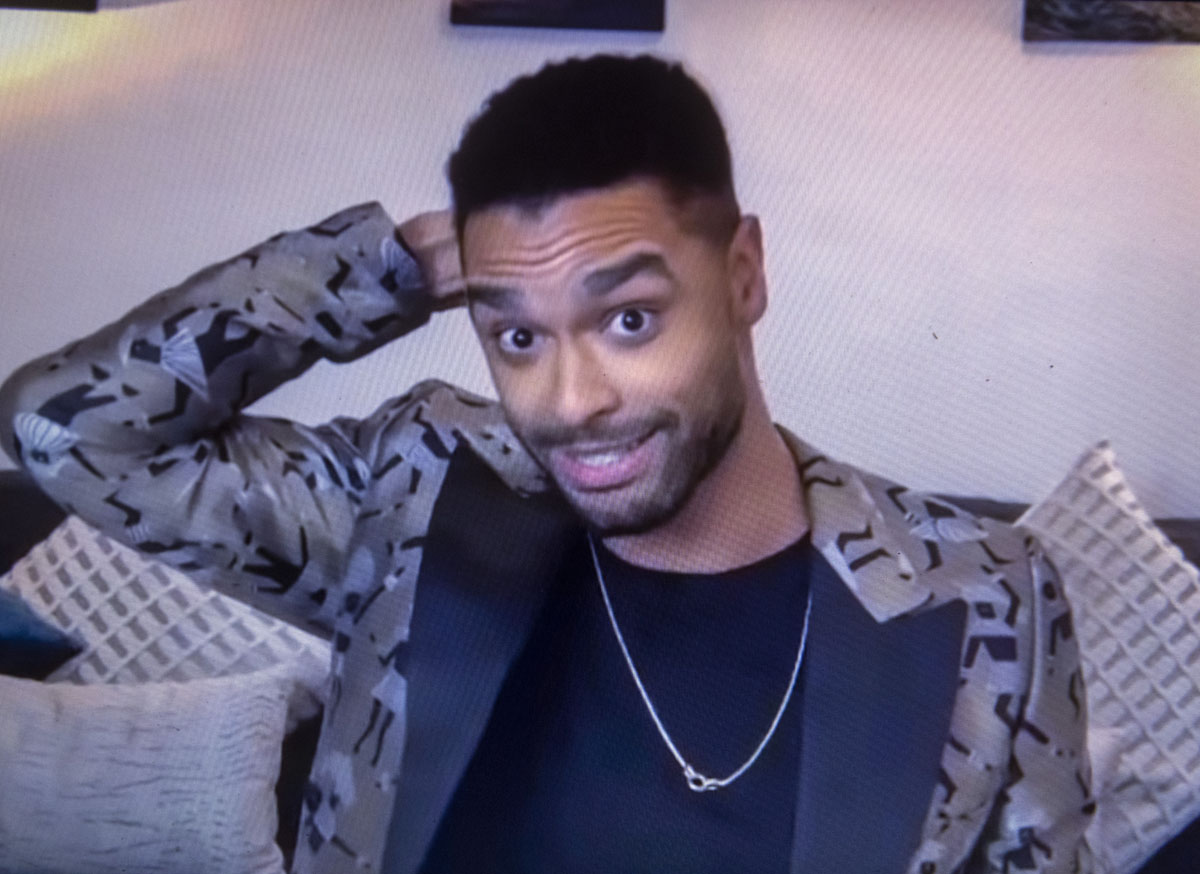 Just as we are getting over the fact that Rege-Jean Page is not returning for Season 2 of Bridgerton, we find out we were robbed of Rege-Jean's presence on an earlier show for SyFy. But before I get to that, Rege-Jean reportedly turned down a $50,000 an episode pay day for Bridgerton because he already signed onto several other projects. Shortly after that revelation we also discovered that Rege was rejected by the beastly Geoff Johns, the former co-chairman of DC Films. Rege was not hired to play Superman's grandfather for SyFy's Krypton because, you know, racism. Supposedly Geoff believed that Superman could not have had a Black grandfather because Henry Cavill looks white. *Stares in Meghan Markle* What's even more ridiculous about this revelation is that Geoff allegedly believed that fans were looking for someone who looked sort of like Henry Cavill. Cameron Cuffe, the actor they went with, looks absolutely nothing like Cavill. EW reports what Rege had to say about the incident:
On Tuesday, The Hollywood Reporter reported that Page had auditioned for the DC Comics TV role because the creators wanted nontraditional casting for the character. But multiple sources alleged to THR that Geoff Johns, the former co-chairman of DC Films who was overseeing the series, rejected the idea because Superman could not have a Black grandfather. Reps for Johns told THR that the longtime DC comics writer believed fans expected the character to look like a young Man of Steel star Henry Cavill.

"Hearing about these conversations hurts no less now than it did back then," Page wrote on Twitter on Wednesday. "The clarifications almost hurt more tbh. Still just doing my thing. Still we do the work. We still fly."

And flying he is, as it was just announced that Page will not be returning for Bridgerton season 2. "Pleasure and a privilege! An honour to be a member of the family — on and off screen, cast, crew and incredible fans — the love is real and will just keep growing," Page wrote on Twitter after his exit was announced. The actor, who recently made his debut as an SNL host, will next be seen in Netflix's highly anticipated action movie The Gray Man.
I actually watched Krypton and like the show despite feeling the main actor was lackluster. Now you are telling me that dude could have been Rege-Jean "the god" Page? We were ROBBED I tell you. Robbed. I honestly believed that if Rege-Jean was cast as Seyg-El, Superman's grandfather, the show would have gotten more than two seasons. What is even more infuriating about this situation is that Seyg-El's love interest in the show IS a biracial woman. I am not sure if she is the person that Seyg-El ends up with in the long run because the show ended, but please make it make sense. I swear the people in Hollywood casting are clueless. Also, Mr. Johns should know that having a Black grandparent doesn't mean that you will turn out looking like Daniel Kaluuya and you most definitely can end up with Henry Cavill's phenotype. Krypton was set 200 years before Superman so Superman having a Black grandfather is not unreasonable.
It seems that Geoff Johns is known for creating inhospitable environments for Black actors so this isn't new. Between Joss Whedon and Geoff Johns, DC Films has a problem on its hands. And if DC Films really want to compete against Marvel and Disney, they will need to clean house and get better creators with vision, who can bring the comics to life. From this point on, Geoff will be known as the monster who robbed the world of Rege-Jean Page's beauty and excellence and I will never forgive him for that.
Hearing about these conversations hurts no less now than it did back then. The clarifications almost hurt more tbh.

Still just doing my thing.

Still we do the work.

We still fly.

👊🏽

— Regé-Jean Page (@regejean) April 7, 2021
Photos via Instagram, Avalon.red