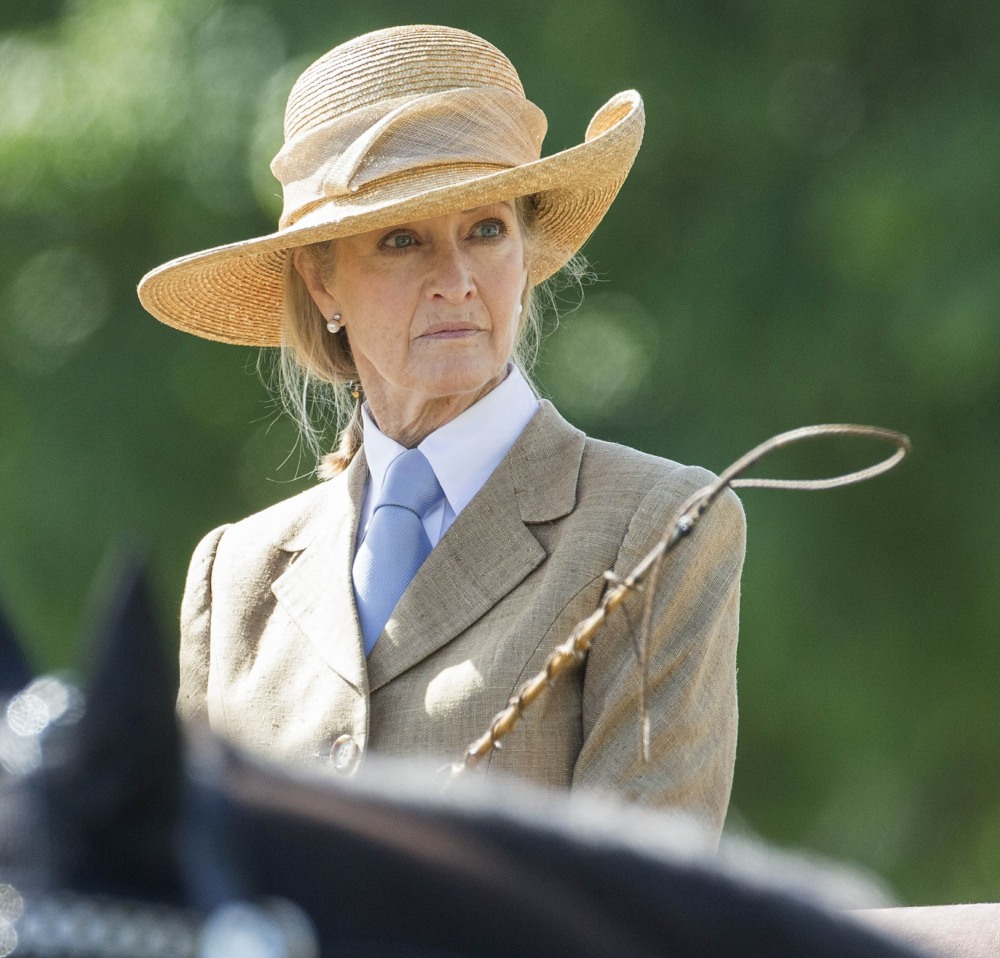 I've seen some young commenters claim that because there was no solid proof that Prince Philip was a serial adulterer, then it never happened. Yeah, that's not the way it worked. Philip was from a generation where discretion was paramount. Just because he didn't flaunt his affairs doesn't mean he didn't have mistresses all over the place. And hell, he wasn't even *that* discreet, it's just that most of his torrid affairs happened during a time when the British press thought it was their duty to avoid covering it. In later life, Philip had several younger companions, and many of those companions were friendly with the Queen as well, because that's how these people operate. No one was closer to Philip in his later years than Penelope "Penny" Knatchbull, Countess Mountbatten of Burma. She practically moved into Wood Farm to spend time with Philip in his final years, although I do not know if she was allowed anywhere near Windsor Castle during the pandemic, which is where Philip had to stay. The Mail had a piece about Penny's private mourning:
As the Queen mourns her beloved husband, one of Prince Philip's closest friends and confidantes, Penny Brabourne, Countess Mountbatten of Burma, is also grieving. The Countess was a regular visitor at Wood Farm, the cottage on the edge of the Sandringham Estate in Norfolk where the Prince spent much of his time after retiring from public life in August 2017.

The pair were firm friends for decades and shared a love for the exhilarating equestrian sport of carriage-driving. Indeed, the 67-year-old Countess enjoyed such a close bond with the Queen and Philip that Palace staff reportedly nicknamed her 'and also', because no guest list was considered complete without her.

The only daughter of butcher-turned-businessman Reginald Eastwood, she was propelled into the Royal Family through her marriage to Norton Knatchbull, 3rd Earl Mountbatten of Burma. The Earl was a close friend of Prince Charles – the pair attended Gordonstoun together and Charles was Norton's best man when he married Penny in 1979. The wedding was delayed for eight weeks because five months earlier, IRA bombers blew up a small boat in the sea off Mullaghmore, County Sligo, killing Norton's grandfather, Lord Mountbatten. Norton's 14-year-old younger brother, Nicholas, his paternal grandmother the Dowager Lady Brabourne, and a local boy who was with the family, also died in the terror attack.

Penny is understood to have formed a close friendship with the Queen and Prince Philip after her daughter Leonora contracted liver cancer and died aged five in 1991. Philip taught the Countess carriage-driving in 1994 and she became his regular companion for the sport. Royal insiders say her enthusiasm for carriage-driving is one of the reasons he continued to take the reins into his late 90s. He was pictured carriage-driving in the grounds of Windsor Castle as recently as 2019.

The Countess's loss of her daughter was not the only turmoil she endured. In 2010, Lord Brabourne abandoned her and started a new life with another woman in the Bahamas. The affair fizzled out, however, and he returned in 2014 to Broadlands, the home he shares with the Countess. The 60-room Palladian mansion in Hampshire is where the Queen and Philip spent part of their honeymoon. Members of the Royal Family, the Queen in particular, were reportedly full of admiration for the way the Countess insisted that life on the historic estate must go on as normal after her husband's affair.
Even though Penny and Philip were not related, there is an incestuous vibe to all of this with the Mountbatten connections and I'm not going to bother to untangle it. All I know is that Penny and Philip were very close for decades and the Queen knew and she was fine with it. It would not surprise me at all if Penelope was one of the first people to know about Philip's passing, nor would it surprise me to learn that someone might have arranged for Penelope to say goodbye to him in person. I wonder if she'll be invited to the funeral. Whew.
PS… This Mail story was a prime example of the British media's flair for euphemisms and coded language.
Photos courtesy of Getty, Avalon Red and WENN.