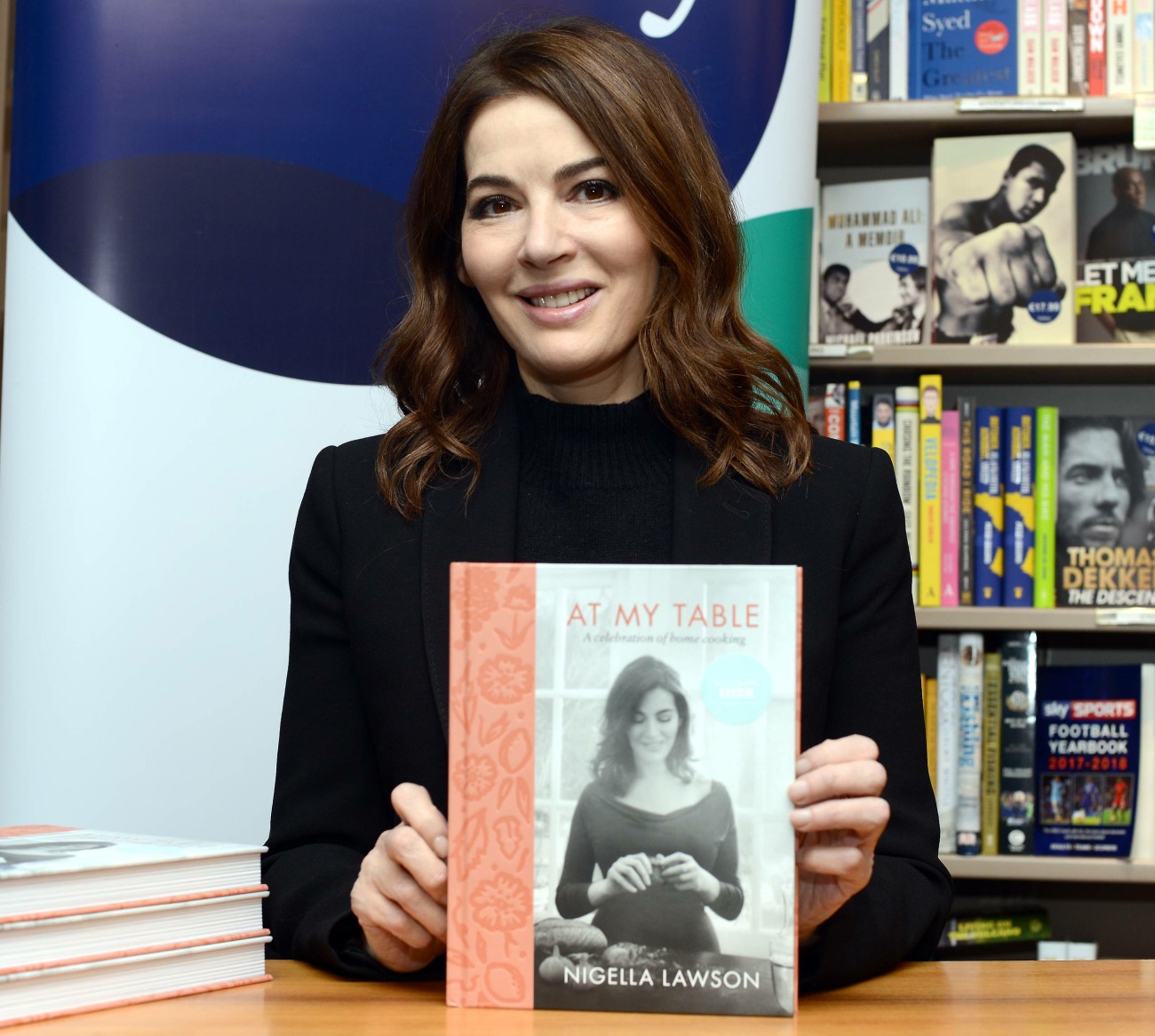 Last summer, Nigella Lawson said words about the pandemic and how she was too distracted to cook in the early weeks of lockdown. It made me feel better, like I wasn't terrible for being too unfocused to cook for twenty minutes at a time. Nigella's two children are all grown up (Cosima is 27, Bruno is 24) and out of the house, and Nigella divorced Charles Saatchi years ago, so she spent the pandemic year alone in her house. I guess she got out of the "too distracted to cook" thing, because now she says she wrote her new cookbook entirely in lockdown, and she says that she actually enjoyed having a quiet house all to herself. She spent the pandemic year wearing sacks, eating chocolate in bed and trying out recipes for one. It sounds blissful.
Life at 61: She rarely wears makeup and sticks to a "baggy black thing" wardrobe, prefers "lounging about flat out" to sitting, eats chocolate in bed—and makes sure to revel in it all. "I feel that you get to a certain age, and your desire for comfort is so much greater than your vanity."

Her mother Vanessa Salmon: "Diagnosed with terminal cancer two weeks before her death [at age 48], she started eating—for the first time, she said giddily—without worry or guilt," Lawson writes in her 12th cookbook, Cook, Eat, Repeat, out April 20. "How unbearably sad."

Losing her first husband & her sister far too young: "A loss doesn't magically go away. The wound is always there, but it's not as raw. And it is not linear—you go up and down; some years can be harder. You don't know why it is that you can be plunged into lowness or why some things don't upset you."

The fragility of life during the current pandemic. "I'm my children's only parent. I wasn't going to risk anything." So she spent much of it alone (Lawson split from her second husband, Charles Saatchi, in a very public divorce in 2013), writing her book and cooking for one.

She loves solitude: "I've grown to love solitude, which was just as well since I've been plunged into it. I'm not a huge drinker, but I did take up drinking more during lockdown: Campari sodas. I don't have one every day anymore, but I did for a couple of months. I'd think, 'What potato chips am I going to have with my Campari soda?' I put them in a bowl, like my grandmother did, and I rather like that ceremony."

Vaccinated & true to herself: Lawson is now happily vaccinated but has still been in "semi-lockdown" in her London home due to restrictions in Britain, and says she's found comfort in finally being her true self. "A lot of people in my family have died of cancer, and I don't think you can witness that and equate thinness with health. It's quite alarming. I don't focus on what people say about me, even when I'm filming. I occasionally think, 'Oh, why didn't I hold my tummy in?' but it doesn't last because I was trying to be something other than I am, which would make me feel even more uncomfortable. The shape of your body, that's where the flesh settles, isn't it? You can't do an awful lot about that."
I wish Nigella's cooking show had been more of a thing here in America – I used to catch the reruns on The Cooking Channel and I always found her so soothing. But that's me – I watch cooking shows to relax and decompress, and Nigella's soft accent and ability to whip up extravagant chocolate desserts soothed me. I love the story about drinking alone and putting her potato chips into a fancy bowl, why not?? And this it really important: "A lot of people in my family have died of cancer, and I don't think you can witness that and equate thinness with health. It's quite alarming." Thank you.
Photos courtesy of Avalon Red.