Kourtney Kardashian and Travis Barker hit two major Kardashian relationship milestones this month. The first was the Overt Show of Devotion. For Kourtney's 42nd birthday, Travis sent a floral monument, the Kardashian's favorite ostentatious gift. The second milestone came the following day when Travis posted a practically NSFW IG post, declaring "I F****** LOVE YOU!" I should probably also list Travis inking Kourtney's name on his person but you can barely see it among his other tattoos, so he only gets half credit for that. Naturally, with things advancing to such a degree, all eyes are on Kourtney's ex, Scott Disick, and how he's handling her blossoming romance. Supposedly, not well. One of the Kardashian sources, who's name likely rhymes with Bris, told People that Scott is jealous of Kourt and Travis' relationship. Apparently, he's always anxious of Kourt's guys, but since things are so serious with Travis, this one's got Scott upset. Oh noes!
Scott Disick has not had an easy time seeing ex Kourtney Kardashian move on with boyfriend Travis Barker.

A source tells PEOPLE that while Disick, 37, "has struggled" and "has been jealous" of Kardashian's past romances, he recognizes a difference in her flourishing bond with Barker, 45, compared to her previous relationships.

"With Travis, he is struggling even more. Before Travis, Kourtney's relationships were never serious. It was more like flings. With Travis, it's different," the insider says.

"Scott was pretty shocked when he found out that they are dating, and he can tell that they have moved very quickly," the source continues. "His kids love Travis, which is also hard for Scott. Kourtney and Travis are like a family with the kids. Scott is having a hard time with this situation
Where to begin? I guess let's start with who isn't mentioned here, poor Amelia Hamlin, Scott's 19-year-old flame that he's allegedly getting serious about. If he's so "into her" as he's been leaking to the press, surely Kourtney's relationship wouldn't be an issue. I suspect much of Scott's envy is being used for the Kourtney storyline they were trying to push for this year's KUWTK. Evidently Kourt spoke with some psychic who told her she was going to marry Scott and it seems like ever since then they keep pushing that storyline. But then Kourt and Travis happened. The story above broke right after clips of an upcoming episode has him admitting, "I feel like I just don't like seeing you with another guy." It's all very convenient. I don't doubt Scott is possessive, I'm sure his relationship with Kourtney is as dysfunctional as any other in that family. If he was in any way sincere, he wouldn't have let his little Disick make his decisions when they were together. Kourtney proved she was going to stay with him through quite a bit. Scott worked pretty hard to mess things up with her.
I also think that Scott is reading too much into Kourtney and Travis' relationship. I was surprised how shady the end quotes were on the birthday IG article. The source talked a lot about how Travis was thrilled to be with Kourtney but when it came to Kourtney, she was into the attention. The best the source could say was that she "still seems very happy with Travis," as if we should start the countdown clock now. So I think someone raced to People to push the "Scott's jealous" narrative while Kourtney was still playing the worshipped girlfriend of Travis. I do think the Disick kids enjoy the Barker family and I feel a little bad that this isn't going to play out the way they hope. Especially since it sounds like Travis' ex, Shanna Moakler, is trying to push the "I'm jealous" idea as well.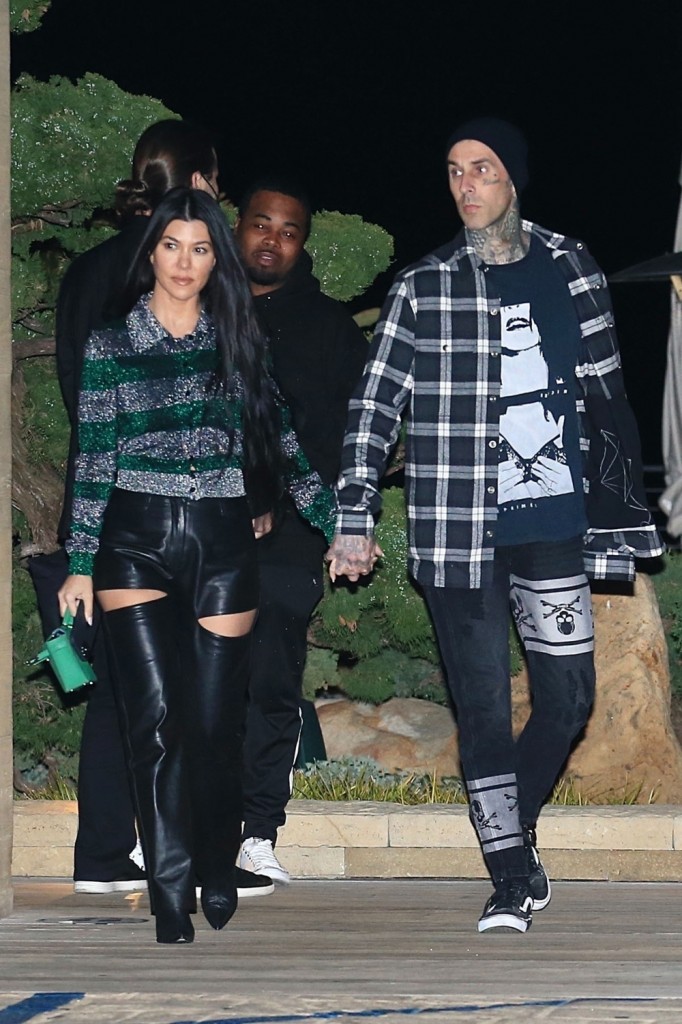 Photo credit: Instagram and Backgrid