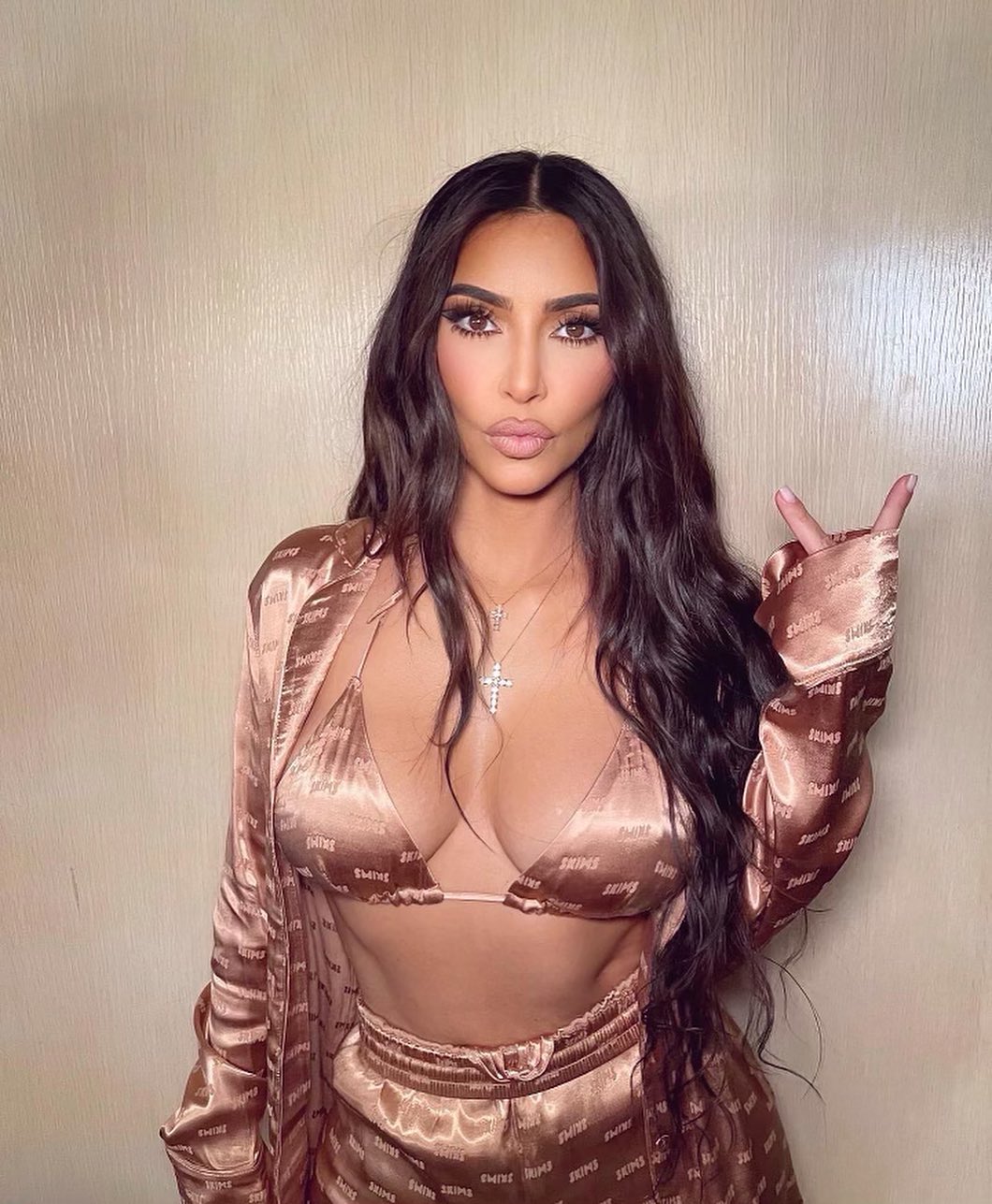 Kim K has been having an interesting few months. Kim filed for divorce in February from husband Kanye West. Then earlier this month Forbes announced that Kim had crossed the billionaire threshold. And it seems that great news keeps pouring in. In case you missed it, Kim has caught the Bridgerton bug like the rest of us. Kim has even been TikToking her reactions to each episode. So, having Nicola Coughlin reach out to Kim via Twitter most definitely brightened Kim's day. In Kim's and Nicola's Twitter exchange, Nicola shared that Kim and her sisters are the inspiration for Lady Whistledown and the Featherington sisters. Nicola also said that the same designer who made Kim's Met Gala corset, Mr. Pearl, also made Nicola's corset for Bridgerton. Below is more on the exchange via Huffington Post:
Coughlan, who plays Penelope Featherington on the hit Netflix series, tweeted on Tuesday that the Kardashians "were a massive inspiration for the Featheringtons" and a regular topic of conversation during fittings for the Regency-era drama.

She also claimed a link between her corset on the show and one made for Kardashian. "You've been part of the Bridgerton world for longer than you know," Coughlan wrote.

Kardashian was beyond happy at the news.

"I am freaking out!!!!!" she responded, to Coughlan's delight and astonishment, before asking if that made her "an honorary Duchess in Bridgerton."

"Why of course, Duchess Kardashian of Calabasas!" replied Coughlan, before jumping into character as her alter ego on the show: "Lady Whistledown is happy to declare you the season's true incomparable."
This is one of the cutest stories I have read this week. We definitely needed the levity. I follow Nicola on Twitter and she is so refreshing. I really enjoy how Nicola reached out to Kim to tell her that she and her sisters were the inspiration behind the Featheringtons. You can tell that Mrs. Featherington is definitely Kris Jenner-esque in trying to get her daughters married. I also enjoyed how excited this bit of information made Kim. Now that Nicola has confirmed that the Featheringtons were inspired by the Kardashian/Jenner clan, I can't unsee it despite sort of knowing it before. I'm going to watch the show to see which sister is which Kardashian. It was also very sweet that Nicola was so excited that her corset was created by the same designer that created Kim's Met Gala corset. Nicola seems like a Kim stan. And how precious is it that Nicola made Kim an honorary Lady of Bridgerton? To be fair, with all the royals and billionaire men chasing Kim now that she is single, it's not a stretch that Kim could indeed become Lady Kardashian of Calabasas in the near future.
Here is their exchange:
WHAT?!?! I am freaking out!!!!!! This tweet was sent to me on my @bridgerton group chat! Can I please come to a fitting?!?! It would make my whole life!!!!!! I love you Lady W!!! https://t.co/KVnCi6UZRT

— Kim Kardashian West (@KimKardashian) April 20, 2021
Why of course, Duchess Kardashian of Calabasas! Lady Whistledown is happy to declare you the season's true incomparable 💎

— Nicola Coughlan (@nicolacoughlan) April 20, 2021
photos via Instagram