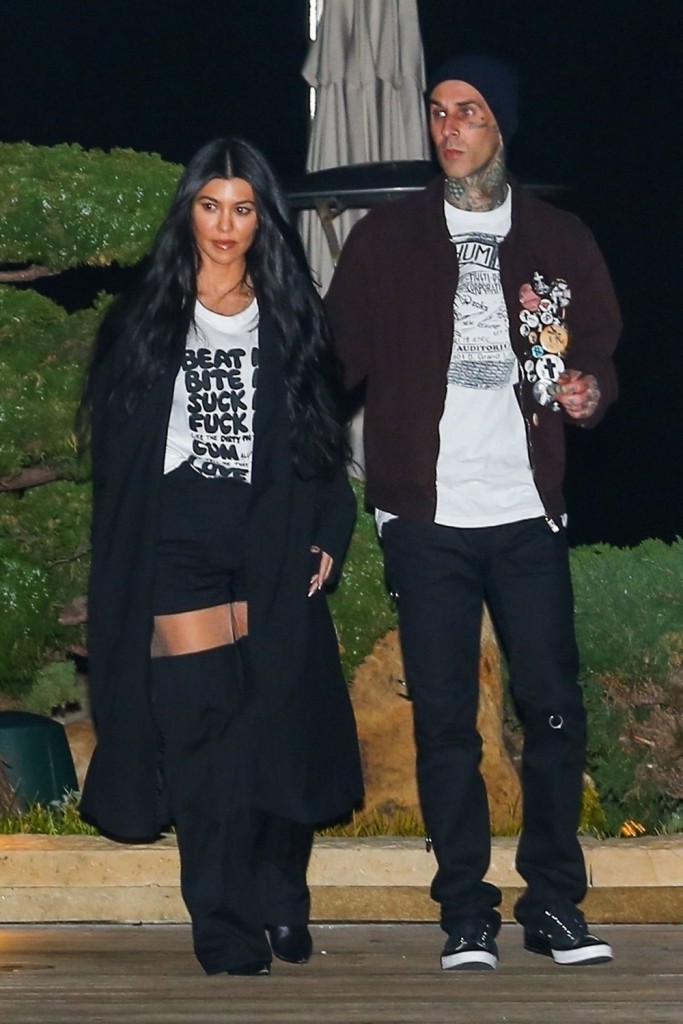 Yesterday was Kourtney Kardashian's 42nd birthday. It appears that in lieu of renting a small island or private club and packing it with their friends and hanger ons, Kourtney decided to spend her birthday at home. Since Kourt was home for the occasion, it allowed her boyfriend of four months, Travis Barker, to make a bit of a fuss over her. Travis spoiled the heck out Kourtney with a lavish floral display that featured her favorite flowers, hundreds of tulips and gardenias.
While the small things certainly matter in a relationship…the larger romantic gestures are definitely pretty sweet.

On Saturday, April 17, a day before she celebrates her 42nd birthday, Kourtney Kardashian posted on her Instagram Story a video showing an enormous and extravagant arrangement of at least white 200 tulips displayed on a floor in her house and resting underneath a hanging installation of other white flowers. She tagged her boyfriend Travis Barker in the clip, adding a black heart.

The Blink-182 drummer later reposted the video, which features SZA's emotional song "Quicksand," whose lyrics deal with relationship insecurity.
Lord knows the Kardashians love their flamboyant floral displays. Travis Scott was constantly flooding Kylie Jenner's house with roses. Kayne was also fond of these sorts of gestures for Kim. Now Kourtney has one to add to the Kollection, yay! Kourtney has plenty of shots and videos in her Instagram stories, including from friends and family whom Kourt must have invited over. A couple of screen grabs are posted below. The display is a multi-tier affair with gardenias descending from the ceiling over a giant bed of softly bending tulips. It's all white except for the natural green of the stems, leaves and some moss. If I remember currently, Kourtney has a black and white front area so ties right in. Kim said in her video that the entire house smells of this arrangement. Of the IGs I saw, no floral designer was tagged but I am so impressed they can handle that many gardenias and not brown a leaf. I can't even walk past the plant in my yard without at least three turning at the tip. I assume when you have the money to afford one of these arrangements, you can afford to have someone come in and provide upkeep. I love both tulips and gardenias but neither hold up well once cut.
Clearly this is a lavish display of both wealth and devotion. I have gone on record about my conflict when it comes to cut flowers. I absolutely love flowers and floral displays, but I know they are falling out of favor due to the environmental impact. I do love how the house smells too. I mean, I wouldn't know to this degree, but at least when you walk by a nice bouquet. In this case, Travis knew exactly what Kourtney wanted and got her gift just right so bravo to him. Travis and Kourt just got back from Utah with their kids as well, so things are pretty solid with them. Travis, of course, just got Kourtney's name tattooed on his chest so you know things are getting serious. I keep going back and forth whether I think they will last as a couple. I still don't know but I hope they do. I think Travis and Kourtney work together. I also think they might stabilize each other. I know that sounds weird considering the subjects, but Travis recently opened up about his horrific plane crash in 2008 and it clearly redirected his life. I think Kourtney could be influenced by someone like Travis. I'm pulling for these krazy kids. Travis continued the birthday grand gestures with an effusive IG post dedicated to the birthday girl on Sunday. Things seem good. My only concern, when a 'source' commented on the relationship to People, they said of Travis, "He is very into her. He constantly gives her compliments and attention. You can tell he is thrilled to be dating her." When they spoke of Kourtney, they said, "Kourtney still seems very happy with Travis. Kourtney is soaking it all up and enjoying life." I wouldn't exactly call those comments equally weighted.
As for the birthday flowers, I guess the ball is now in Tristan Thompson's court. Lord help us.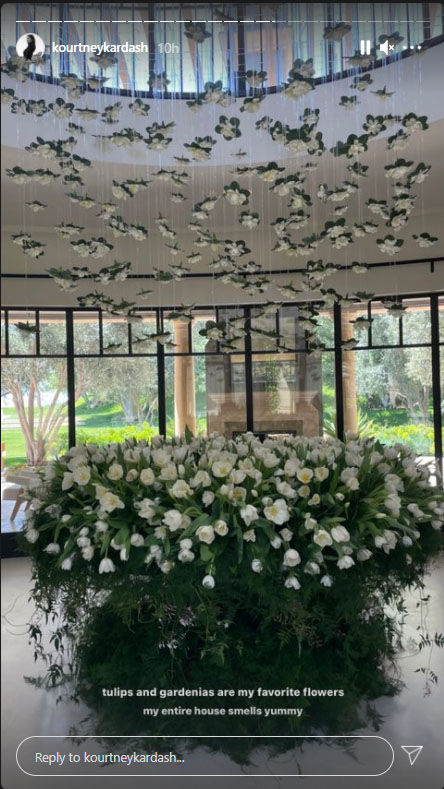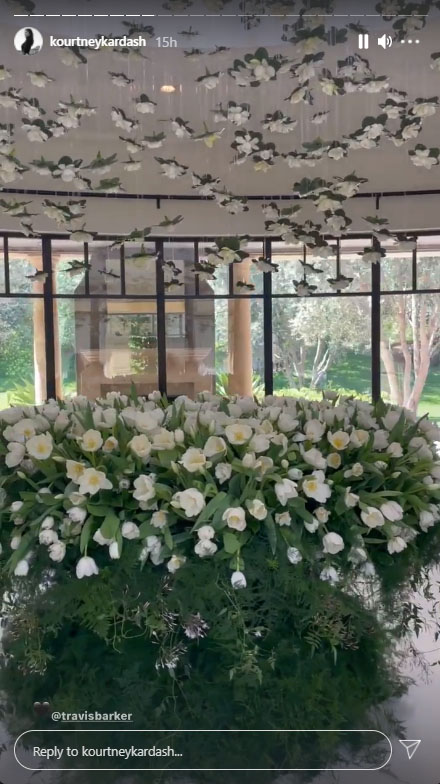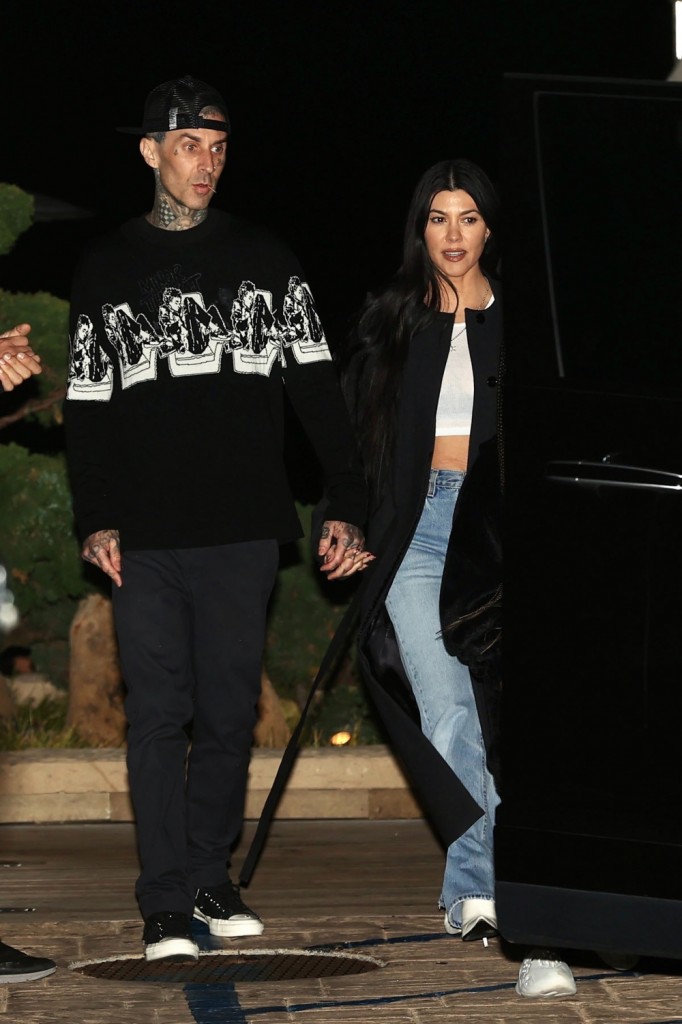 Photo credit: Backgrid and Instagram