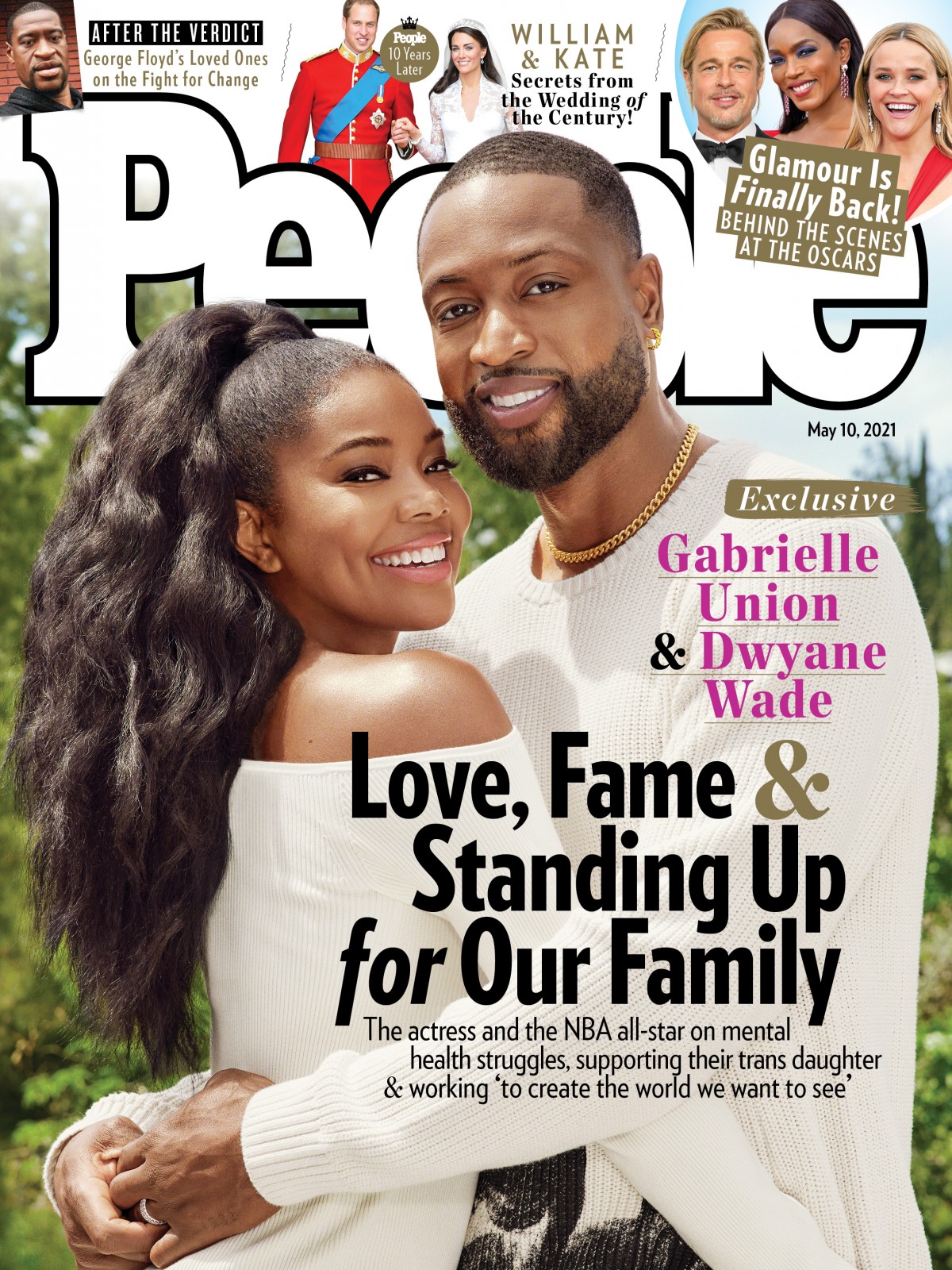 Gabrielle Union and Dwyane Wade are raising their children to authentically express themselves. Between Gabrielle's attitude around her children's hair, to Dwyane and Gabrielle's loving acceptance of Zaya, the Wades have been a modern example of parenting. Now the Wades are working on potty training their rambunctious two-year-old, Kaavia. The Wades even have a new kids' book coming out about the adventures of Kaavia called Shady Baby. Gabrielle and Dwayne are covering People. In their interview they say that they're raising their children not to seek or expect external approval. Below are a few excerpts from their conversation with People:
"It's been a challenge," Union, 48, says with a laugh. "She's very strong-willed!"

"People see themselves in Kaav," says Wade, 39, of the book, on stands May 18. "Some days you don't feel like doing your hair. And some days you want to give people shade."

Adds Union: "Shade is her super power because when Kaavia gives you a look, it's either you're not respecting her boundaries or something is happening that she doesn't like. The main takeaway is that she's free to be this amazing, dynamic, shady at times, loving at times Black little girl when the world has not been so kind to Black girls and women."

"My focus when it comes to any of my kids is to let them know who they are so that when other people's opinions about them are formed, it's not hitting them," says Wade, whose daughter Zaya, 13, is transgender. (The couple also have Zaire, 19, who along with Zaya are Wade's children from a previous marriage, Xavier, 7, Wade's son with an ex and Dahveon, 19, Wade's nephew.)

"If we allow our kids to be their true selves," he continues, "we don't have to worry about them conforming with anything or anyone. Why wouldn't we push our kids to be their authentic selves?"

In her own childhood, Union says she didn't encounter those freedoms. "I was raised to assimilate," she recalls. "I was raised to conform. But we are raising our kids to know they are worthy because they exist. We don't want them to ever shape shift for anyone else's approval or acceptance. We want them to be free to be who they are."
I am a huge fan of how Dwyane and Gabrielle are raising their children. I like how Gabrielle emphasizes that their children are their own people and not an extension of themselves. That's a great way to teach children about personal boundaries and autonomy. Gabriel said it is tough to stick to this sort of parenting when their children are being stubborn. I believe in the long run it will help their children become self-sufficient adults.
I also liked what they said about letting their children know they are worthy because they exist. I am sure it can be difficult because children, especially teenagers, have personalities, but raising your children on the idea of mutual respect is a beautiful thing. I am looking forward to getting my hands on their book, Shady Baby, because I absolutely love Kaavia and use her memes often.
photos via Instagram and Twitter