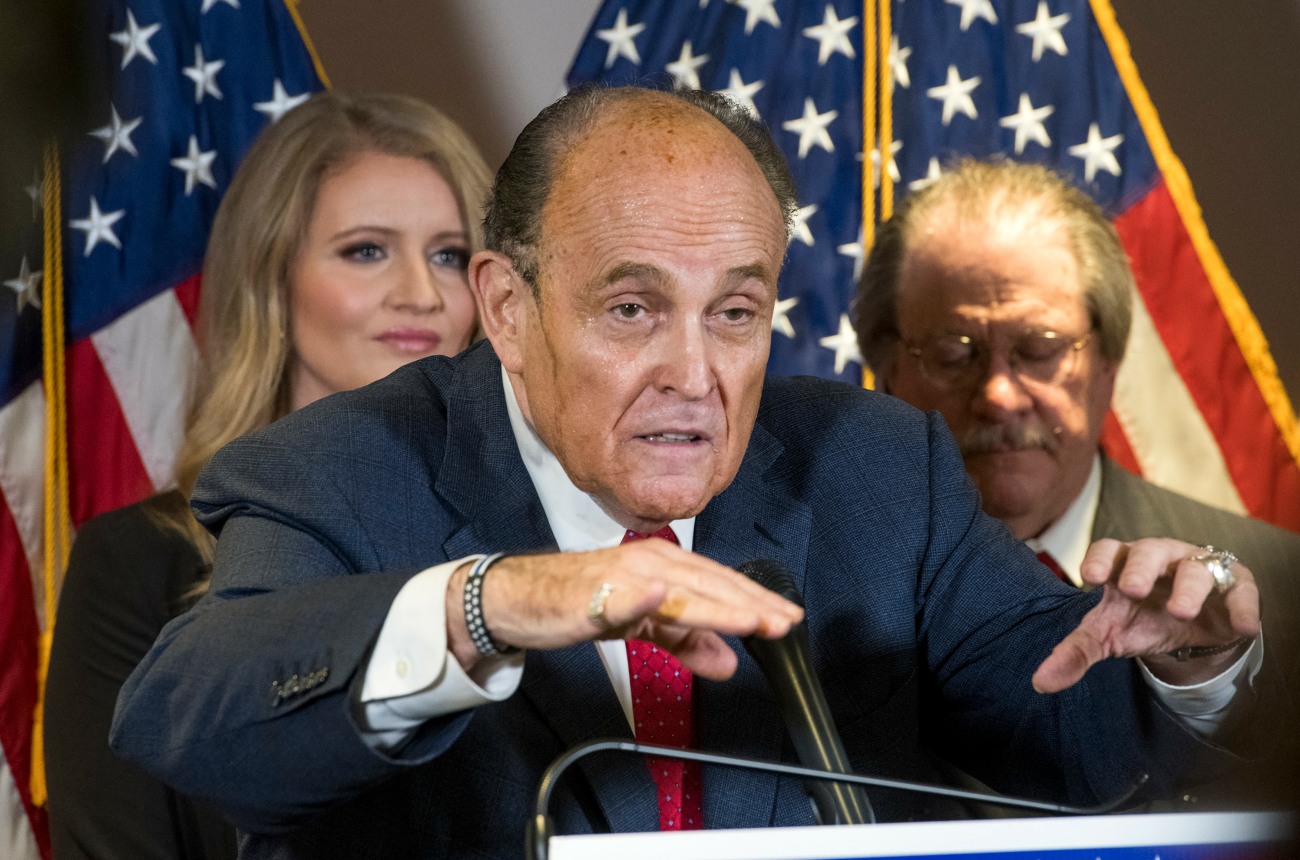 It's only been three months since President Biden came into office, and it already feels so peaceful. Granted, bad sh-t is still happening on a daily basis, but it definitely feels like millions of people have collectively unclenched. But in the past three months, there have been too few reckonings for the murderous Nazi clowns who came dangerously close to destroying America. Where are all of the indictments, the DOJ investigations, the grand jury subpoenas, the criminal charges, the civil lawsuits? Well, here we go. On Wednesday morning, federal authorities executed a raid on Rudy Giuliani's Manhattan apartment and office. The reason for the execution of multiple search warrants? Giuliani's f–k sh-t in Ukraine, where he was trying to bribe people into saying bizarre crap about Hunter Biden.
Federal investigators in Manhattan executed search warrants early Wednesday at the home and office of Rudolph W. Giuliani, the former New York City mayor who became President Donald J. Trump's personal lawyer, stepping up a criminal investigation into Mr. Giuliani's dealings in Ukraine, three people with knowledge of the investigation said. The investigators seized Mr. Giuliani's electronic devices and searched his Madison Avenue apartment and his Park Avenue office at about 6 a.m., two of the people said.

The execution of search warrants is an extraordinary action for prosecutors to take against a lawyer, let alone a lawyer for a former president. It was a major development in the long-running investigation into Mr. Giuliani and a remarkable moment in his long arc as a public figure.

Mr. Giuliani's lawyer, Robert J. Costello, called the searches unnecessary because his client had offered to answer prosecutors's questions, except those regarding Mr. Giuliani's privileged communications with the former president. "What they did today was legal thuggery," Mr. Costello said. "Why would you do this to anyone, let alone someone who was the associate attorney general, United States attorney, the mayor of New York City and the personal lawyer to the 45th president of the United States."

F.B.I. agents on Wednesday morning also executed a search warrant at the Washington-area home of Victoria Toensing, a lawyer close to Mr. Giuliani who had dealings with several Ukrainians involved in seeking negative information on the Bidens, according to people with knowledge of that warrant, which sought her phone.

The federal authorities have largely focused on whether Mr. Giuliani illegally lobbied the Trump administration in 2019 on behalf of Ukrainian officials and oligarchs, who at the time were helping Mr. Giuliani search for damaging information on Mr. Trump's political rivals, including Mr. Biden, who was then a leading contender for the Democratic presidential nomination. The United States attorney's office in Manhattan and the F.B.I. had sought for months to secure search warrants for Mr. Giuliani's phones and electronic devices.

Under Mr. Trump, senior political appointees in the Justice Department repeatedly sought to block such a warrant, The New York Times reported, slowing the investigation as it was gaining momentum last year. After Merrick B. Garland was confirmed as Mr. Biden's attorney general, the Justice Department lifted its objection to the search.
Let the indictments flow like water! Is Giuliani the fart-soaked lynchpin of the Trump crime syndicate? Not really, but Giuliani was and is involved at a lot of different levels. Giuliani left his fingerprints all over Donald Trump's attempt to "dirty up" Hunter Biden in Ukraine. So… let the federal authorities start pulling at that string and let's see what unravels next.
Vintage anger farts. You know he was angry-farting up a storm yesterday!
This is the most coherent argument Giuliani has made for weeks pic.twitter.com/H7o0P2jRnp

— Aaron Rupar (@atrupar) December 3, 2020
Wrong apartment. We kicked him out months ago. pic.twitter.com/uDb84az8Qq

— Four Seasons Total Landscaping (@therealfstl1992) April 28, 2021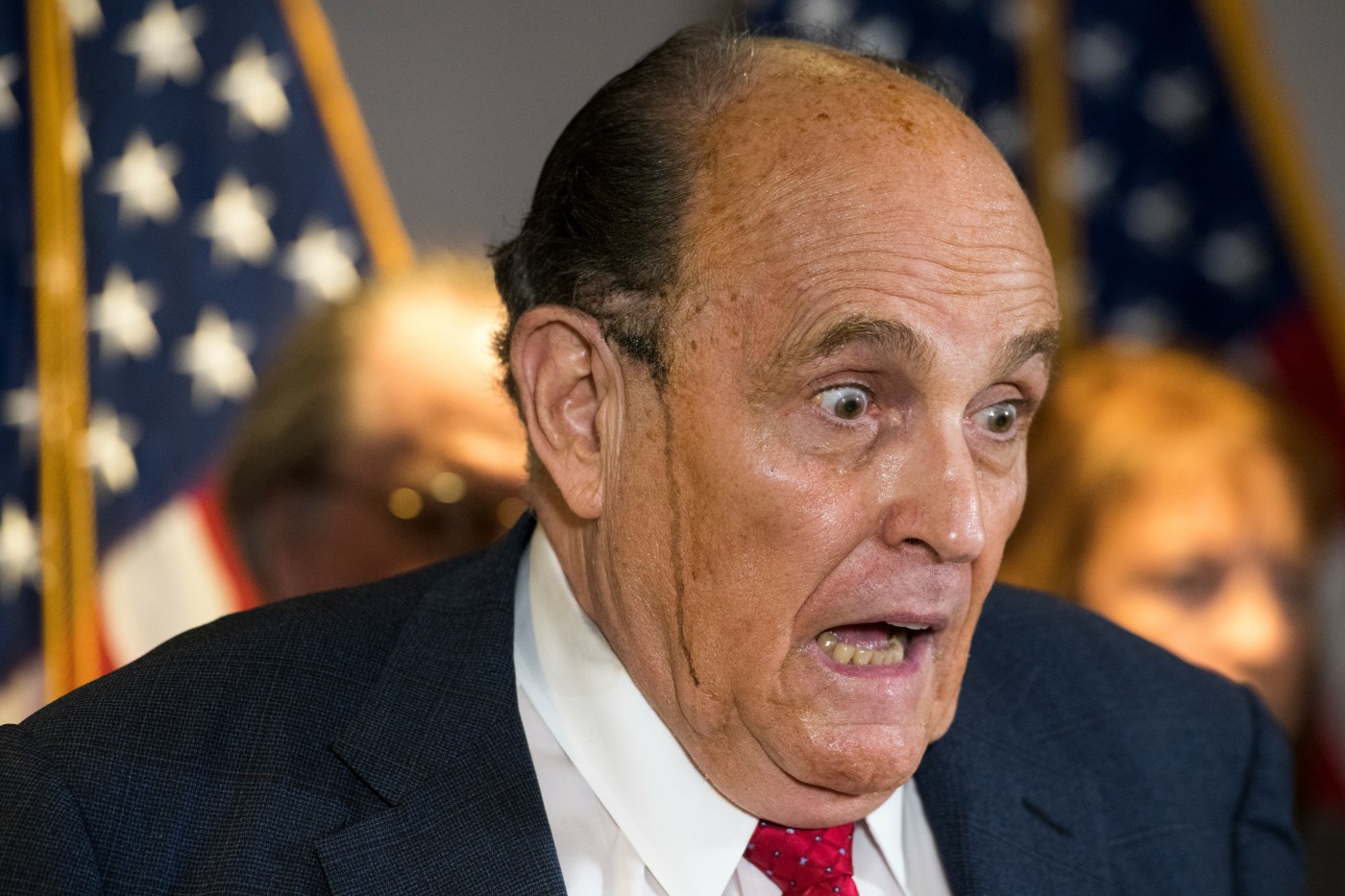 Photos courtesy of Avalon Red, Backgrid.