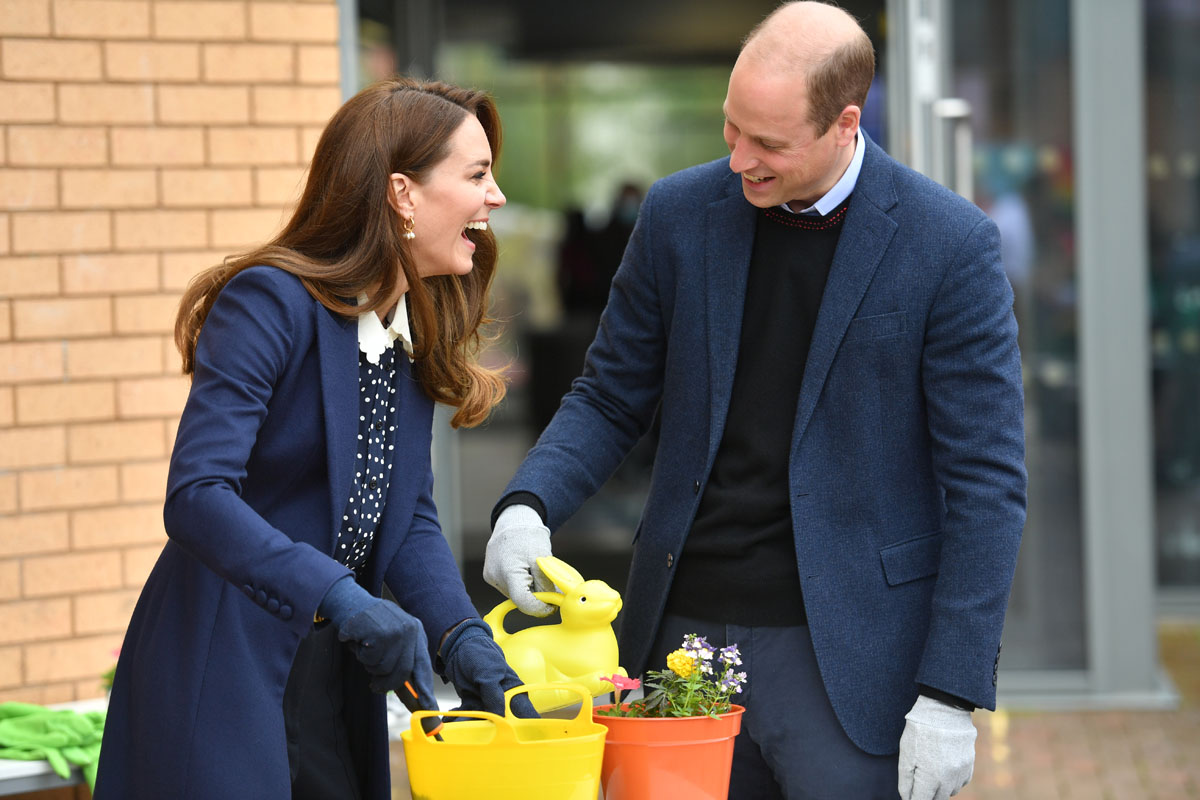 You might not remember – I forgot nearly as soon as it happened – but last week, the Duke and Duchess of Cambridge made an outing in Wolverhampton where they played with kids and tried archery and whatnot. It was easy to forget because despite their incandescent keenness, Will and Kate are pretty forgettable. I bring this up for a few reasons – one, the keen outing was actually in support of Mental Health Awareness Week; and two, because the outing came around the same time as Prince Harry's Armchair Expert interview came out. As you can imagine, palace insiders had their knickers in a twist about it.
Palace insiders were apparently disappointed with Prince Harry for 'usurping' his brother's visit to Wolverhampton by recording a controversial podcast. Kate Middleton and Prince William visited a youth centre in the city on Thursday to mark Mental Health Awareness Week. However, royal insiders reportedly felt it was a 'shame' that media attention was distracted by Prince Harry's claims about suffering from 'genetic pain'.

A royal source told The Times : "It was such a lovely day for the Cambridges. It is a shame that it got usurped by what Harry had to say. Nobody is shocked any more. It is more: 'Here we go again.' But he should be told that these grievances should be aired in the privacy of your own home. Don't do it publicly in a podcast. Get on with your life."
Again, it's not even that Harry and Meghan are trying to pull attention from anyone else. They're just living their lives, working on their own projects, making deals and talking about their own sh-t. William and Kate are the ones who are salty about being "usurped." The Cambridges are the ones forcing this into a "petty transatlantic popularity contest," and they're just playing themselves, over and over.
But really, it's extremely harmful to see royal commentators, palace sources and even William and Kate themselves try to gatekeep how, where and when people can speak about mental health. Will and Kate consider themselves mental-health advocates. So does Harry. Harry walks the walk and spoke openly about his mental health struggles and his years of therapy in an interview conducted to coincide with Mental Health Awareness Month, the very same thing Will & Kate were trying to highlight with this Wolverhampton trip. And instead of acknowledging that they're working on the same f–king thing, they shame Harry, judge his process and tell him that he shouldn't talk about mental health publicly.
Speaking of, guess who took part in a celebrity-voiced mental health commercial? Will and Kate, using their royal voices to audibly mingle with the likes of David Beckham and Jamie Oliver? Imagine the sh-t fit if Harry and Meghan had done it, my God.
The 2021 #MentalHealthMinute 📻

Featuring incredible voices including @KensingtonRoyal, David Beckham, Dame Shirley Bassey, Joanna Lumley and many more, and written by @HussainManawer in support of #Shout85258.

Over 500 UK stations united to play this important message ✨ pic.twitter.com/nhH1jJTApn

— Shout 85258 (@GiveUsAShout) May 14, 2021
Photos courtesy of Getty, Avalon Red.