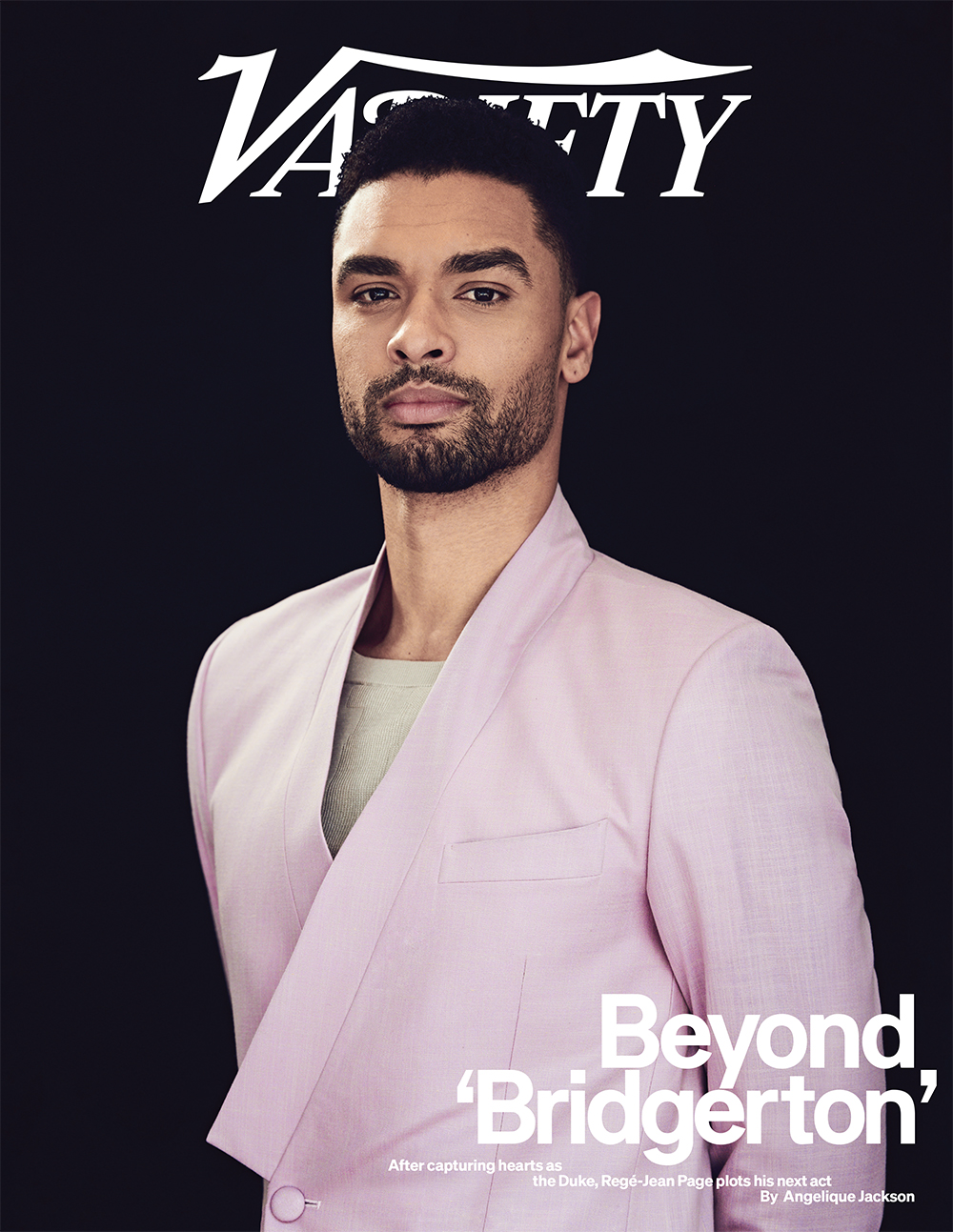 Rege-Jean Page is still winning. After his break out role in Bridgerton, Hollywood came calling. Rege has since snagged two major roles, in the Russo brother's The Gray Man alongside Chris Evans and Ryan Gosling, and in the Dungeons & Dragons movie with Chris Pine and I don't care who else. Rege doesn't even have to audition anymore and it would seem that he is being tapped as Hollywood's up and coming leading man. With mentors like Sterling K. Brown and a love for the art, Rege is on the precipice of what could be a long and amazing career. What we do know so far about Rege's acting chops is that he can be sexy, smoldering, complicated, a bit toxic, and extremely funny. Rege is profiled in Variety where he talks about his exit from Bridgerton, why representation matters and how he wants his next projects to be Bridgerton sexy. A few highlights from Variety:
On leaving Bridgerton:
When asked if he was nervous about leaving the show that made him a star, Page responds: "Not at all, because that's what was meant."

"Simon was this bomb of a one-season antagonist, to be reformed and to find his true self through Daphne," he explains. "I think one of the bravest things about the romance genre is allowing people a happy ending."

Page compares exiting "Bridgerton" to leaving high school. "You're afraid of the unknown, thinking, 'Oh, my God, I'm never going to make friends as good as the ones I have,' and then you do," he explains.

On not seeing himself in historical fiction:
"I've been in more Regency duels than I ever thought I would or could," Page quips before getting serious. "I didn't think it was possible, and that's my mistake for not believing in that and not accepting my own responsibility to make it possible through what we do as actors. I'm pleased that I've taken a couple of good first steps into what seems to be an ever-widening pool of possibility, and long may that continue."

On representation:
While Simon fits into the brooding and broken archetype of Mr. Darcy and Heathcliff, the romance genre takes a big step into the 21st century both by exploring the underlying toxicity of those personality traits and by putting a Black man at the center of the narrative. "Me and my friends used to joke about the fact that you don't see a Black man on a horse," Page says, discussing the lack of representation in media.

"It's so simple. I can get on a horse and I can put it on the screen; that's step one," he says. "I can be royalty, and [other people of color] can see the possibility of being royalty. Standing there, wearing the boots and the jacket, doing the dances, inhabiting a space that is perfectly possible for me to inhabit, changes how you see the world…"

"As Black people, we're very used to empathizing with the world through white people's eyes, because they're the protagonists. I know what it's like to look at the world and empathize with Superman because I spent my whole life doing that," he explains. "What's revolutionary, in its own way, is getting folks to see the world through my eyes, because then they are in my skin and looking at the world through me."

The actor thinks back to a conversation between his brother, who drew comics as a child, and their aunt.

"She sat him down one day and asked, 'How come all the superheroes are white?'" Page recalls. "And he was like, 'That's what all the superheroes look like, duh. They've all got floppy hair, and they fly through the air.'"

"The last time, and only other time, I had sat in a 19th-century carriage I was being dragged away from my family [and sold to a new master] in the U.K.," he says. "Next time I sat in that carriage, I own the carriage as royalty. That is the progress in storytelling to fill out that picture. What gave me the greatest satisfaction was balancing that scale."

On what's next:
Page's priority is to continue surprising and challenging himself. "The thing that has always appealed to me most about this career is getting to encounter and interact with the unexpected," he says.

And as far as the sex appeal of future roles, Page adds, with equal parts sincerity and a wink that's practically audible over the phone: "I want everything I do to be as sexy as 'Bridgerton,' just in different ways."
While starring at Variety's pictures of Rege, I realized why he was able to reignite my inner middle-aged thotiana – it's the eyebrows. The man has amazingly beautiful eyebrows and I am jealous. I keep thinking about how our fantasy babies will inherit his amazingly full eyebrows and not my bald cat eyebrows. Rege is of course more than just his look. The man has soul and depth. Like I said before, I was first introduced to Rege when he played Chicken George in the Roots reboot. I absolutely loved him in that role. He played several different emotions well and it is profound how he connected that role to his Bridgerton role. I love how he had the epiphany that he was the only one keeping him from those historical roles that rarely allow BIPOC representation. When Rege said, "I decided a very long time ago that I would refuse to be defined by trauma and would only be defined by success, when and where it comes," I knew this man is going places. I love that Sterling K. Brown has taken him under his wing and I am excited about the rumors that Rege may enter the MCU. Take that DC, it seems you lost a good one.
Variety Interview:

"As Black people, we're very used to empathizing with the world through white people's eyes," says @regejean. "What's revolutionary… is getting folks to see the world through my eyes, because then they are in my skin and looking at the world through me." https://t.co/nc1L9gr9w9 pic.twitter.com/xHmpg2lhYz

— Variety (@Variety) May 26, 2021