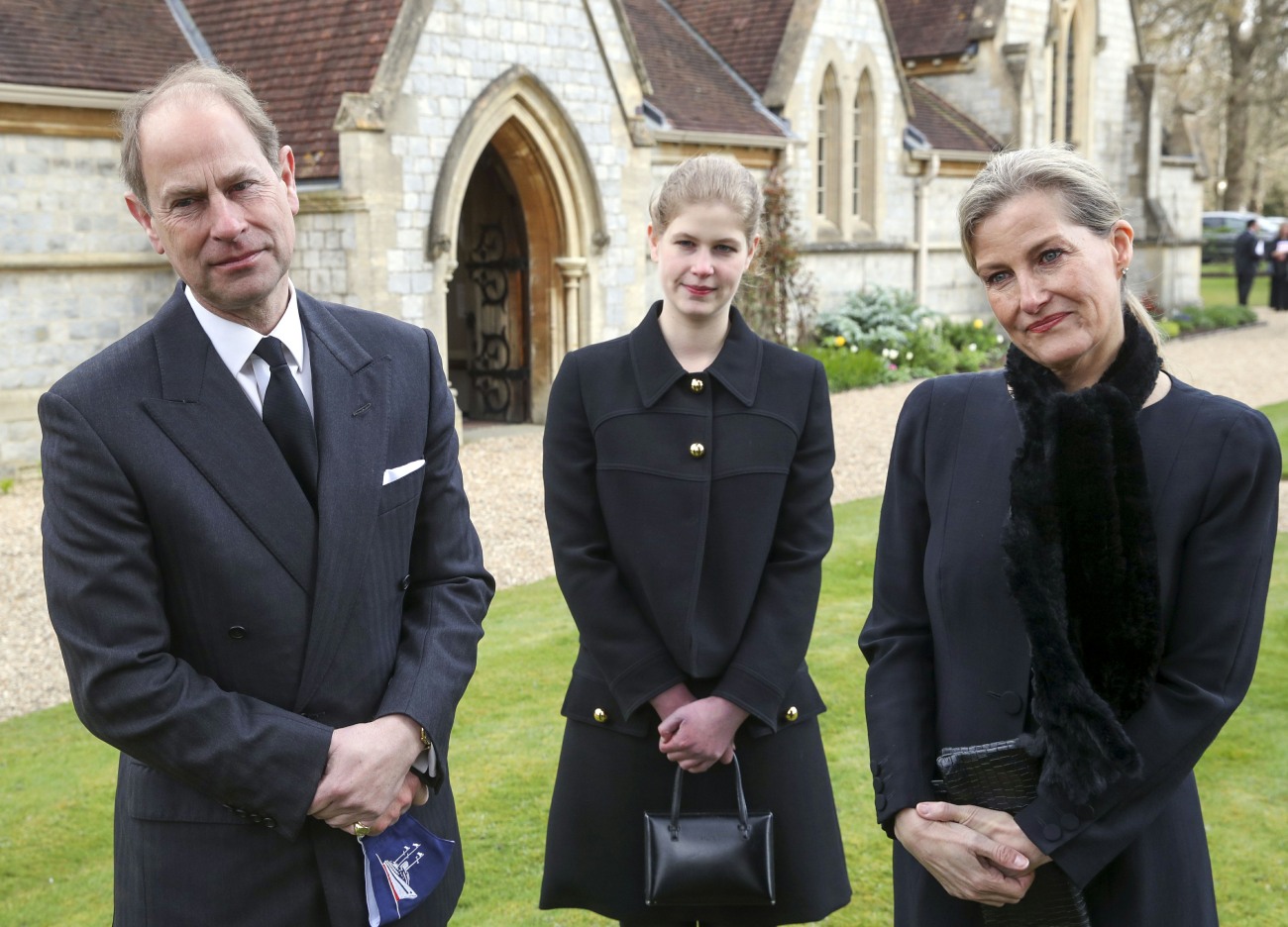 Camilla Tominey at the Telegraph was exhausted from writing so many shady embiggening pieces about the Duke and Duchess of Cambridge. So she decided to take a breather and do an extensive interview with the Earl and Countess of Wessex, aka Prince Edward and Sophie. This is a full-on celebrity-style intimate portrait, the kind you would read in Vanity Fair or Vogue, if those publications bothered with Edward and Sophie. Edward and Sophie actually invited Tominey into their 120-room home, Bagshot House, and gave her tea and everything. They are all so thirsty, my goodness. The point of the piece was supposed to be Emibiggening the Wessexes. It was supposed to be: look at how hard-working and wonderful they are, they're truly royal, and they're grieving the loss of Prince Philip. Early in the piece, as Edward and Sophie are discussing Philip's funeral, Tominey brings up the face that Prince Harry flew in for it, and this is what happens:
The Duke of Sussex had flown in from Los Angeles to attend the service. While reluctant to get drawn into the ongoing tensions between him and the Duke of Cambridge, the Countess is careful to point out how 'nice' it was to have a lengthy chat with Harry at Windsor Castle after the service.

Did they watch the Oprah Winfrey interview? I inquire sheepishly.

They look at each other as if to dare the other to speak first.

'Oprah who?' smiles the Earl, feigning ignorance.

'Yes, what interview?' chuckles his wife.

While I'm certain they know exactly who and what I am talking about, I share an anecdote about the Archbishop of Canterbury apparently having a long conversation with Winfrey at Harry and Meghan's wedding in 2018 without having a clue who she was. The Countess leaps to the Most Reverend Justin Welby's defence: 'You know, if you're not into chat shows, there's no reason why you should know who she is. Certainly not in this country, anyway.'
LMAO. Can you even imagine these two forgettable nobodies getting snobby about Oprah Winfrey, the first Black billionaire, beloved and respected by tens of millions of people around the world? It reminds me of the sniping made by certain royal reporters before the Oprah interview and how they claimed Oprah "made her name doing 'tabloid' TV talk shows." And the Wessexes are really going to pretend that no one knows Oprah in the UK? Or that no one knows Oprah outside of America? That's just not true. And the viewership numbers of that Oprah interview back up the fact that Oprah is a million times more of a "household name" around the world than Sophie and Edward.
The larger point, though, is jealousy. All of these people on Salty White Folk Isle are seething with jealousy at the fact that Meghan and Harry have rich and famous friends and allies. If Prince William was friendly with Oprah, we would get millions of stories about how the Future King made a smart alliance with such a powerful cultural figure. But because we're talking about Oprah, Harry and Meghan, suddenly there's a huge problem.
The extra layer of shenanigans on all of this was that Sophie actually visited Oprah's girls' school in South Africa. Of course, Sophie didn't actually get to meet Oprah when she visited in 2013. Because Oprah isn't going to fly into South Africa just to meet a dusty saltine. Not only did Sophie visit Oprah's Leadership Academy in an official capacity, the Royal Family posted photos of Sophie's visit on their social media. After this Telegraph interview came out, the royal social media managers began deleting those photos. LMAO, they are such amateurs.
Since they, deleted the Pictures. Here you go https://t.co/qWu0LpRfal pic.twitter.com/GqmKcz0cJr

— ChrmLessQ (@chrm_q) June 5, 2021
#ThrowbackFriday https://t.co/FeInl9DNRB pic.twitter.com/KfH6ocDgiS

— Omid Scobie (@scobie) June 4, 2021
Photos courtesy of Getty, Avalon Red.