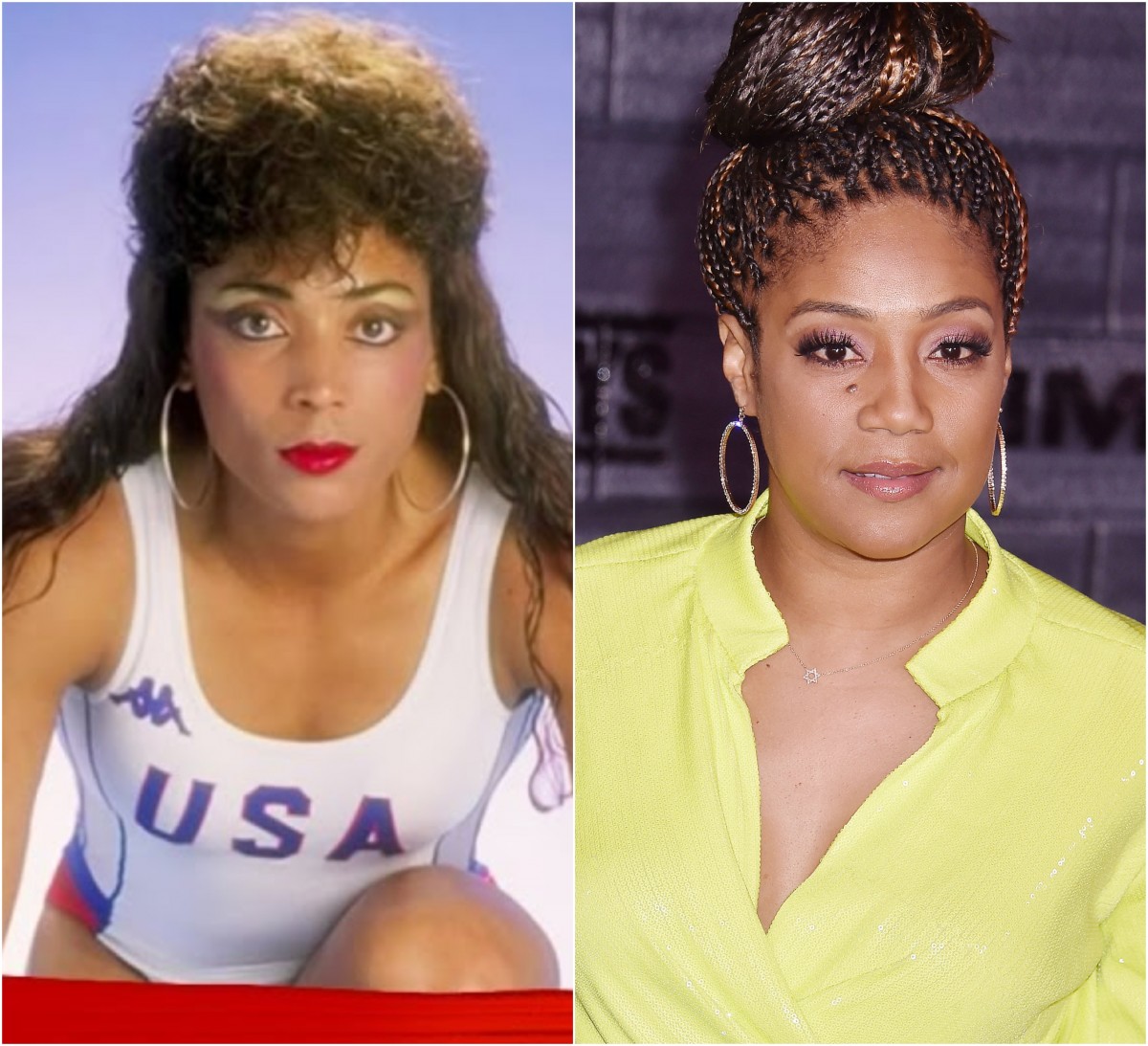 Florence Griffith Joyner was one of my childhood heroines and now her story is being made into a movie. Flo-Jo, as she was known, was an Olympic champion and the fastest woman in the world. She died tragically in 1998 in her sleep from an epileptic seizure at the age of 38. A Flo-Jo biopic is in the works starring Tiffany Haddish, who will also co-produce. Flo-Jo's widower, Al Joyner, will also be assisting in the project. Al said that he is excited to be working with Tiffany because she is committed to telling Florence's story accurately. Tiffany said she wanted to do this project because Flo-Jo was her idol as a kid. No release date has been set as of yet. Below are a few more details about the movie from Variety:
The "Girls Trip" actress will star as Florence Griffith Joyner, known as "Flo-Jo" to her fans, who helped popularize track and field with her record-breaking Olympic run and flashy personality and style (she originated the "one-legger" look with her running suits). Many of the records that Joyner set in the 1988 Olympics, including those in the 100 m and 200 m, have yet to be broken. Joyner died in 1998 at the age of 38 of an epileptic seizure.

Haddish will produce the film, as well. A release announcing the project says that Joyner was one of Haddish's heroes growing up.

Game1 Co-CEO's Basil Iwanyk and Greg Economou will also serve as producers on this film. In addition, Flo-Jo's widower and former coach, Al Joyner, will serve as a producer and creative consultant on the project. Additionally, he has already begun training Haddish to play the role, using methods that his late wife deployed during her career. Melanie Clark of She Ready Productions will also serve as a producer, while Jonathan Fuhrman of Thunder Road Pictures will serve as an executive producer.

"We are thrilled to partner with Tiffany on such an important project," said Iwanyk. "Tiffany has established herself as one of the greatest entertainers in the world today – helping her tell the story of her idol Flo-Jo is an amazing honor and privilege."

Therese Andrews, EVP of Production at game1, is spearheading the entire project.

"I am looking forward to telling Flo-Jo's story the way it should be told," said Haddish. "My goal with this film is making sure that younger generations know my 'she-ro' Flo-Jo, the fastest woman in the world to this day, existed."

"I am so elated to team up with game1 and Tiffany Haddish on this project," said Joyner. "Working with Tiffany has been a great pleasure – she is incredibly dedicated, focused, and committed to portraying the spirit of Florence accurately, whose legacy of making a difference in the world will live on for generations to come. I hope that this film touches all who see it and inspires people to BE the change the world so desperately needs right now!"
As excited as I am about Flo-Jo's story being told, I am not so keen on Tiffany Haddish doing the story. One, I think she doesn't have the range to be playing such an icon. Two, I am definitely over Tiffany after some of the things she has done and said this year. I had just joined Clubhouse in January when I heard about how she cyberbullied a doctor trying to correct her about the Covid vaccine. I am not necessarily a fan of Nicki Minaj but Tiffany used Clubhouse to drag Nicki and someone recorded it. Then Tiffany, whose father is Eritrean, questioned the genocide in Ethiopia against the Tigray people. Let's just say I feel Tiffany needs to take a break from the public eye for a bit. I am hoping that they do Flo-Jo's story and life justice, and having her husband attached to the movie may just help. However, I really wish Tiffany would have just found someone else to play Flo-Jo instead of inserting herself into the movie. It would have been cool if Tiffany would have just co-produced the movie without feeling the need to star in it.
My Heart is so full Right now! I can't even explain how hard I am going to work to honor Her Legacy! https://t.co/Ph4pdtkYii

— Tiffany Haddish (@TiffanyHaddish) June 3, 2021
photos credit: Avalon.red and Getty