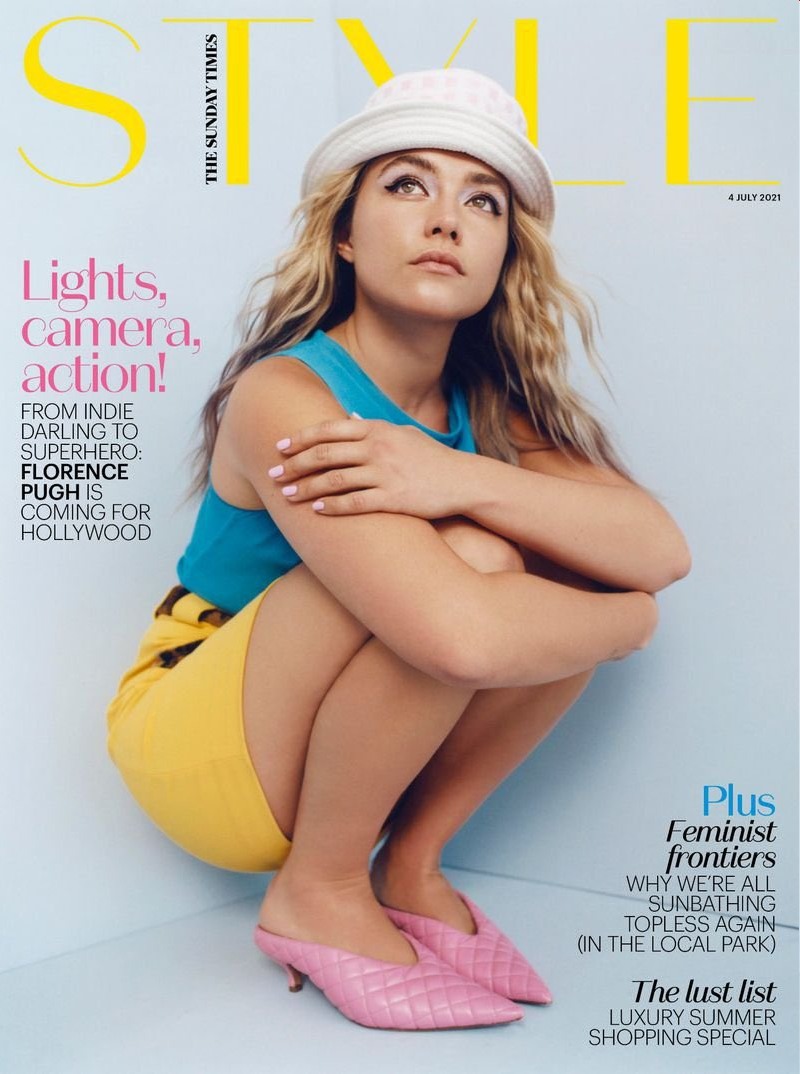 Florence Pugh is 25 years old. She's dating Zach Braff, who is 46 years old. They've been dating for years now. Florence kept the relationship kind of quiet in interviews and her social media for a while, but in late 2019 and early 2020, she started putting Braff on her social. People were in her comments, telling her that the age difference is gross. I'm a long-time believer in A) celebrities turning off their comments and B) encouraging people to not be rude on a celebrity's social media. That being said, people saying "the age difference is gross" to Florence was the most traumatic thing that's ever happened to her and that… says a lot. She's been talking about it for the past year and a half, arguing that she's super-mature and that's why she's with a middle-aged guy, because he likes her for her maturity and she can't believe someone would find it gross. Yeah. Anyway, Florence covered a recent issue of the Sunday Times' Style Magazine and she returned to the worst thing that has ever happened to her: her IG comments.
On the Instagram comments: "It's so weird to me to go on to someone's page and s*** on it. That's so not my nature – to go and bully for the sake of bullying. It's such an odd thing that we've become OK with in the past 10 years of social media. The thing is, people want Instagram to be a nicer place, they want to see nice things. They want to be inspired and they want to be happy. I don't mind you not liking me, that's absolutely fine. In which case, don't follow me."

Why she thinks people are bothered by her relationship: "I think it bugs people that it's not who they expected," she said. Florence was then asked if she thinks people would rather she be with someone like Little Women co-star Timothee Chalamet. She responded, "Exactly. Exactly. But it's my life and I'm not doing anything to please people or to make it a better headline or story. I want to also be a person!"
I feel the same way now that I felt last year when she was saying practically the same thing: why is this such a BFD? Again, I'm not minimizing the daily harassment women face on the internet for merely existing. But it genuinely feels like Florence is super-mad (and she's been mad for the better part of two years) because people aren't praising her, kissing her ass and yaaas-girling her for banging a middle-aged dude. That's really the gist of it. And it continues to astound me that no one in her orbit has been like "honey, why are you still complaining about this?" If she's so confident in her relationship and her maturity, why not just tell the haters to kiss her ass and she can spend more time with her dude?
Cover courtesy of the Sunday Times Style Magazine.