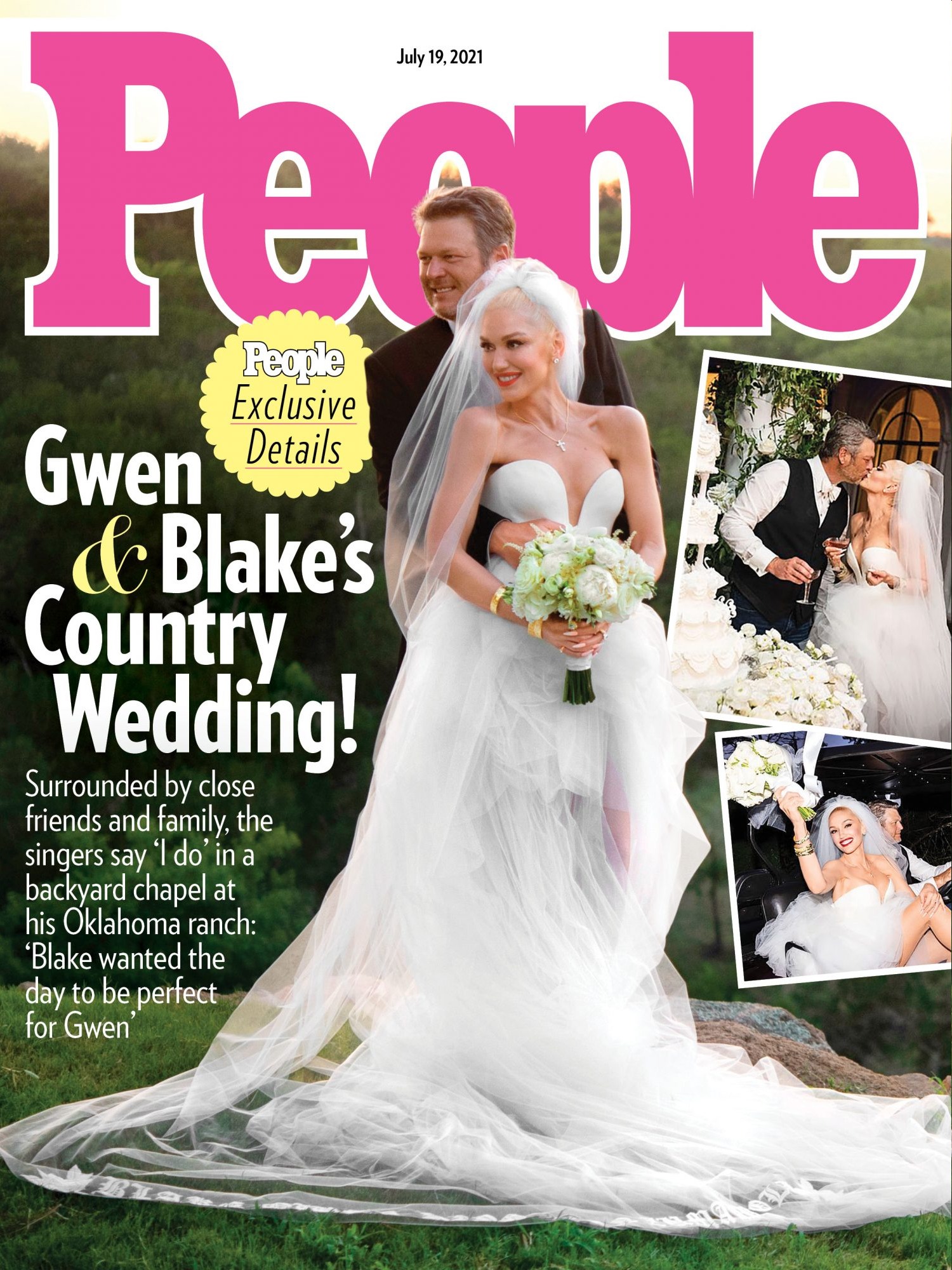 I've seen the grumbling about Blake Shelton and Gwen Stefani's wedding, but I'm really here for these two dorks celebrating their love. Are they both kind of problematic in their own way? Yes. But I've always enjoyed their relationship and I genuinely hope that Blake and Gwen last forever. I think she loves being married and he's finally understood that she's not going to pull a Miranda Lambert on him. Anyway, Gwen is still posting wedding photos and photos of her Vera Wang wedding gown and party dress. They even gave some exclusive photos to People Magazine for this week's cover story. I get why People went with "Country Wedding" and it is true that it was a wedding on Blake's Oklahoma ranch. But Gwen is such a California Girl and she was representing some Cali style and vibe. I don't know. I guess it appeals to People's readership. You can read People's full coverage here. Some highlights:
He wanted everything perfect for Gwen: Blake Shelton, 45, "wanted" their July 3 wedding on his Tishomingo, Oklahoma, ranch "to be perfect" for the No Doubt rocker, 51. "His love for her is so deep," says the source. "Having the wedding at home was a way for their families — and Gwen — to be as comfortable as possible."

Keeping it simple. As 40 friends and family cheered them on and longtime friend Carson Daly officiated, Shelton — who dressed up his usual blue jeans with a tuxedo jacket, vest and bow tie — and Stefani said "I do" in a backyard chapel on his ranch. "They purposely kept the wedding simple," says a source close to Stefani, who looked stunning in a custom silk and tulle Vera Wang wedding gown and chapel-length veil embroidered with Shelton and her sons' names. "They didn't want a circus. In the end, they just wanted to have this moment with their loved ones."

Everything was on Blake's Oklahoma properties: With so many happy memories at the ranch, the source close to the couple says, "they thought it was the perfect place for their wedding." At their wedding reception, which was also held on the ranch, Stefani and Shelton giddily cut into an ornate, five-tier wedding cake adorned with white frosting and a traditional bride-and-groom cake topper. Later in the night, a small group headed to Shelton's second home in the area, on the shore of Lake Texoma in Kingston, Oklahoma, to continue the celebrations. The night ended with an elaborate fireworks show.

They felt married before this: "They've been really excited leading up to the big day," says the source close to the couple. "Blake and Gwen were just so happy and looking forward to celebrating their relationship with their families.They already felt like husband and wife long before the wedding and have been operating as life partners. This day was a formality that was important to the whole family."

She's so happy with him: "Blake's caring, take-charge attitude worked wonders for her," a Stefani source says of the couple. "His compassion was great for her confidence, and the romance continued to develop. It's a true love story."

He loves her sons: "Blake loves the kids and had no problem adjusting to a new role as an extra dad," says the music source. Adds another industry insider: "They each put the other first and appreciate each other. They are seamless as a family. She's able to lean on Blake to be an extra dad. He's a wonderful role model for Gwen's sons. The kids love him and have a really special bond with Blake."
I've said for years now that Blake adores those boys and he's already raising them like they're his kids. The boys and Gwen seem to love the different life in Oklahoma. Blake adapted his property to be comfortable for Gwen and the boys to run around, play games, go fishing, ride go-karts and all of that. And then Blake wanted Gwen to just plan the wedding of her dreams, ranch-style and that's what she did. I don't know. I think they're both so happy.
Photos courtesy of Gwen Stefani's Instagram and People Mag's IG.