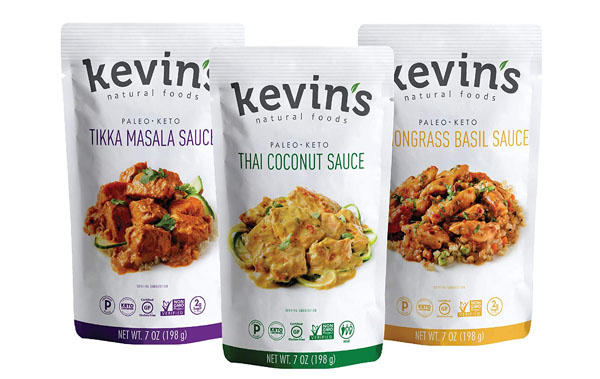 From CB: I wanted to issue a warning about the J-beauty hyaluronic acid we featured two weeks ago. I got very dry patches around my mouth after using it. I'm pretty sure that's the cause as I didn't change anything else in my skincare routine. Amazon gave me a refund without making me send it back. If you purchased this product and are noticing dry patches or any irritation please return it. Thankfully my skin is back to normal now. I'm so sorry about that! I research all the products and would not feature something unless I wanted to try it. I also want to plug the Kevin's simmer sauces again. We just keep reordering them as they make for a quick and tasty dinner. Here are some more things Hecate and I are looking at.
A star sign constellation necklace similar to Duchess Meghan's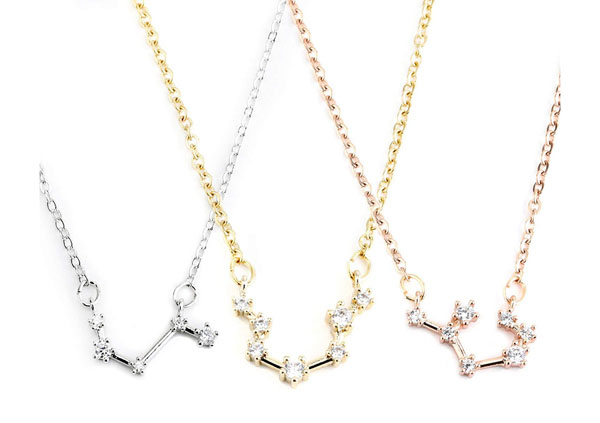 We've featured star sign constellation necklaces before. Here's a slightly different version that's a little closer to the necklaces worn by Duchess Meghan with her children's star signs. These have almost 600 ratings, 4.4 stars and a B on Fakespot. They come in all the star signs and in gold, rose gold and silver. Reviewers say they're pretty and dainty looking and that they make a great gift "It is very cute, great gift idea for someone that likes zodiac sign type stuff. A little smaller than I though it would be. It is about the thickness of my pinky finger. It is very durable and doesn't break easily, it also doesn't rust bad. I highly recommend it!" "These necklaces are super cute! I purchased nine different ones according to my girlfriends' signs. and we wore them for my sister's wedding (we were the bridesmaids) and matched them up with little sparkle stud earrings. we got compliments from everyone."
A set of six bath bombs would make a great gift for yourself or a friend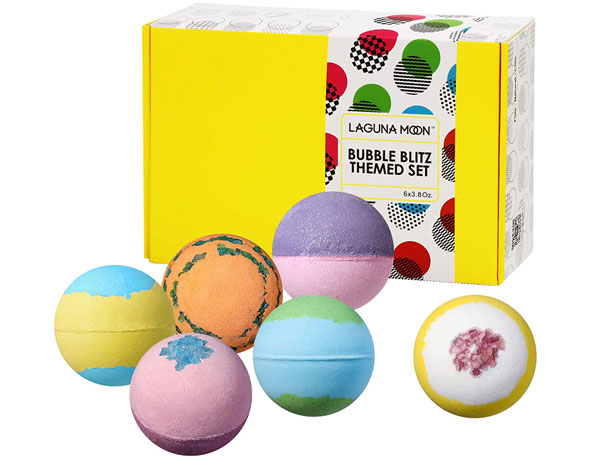 From CB: These essential oil bath bombs by Lagunamoon are handmade, organic and all natural so you can feel safe using them or giving them as gifts. They're competitively priced with 6 bombs for just $10. They have over 2,400 ratings, 4.6 stars and a B on Fakespot. Reviewers say they smell great, make their skin soft, and that they're as good as more expensive brands. "I'll start off by saying these bath bombs smell AMAZING !!! The smell lasts for the entire bath and are so relaxing. They don't smell artificial or overwhelming. The bath bombs are a decent size and leave the water such a beautiful color. They didn't stain my white tub or leave any residue like other bath bombs I've used. They left my skin soft and smelling amazing. I didn't want to get out of the bath it was so relaxing."
Capri leggings to wear alone or layered under skirts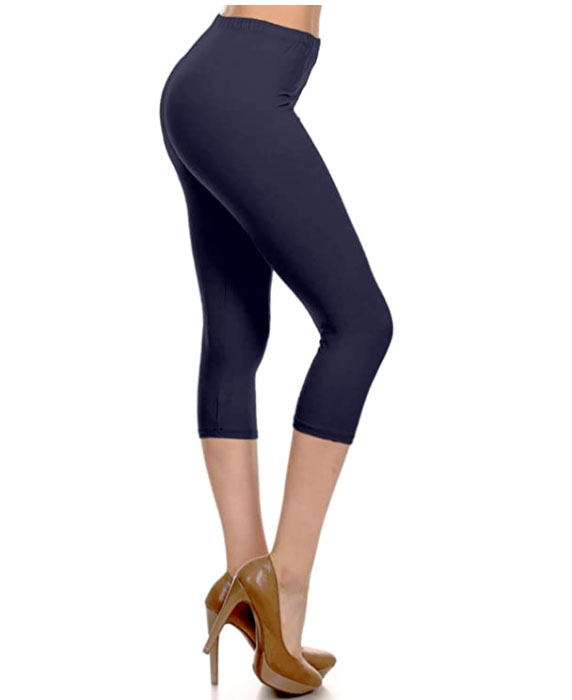 From CB: My mom loves these capri leggings by Leggings Depot and wears them under skirts and around the house. They come in 45 different colors and in sizes up to 5x. They have over 13,500 ratings, 4.4 stars and a B on Fakespot. Women say they're the most comfortable leggings they've owned, that they have good coverage and that they fit snug while being flattering. "I had no idea what I was in store for when I purchased these, but everyone who said they were like butter–oh my goodness, they were spot on!" "Love how they fit and the fabric feels delicious! Put them on immediately and fell in love with them." "These capris are the best I have ever put on. They are incredibly soft and comfortable. I went back and bought several more colors and the choices are amazing."
Woven vinyl placemats that look much more expensive than they are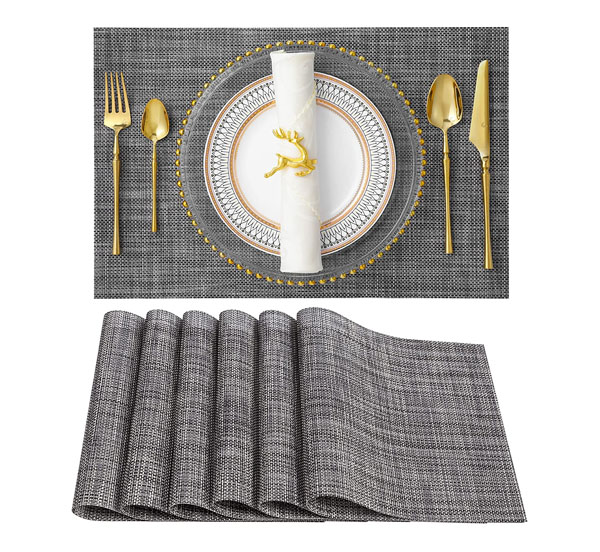 From CB: My parents are visiting this weekend and I realized that my placemats are dingy and plastic. I ordered a set of six of these in the coffee gray color. They were just $15! I haven't received them yet but I'll let you know how they are next week. They have over 2,400 ratings, 4.5 stars and an A on Fakespot. People say they're easy to clean, durable and high quality. They come in 18 different color options, some including stripes and some with table runners. People write "I LOVE the way these placemats complete the look of my dining room. Our furniture and floors are quite dark, and I love the way these mats brighten the room. They are quite flexible, but note that they are not the burlap cloth they look like. They are more of a plastic-y material, which I almost prefer, because it will make them easier to clean. They're cute!"
Hand soap sheets for washing on the go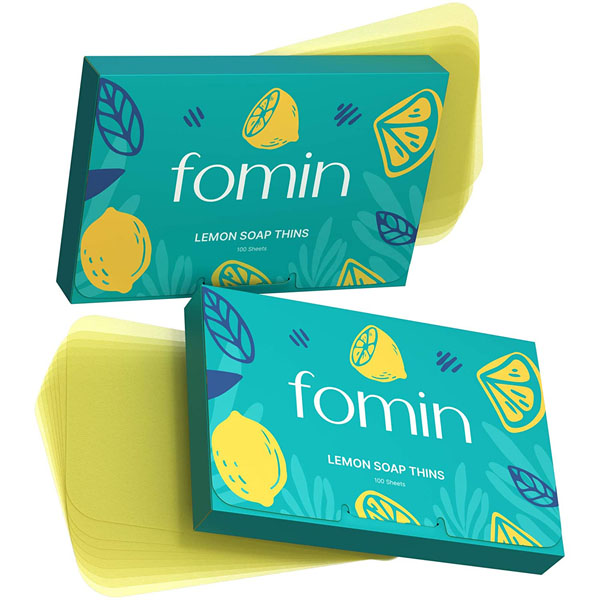 From Hecate: These soap sheets are listed as travel packs but there's no reason they can't be your main source of hand soap in your home. Each sheet simply needs to be moistened with water and disintegrates with use. The outer packaging is biodegradable as well. It comes in four scents, lemon, tree oil, lavender or orange and unscented. Purchase options are either a 2 pack of 200 sheets per pack for $10 for a 3 pack with 300 sheets per pack for $12. Almost 1,600 reviewers rated the sheets 4.5 stars and Fakespot gave them an A. Reviewers said you get a good lather from each sheet, "Lathers nicely. Nice packaging. Very mild scent." And while most customers talk about how good they smell, the smell doesn't linger on your skin, "I bought this because my daughter is allergic to most soaps in public bathrooms. I love that it smells great when you take it out of the package, but the smell doesn't linger on your skin after you've finished washing." If you do choose these for traveling, they're the perfect size for purses, "The package is about the size of a pack of gum so you can easily bring it anywhere. I'll definitely be keeping these in my purse."
Face globes for gentle relief from puffiness or headaches ​​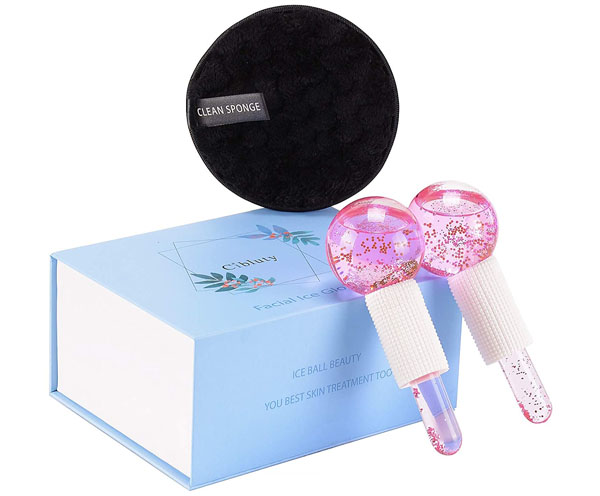 From Hecate: I have just heard of these but now I see them everywhere so I hope that means they are just that good. They're called face globes and they're little maraca looking things you put in the refrigerator and apply to your face to help with dark under eye circles or reduce puffiness. They can also be heated in hot water to help with skin circulation. I've seen a few ads for these that said when applied to pressure points, these will alleviate tension and sinus headaches. They come in four different color options. The pink version is on sale this week for $16. 261 Amazon reviewers gave them 4.7 stars and ReviewMeta only adjusted it to 4.6 stars. One reviewer said they are great for quick 'fixes', "I use them on my face just before jumping on a call (after placing them in the fridge 10 minutes) and I look very well rested despite the opposite." She also said it works wonders on her sinuses. Another said she keeps them on hand as a special treat for herself, "I store these little treats in my mini fridge in my bathroom. They can go into the freezer for a few minutes when I need extra cooling." We could all use a little pick me up, right? Many of those who bought them got the glitter option because they said it was just fun to have glittery globes around.
A travel document holder for your passport and vaccine card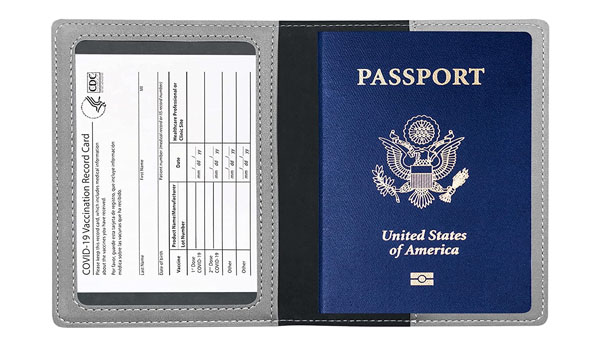 From Hecate: Now that traveling is firing up again, hopefully safety precautions will be in strict enforcement. This passport holder should help streamline the process by including a plastic window to display your vaccine card alongside your passport. Now you can keep all your documents together. This will make storing the documents easier too because they can be kept together in the lockbox. This is faux leather and comes in a dozen colors, costing $8-$10 depending on the color. They are currently an Amazon best seller with over 200 reviews giving it 4.6 stars and Fakespot rating it an A. Customers said it fits a variety of passports and a variety of vaxx cards, "Everyone in my family got their Covid shot at different times and different places. My card was much larger than everyone else. It is 4.75 x 3.75. It fits perfectly in the card holder." Many said how nice it looked and the quality was much better than the price let on, "I am quite pleased with the look & feel of the Passport & Vaccine Card Holder. I found it softer and more pliable that I had expected." I'm thinking if I buy a couple of these it will manifest travel in my near future.
Thanks for reading and commenting on our affiliate post! If you make any purchases from these links we get a small percentage and appreciate it.