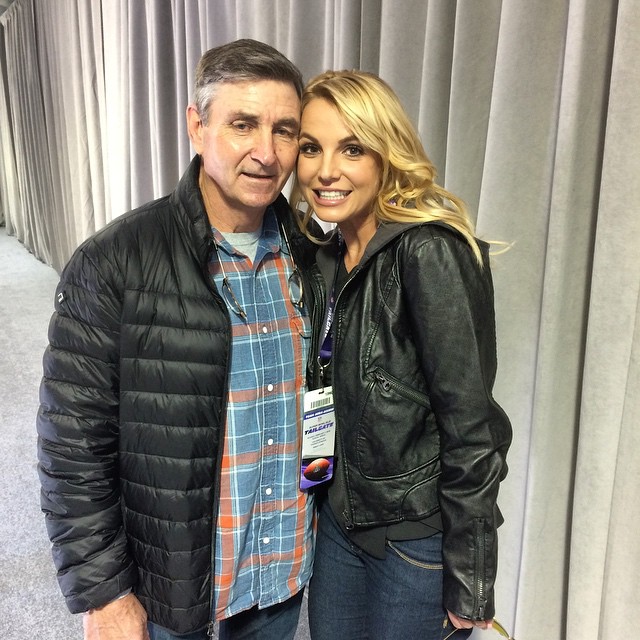 Britney Spears spoke for the first time in open court on June 23rd. That was when Britney made her heartbreaking statement about how much control her father had exerted over her for years, how he used forced hospitalizations and heavy medication and endless psychiatric evaluations to punish her for not working, not making more money, for questioning his authority and on and on. Things moved quickly from there, because it also became clear from Britney's own words that her then-lawyer Samuel D. Ingham, was completely incompetent, and clearly not working in Britney's best interest. In the past six weeks, Britney has gotten a new lawyer, she has a clear plan of action, she's working well with her personal conservator Jodi Montgomery, and she even got to take a vacation in Hawaii.
Jamie Spears didn't like any of that. A week ago, Jamie Spears made yet another attempt to wrest control of Britney away from her new team. Jamie complained to the court and said outright that Britney needed a psych hold. Jodi Montgomery slapped him down, as did Britney's new lawyer Mathew Rosengart. They both emphasized that the "thing" that was doing the most damage to Britney's mental health right now is Jamie Spears and his control over her. Guess what? Britney won, y'all. Jamie Spears is stepping down as conservator.
Britney Spears' father, Jamie Spears, has agreed to step down from his daughter's conservatorship. On Thursday, Spears' father filed his response the singer's petition for his suspension with the Los Angeles Superior Court, announcing his decision to step down, though his attorney states that there are "no actual grounds for suspending or removing" him. His attorney cites the "public battle with his daughter" as his reasoning for stepping down.

"There are, in fact, no actual grounds for suspending or removing Mr. Spears as the Conservator of the Estate under Probate Code section 2650. And it is highly debatable whether a change in conservator at this time would be in Ms. Spears' best interests," the court doc states.

"Nevertheless, even as Mr. Spears is the unremitting target of unjustified attacks, he does not believe that a public battle with his daughter over his continuing service as her conservator would be in her best interests," the filing continues. "So even though he must contest this unjustified Petition for his removal, Mr. Spears intends to work with the Court and his daughter's new attorney to prepare for an orderly transition to a new conservator. As the Court has likely surmised, before Ms. Spears' new attorney arrived, Mr. Spears had already been working on such a transition with Ms. Spears' former court-appointed counsel, Sam Ingham."
Jamie is now saying that he's going to do what's best for Britney unlike everyone else, when really everyone in Britney's orbit has been telling him to go for weeks/months/years. Make no mistake: Jamie would not "choose" to do this unless he knew he was in a losing position. Which is what Britney's lawyer Mathew Rosengart pointed out in his statement:
"I announced in Court on July 14 that, after 13 years of the status quo, it was time for Mr. Spears to be suspended or removed as conservator and that my firm and I would move aggressively and expeditiously for that outcome," Rosengart states. "Twelve days later, my firm filed a Petition for Mr. Spears's suspension and removal based on strong, insurmountable legal grounds, which were unequivocally supported by the law and all parties involved, including Jodi Montgomery, Britney Spears, and her medical team."

"We are pleased that Mr. Spears and his lawyer have today conceded in a filing that he must be removed. It is vindication for Britney. We are disappointed, however, by their ongoing shameful and reprehensible attacks on Ms. Spears and others. We look forward to continuing our vigorous investigation into the conduct of Mr. Spears, and others, over the past 13 years, while he reaped millions of dollars from his daughter's estate, and I look forward to taking Mr. Spears's sworn deposition in the near future." Rosengart adds: "In the interim, rather than making false accusations and taking cheap shots at his own daughter, Mr. Spears should remain silent and step aside immediately."
May we all have a Mathew Rosengart in our corner when we're up against it. Yes to all of this! Again, this was Jamie seeing the writing on the wall that his position was untenable. The thing is, now that he's "voluntarily" relinquished his position as conservator, I bet he's in even more legal danger from Rosengart. Rosengart isn't playing about the financial aspect of the conservatorship, and he wants a full and comprehensive audit. What do you want to bet that Jamie has embezzled tens of millions of dollars?
Photos courtesy of Avalon Red, Backgrid, Britney's IG.