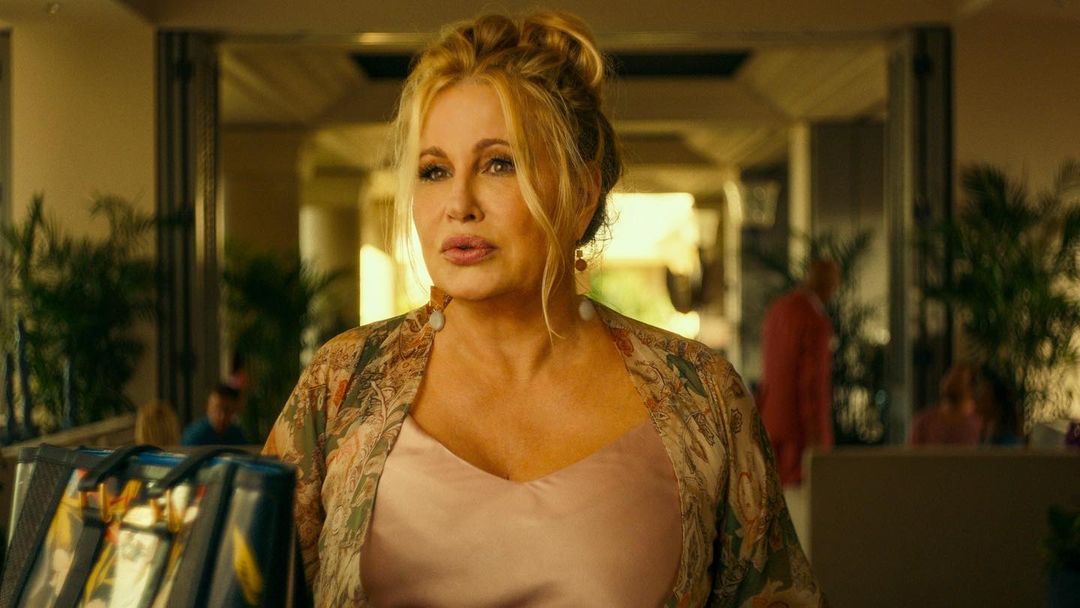 There are no major spoilers for The White Lotus, however there are vague spoilers and I'm sure there will be some in the comments
The finale of The White Lotus aired last night. Apart from the heavy handed music and a couple of the more ridiculous scenes (if you watch it you know what I'm talking about) I
absolutely loved this series and it's been a nice distraction. I talked about it at the beginning of this week's Gossip With Celebitchy podcast. It's about rich people at an Hawaiian resort behaving badly. It stars Connie Britton and Steve Zahn, but the true standout among the cast was Jennifer Coolidge, who plays a neurotic alcoholic grieving her mother's death. The White Lotus was filmed during the pandemic but has no references to the pandemic. Jennifer Coolidge has an interview with The Guardian in which she says she almost didn't take the project because she didn't feel up to it. She said she had been depressed and eating a lot in lockdown and want to be on screen again. Thankfully a friend talked her out of that. I'm only going to excerpt part of this interview, but it's absolutely worth reading at the source.
On her house in New Orleans
From my movies, people assume it'll be all pink couches and fluffy rugs. They're surprised I live in this very old, dark house with creepy oil portraits on the walls. It's gloomy and cavernous. I have an antique automaton called Signor Blitz. When people come round for the first time, they feel like they're on a haunted house tour or a fairground ride. Sofia Coppola shot [southern gothic film] The Beguiled here. I throw a Halloween party every year. But hey, it's good to confound expectations.

She almost didn't take the role, which showrunner Mike White wrote for her
I was really affected by the pandemic. It was an incredibly sad time. I was reading tragic news stories on a daily basis, had a fatalistic approach and assumed the virus was going to win. I knew people who lost their lives and was convinced we wouldn't make it through. I wasn't thinking about work, because I didn't think we'd be alive. But then [White Lotus creator] Mike White called. His show about rich people on vacation had been picked up by HBO and he'd written a role with me in mind. I said: "OK, when are we doing it?" He said: "What do you mean? We just got green-lit. We're doing it now. You need to get on a plane to Hawaii." That was an impossibility to my mind. I'd been gorging and self-destructing at home for months, eating pizza all day. There was no way I wanted to be on film unless they shot me from the neck up. I'm sort of vain, so there was no fucking way.

On how she came around to taking the role
Mike texted me at 2am one night and it just said: "Are you afraid?" It was like he could read my mind and sensed that I was trying to get out of it. Then a great friend of mine told me to own my mess and just do it. I can't tell you how close I came to ruining this whole thing for myself. It's such a great lesson in life. I'd never have forgiven myself. I would've sat down to watch The White Lotus and said: "What the hell was I thinking? I'm an insane person." A lot of us actors are so insecure and scared of failure, we blow our own chances.

On people saying it's one of her best performances
Totally. Did I feel like I was nailing it on any level? No. Acting's so weird. You can never tell when you're in the midst of it. What helped is that my character, Tanya [a wealthy woman grieving her mother], had parallels to me personally. I'd been incredibly depressed during the pandemic. I lost my own mother at an early age. A family member passed away during Covid and we couldn't hold a proper memorial. So I had all that going for me.
There are so many lessons in that story about how Coolidge almost didn't star in this role created for her. The times I have done things that scared me so much I wanted to quit have been when I've seen the most changes in my life. Also I love that advice her friend gave you, "own your mess." I'm going to keep that in mind.
I've heard so many stories about how respected and loved Coolidge is in the industry. Plus she's said to be hilarious in person. There are so few celebrities whom I care about meeting. Now that I know that Coolidge lives in a gothic mansion and throws Halloween parties I'm putting it on my bucket list to get an invite to one. Here's a link to an interview which has a photo of her at home. Her house looks amazing.
As for The White Lotus, I have a lot of questions about what happened to certain characters and why one person was allowed to fly home. I guess he's rich and white, which explains much of the plot of that show. Also there were two new actors (to me) whom I'm keeping an eye on now, Natasha Rothwell (Belinda) and Fred Hechinger (Quinn). Those were the only two characters I wanted to live. This show is getting another season on a different resort with a new cast, but I'd like to get a follow up on those two at least.
Photos via Instagram/HBO and also credit Getty and Avalon.red