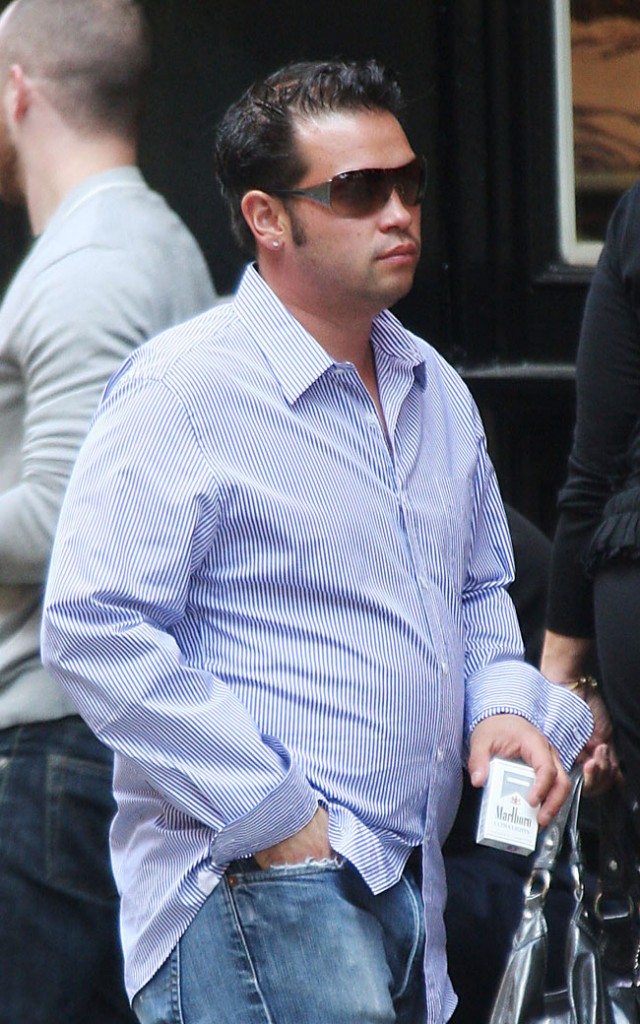 Jon Gosselin has filed paperwork to extend the dissolution of his marriage by 90 days. From the way he words his statement, he wants to have a better relationship with Kate for the sake of their family, not to get back together with her romantically. He seems wholly motivated by the fact that his role on his reality show has been cut, though. Just this morning TLC announced that he was off the show and that it would now be called simply "Kate Plus 8." See – that rhymes and Jon's role was always superfluous. A source told People that "Given Jon's recent antics, there was no way the show could continue to portray him as a doting Dad, not while all this other crap was going on." Jon's lawyer wants us to believe that he had some great personal revelation that he was a douchbag manwh*re and wanted to change his ways, and that it had nothing to do with him being dropped from the show.
It's a busy day in Gosselin-ville. Jon Gosselin is trying to slow down — if not halt altogether — his divorce from Kate Gosselin, telling In Touch Weekly exclusively: "I regret my conduct since Kate and I separated … I used poor judgment in publicly socializing with other women so soon." He's filed paperwork looking to stall the divorce for 90 days "to regain control over the future of our family." In other news, TLC has announced that 'Jon & Kate Plus Eight' will now be titled 'Kate Plus Eight,' and Jon's role will be minimized.

Gosselin's lawyer, Mark Jay Heller, tells In Touch that his client "woke up one morning, looked in the mirror and didn't like the reflection." In turn, Gosselin filed paperwork hoping to stall his divorce from Kate for 90 days, telling In Touch it will "enable Kate and me to restore our relationship as cooperative parents and to open up our lines of communication. I hope that she will be as receptive and enthusiastic as I am to do what is best for our family."

"Even though we were heading for a divorce, it appeared that Kate had been suffering from this divorce as much as I had. That's why I asked my attorney to put the brakes on this divorce so I could try to regain control over the future of our family. So Kate and I could join on a cooperative course that would benefit our family — not destroy it," Jon tells In Touch Weekly.

The news comes as TLC has announced that the reality show that shot them to fame and eventually contributed to their split is being renamed to 'Kate Plus Eight,' dropping the 'Jon &' part. Jon will still be on the show, only with lessening frequency.

The renamed "Kate Plus Eight," which begins Nov. 2, will continue to chronicle the lives of the Gosselin kids (5-year-old sextuplets and 8-year-old twins) but will also focus on Kate's role as a single mother.

"It's not a huge shift, but it's reflective of where the show was already going," said Eileen O'Neill, TLC's president and general manager.

"Jon's going to be involved in the show," she said, adding that he will be seen less often than before. TLC retains an exclusive arrangement with him, as well as the rest of the family, O'Neill said.
[From PopEater]
Popeater also quotes TLC's President Eileen O'Neill as semi-confirming the news that talks are either underway for some kind of new reality show with Kate Gosselin, or that the focus of the show will change to go along with whatever Kate wants to do "I think there's an opportunity for Kate beyond her role as a supermom to explore her other interests."
We heard in early August that Jon was pissing off the executives at TLC by wearing Jon Hardy t-shirts that needed to be blurred out for the show. It was also reported around that time that TLC had put Jon on notice that he was violating the "Morals Clause" of his contract. That doesn't seem to have slowed him down, and we've heard from at least four different women who claim to have had relations with him during his separation – including one who told In Touch that she had a threesome with the bloated dad of eight for two nights running in his hotel room in Vegas. Jon can't take all that back with some lame statement that he "looked in the mirror and didn't like the reflection." Jon looked at his checkbook and didn't like the balance. If he had another show in the works or any kind of potential money-making opportunity he wouldn't have filed for a divorce extension. This is a last ditch effort by a lame guy who doesn't want to admit that he has no other options than to continue with the reality show he supposedly hates.
Jon Gosselin is shown out in NY on 9/28/09. Credit: INFphoto.com