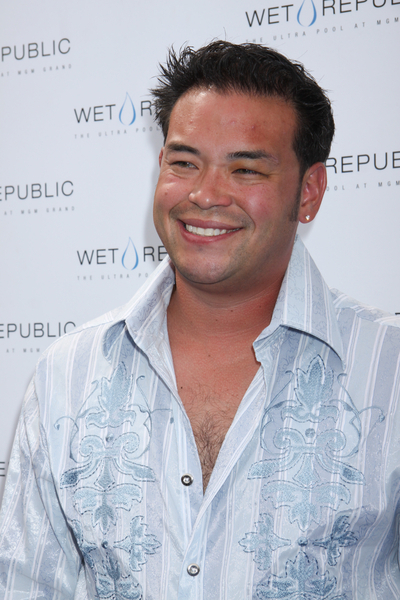 First we heard from the tabloid reporter, then the unemployed daughter of his wife's plastic surgeon, and then the nanny. (The teacher wisely kept quiet, although her brother was more than happy to blab to the tabloids.) In the latest issue of In Touch, the one that screams "Nanny admits affair with Jon," there's also an article in which a working woman admits to a threesome with Jon. A woman identified as "Samantha Sterling" admits to having a raunchy threesome in a Vegas hotel room with Jon and one of her "girlfriends," and although she doesn't say whether she charged him or not, it sounds like a professional relationship to me. There's a photo of Sterling and she's wearing truly awful yarn-like hair extensions, a loose blouse open to her navel and long fake eyelashes. She has a strange nose and looks a lot like Paris Hilton – birdlike.
Jon "rub my back" Gosselin had two threesomes with Sterling and her friend. The second time, he got the mood going with some pay-per-view P0rn in his hotel room. He then asked the two women to get it on while he watched, and had unprotected sex with Sterling. It's possible this woman is making up this story to drum up interest in her services, especially because she claims Jon is good is bed, but maybe she says that about all her clients so they won't feel inadequate:
On August 30, Jon partied at the club XS and after getting a little tipsy, sent champagne over to self-described "Vegas girl" Samantha Sterling and her sexy pal. And then things began to get a whole lot racier. According to Samantha, he was interested in having a threesome with the two women – and asked them up to his deluxe suite to party. "He asked my friend and I to kiss," Samantha tells In Touch in an exclusive interview, adding, "His hand was on my breast while she and I made out." Samantha says that, after drinking a lot, she and her friend indulged in cocaine, and Jon joined them for a long session of group sex.

And it didn't end there. The next night, he arranged to have them come over to his suite at 2 a.m. for yet another booze-fueled night of passion. While John drank vodka and watched pay-per-view p0rn, Samantha says she and her friend did a strip show. "He wanted to see me and my friend making love," she adds. Then, "Jon had sex with me, without a condom."

Samantha claims she had a great time with Jon, adding that on a scale of 1 to 10, he rated an eight as a lover. "We were going at it for an hour. He is good in bed."
[From In Touch, print edition, September 28, 2009]
It really sounds like she's a hooker: "he arranged to have them come over… at 2 a.m." Yuck. Yesterday we heard from the mother of the nanny that Jon told her daughter they didn't have to worry about protection because he'd had a vasectomy. It looks like she has a lot of other things to worry about if Jon is screwing prostitutes without using a condom.
This story is in In Touch along with the long tell-all by nanny Stephanie Santoro. Santoro gives a similar account as Kate Major on the way that Jon immediately promised her the moon and the stars and made it seem as if things were moving forward in a short period of time. The two were together for about a month and a half. Unlike Major, Santoro is much more level-headed about the whole thing and seems to now see Jon for the cad that he is . She said that he paid her $25 an hour for watching his kids, which seems high but there are eight of them after all. She said "He would say how he wanted to make sure my daughter and I would always be okay, and how he would take care of me. There was no talk about marriage, but we did talk about being together." Santoro explained that Jon also regularly smoked pot and one time he "was smoking it outside of the house, and the kids were home." That would explain his often spacey expression.
At least with the hookers Jon wasn't leading anyone on. He's played a handful of women in the past few months, and despite how lazy and inadequate he seems he sure knows how to say the right things to get them into bed. He also picks pretty stupid women, too, but I guess you'd have to have some screws missing to hook up with that fool – even if he's paying for it.
Jon Gosselin is shown in Vegas on 8/29/09. Credit: PRN / PR Photos