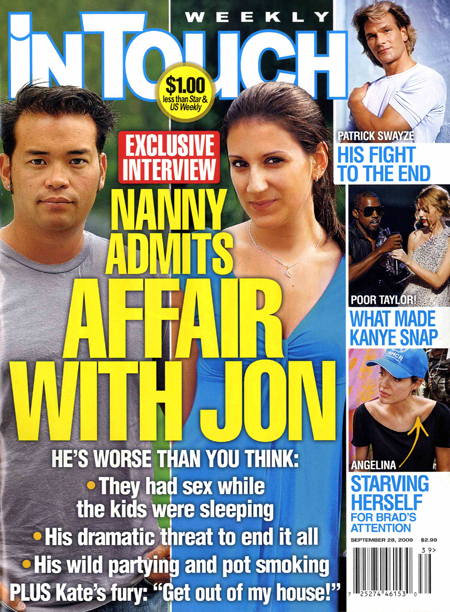 It looks like yet another woman has come out of the woodwork with a story of being wooed by father of multiples Jon Gosselin. Instead of freaking out about how Gosselin didn't follow through on his promises and dumped her ass, Stephanie Santoro is hitting Jon where it hurts. She says that he was pretty lousy in bed the nine times she slept with him, but she gives the poor guy a little slack and adds that he wasn't the absolute worst. I would like this woman's style if I didn't know she f*cked Jon Gosselin. Yesterday we saw an interview on Radar Online with Stephanie's mustached mom telling us that Jon and Stephanie started hitting the sheets "within a few days of him coming back from France." Jon's mating ritual involved inviting Stephanie back to his apartment over the garage and rubbing her back. Santoro's mom says in a second interview with Radar released today that Jon initially explained his with Hailey Glassman by telling Stephanie he had a business relationship with Hailey through that Jon Hardy clothing line that never materialized. Later, he tried to get Stephanie to tell Hailey that they never slept together.
I wonder what Jon is going to tell "soulmate" Hailey Glassman about this. He claimed the last one, Star reporter Kate Major, was crazy and that was probably true, but what's wrong with this woman? There has to be something off kilter about her if she willingly bedded Jon, but she's undoubtedly telling the truth. The details Santoro tells In Touch [via Popeater] about how Jon wooed her made me roll my eyes several times. I wish you could see the look of disgust on my face, but you'll be making your own faces if you choose to read through this:
Jon Gosselin's love life is often the center of the rumor mill and tabloid fodder. He now admits having a relationship with Hailey Glassman, but in a new bombshell interview in In Touch magazine (on newsstands Wednesday 9/16) given exclusively to PopEater, Gosselin's nanny Stephanie Santoro is coming clean about their affair together. She says that despite Jon denying that they were romantically involved, they had a steamy sexual affair, going into seriously (and kinda disturbingly) intimate details.

Santoro, 23, tells In Touch Weekly that their steamy fling began one night with an innocent phone call where Jon asked her to come over. Santoro says that Jon asked if she could give him a massage, and then he was like, 'my turn.' While we were sitting there, he said, 'Well, I guess we can kiss just once.'"

Santoro says that night, Gosselin told her: "Whatever you do, don't fall in love with me, because it's going to be impossible for me not to fall in love with you." The two then made their way to Jon's hot tub, where Santoro says she "kept looking at the windows" because she was afraid "one of the kids was going to pop their heads out, but he told me to relax."

She goes on to call Gosselin "very romantic," saying after they got out of the hot tub, Jon "ran in to make sure all of the kids were asleep, and we went back into the apartment that is over the garage. We continued what was going on in the hot tub, and then he fell asleep afterward."

After their first hook-up, Santoro says the 'Jon and Kate Plus 8′ star texted her several times "saying how much he cared about me, and he was being really sincere. He just wanted to make sure that I wasn't feeling like I was being used. I pretty much spent every night there that entire week. And that's how our relationship started."

Santoro then goes into TMI territory about their relationship, saying they had sex "nine times," and that Gosselin "wasn't terrible, but it wasn't the best I ever had."
[From Popeater]
So Santoro must have gotten canned if she's speaking out like this. Her mom told Radar that Jon first tried to break up with Stephanie by accusing her of using twitter to tell Hailey about their relationship. He also claimed that Twitter officials traced the messages to Stephanie's computer, which was an obvious bluff. According to Stephanie's mom, Jon then broke up with Stephanie and accused her of lying, but asked her to call Hailey and tell her they weren't sleeping together! Then he tried to smooth things over afterwards and get back with Stephanie. What a tool!
Did Jon's estranged wife Kate have anything to do with Stephanie getting fired or was Jon just trying to get out of this relationship? Kate freaked out when she realized Santoro was alone watching her kids a couple weeks ago, and it looks like her suspicions were correct. This whole story makes me cringe, but I also love how outspoken this woman is. Jon really had it coming for how he played everyone.
In Touch is the magazine that ran an exclusive "I'm Tired of Being Blamed" cover with Gosselin early last month. He didn't really say much of interest, and this is really good dirt from Santoro. I don't blame them for changing allegiances.
InTouch cover via CoverAwards