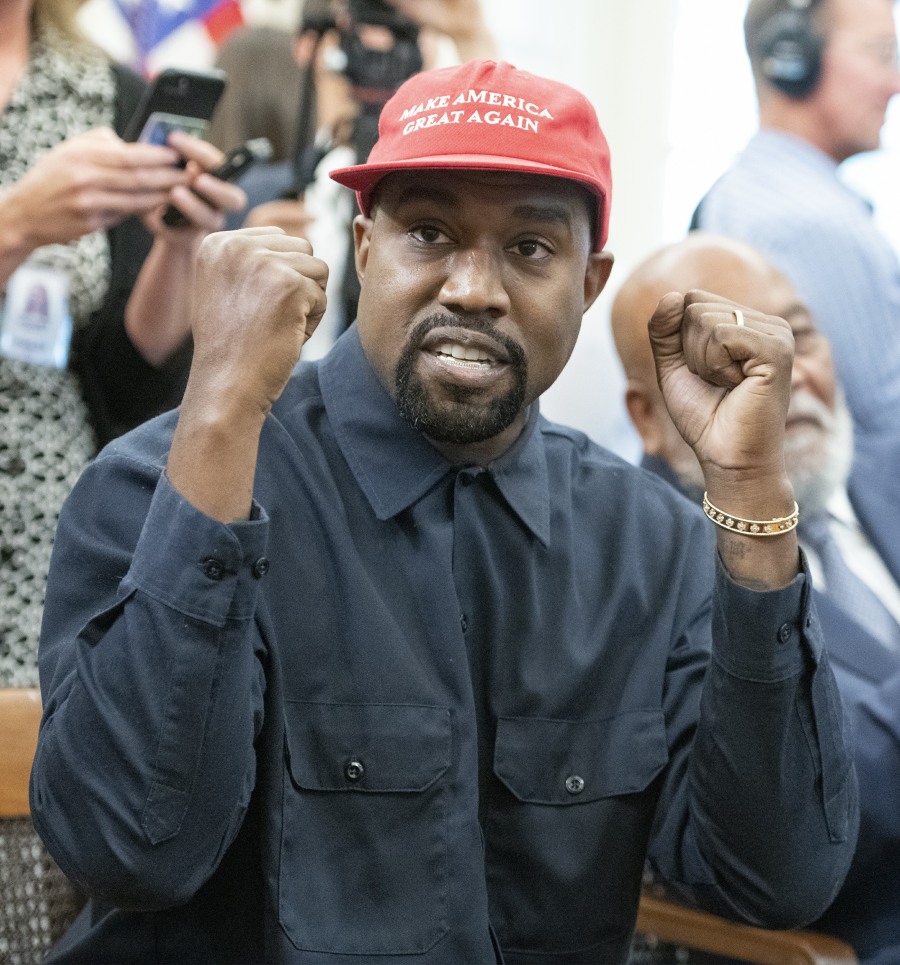 Last night, Kanye West held his third "listening party" event for his new (and still unreleased) album Donda. This party was in Chicago, at Soldier Field. He didn't require proof of vaccination for entry, so when there's a spike in Covid cases in the Chicago area in a week, you know why. Many of the headlines I've seen about the event have been about how Kanye asked Kim Kardashian, his estranged wife, to be part of the "show." But it's worth noting that Kim was like the least problematic person there – apparently, Kanye invited Marilyn Manson and DaBaby. Marilyn Manson is a serial sexual predator and DaBaby is homophobic trash. And Kanye is MAGA. My question is: why the f–k was Kim there? According to TMZ, Kim stepped out on the stage for the final song of the night, "No Child Left Behind." Kim wore a Balenciaga wedding gown. As for Manson and DaBaby, he had them on stage too:
On Thursday night, MAGA maestro Kanye West threw caution and morality to the wind during his DONDA "listening party" at Chicago's Soldier Field. In addition to erecting a replica of his childhood home—it is a hometown show, after all, and the album is named after his late mother Donda West—West, masked and dressed in all black, decided to bring out Marilyn Manson and DaBaby during the performance art piece. The three posed together on the stoop of the home, underneath a giant cross, as "Hurricane"—a song off the album featuring DaBaby and The Weeknd—blared over the loudspeakers, along with the track "Jail."
Before DaBaby's homophobic rant, I think a lot of artists were probably happy to collaborate with him, and maybe this work with Kanye was pre-rant. But Kanye has had all the time in the world to remove DaBaby from the album. No one – literally no one – is like "free DaBaby, cancel culture!!" He's not in jail. He's just an a–hole who says hateful, bigoted sh-t about gay people, then makes stupid apologies and then takes back his stupid apologies! (Update: okay, Kanye replaced a Jay-Z verse with DaBaby very recently. F–k them both.)
Anyway, yeah… Kanye West continues to be the worst, and he continues to defend the worst f–king people. Remember when he defended Bill Cosby? That's Kanye's thing, he's Mr. Believe The Worst Men.
Kanye brought out Marilyn Manson and DaBaby during his Donda listening party in Chicago… pic.twitter.com/whLcxGdTQK

— Consequence (@consequence) August 27, 2021
Photos courtesy of Getty, Avalon Red, Backgrid.