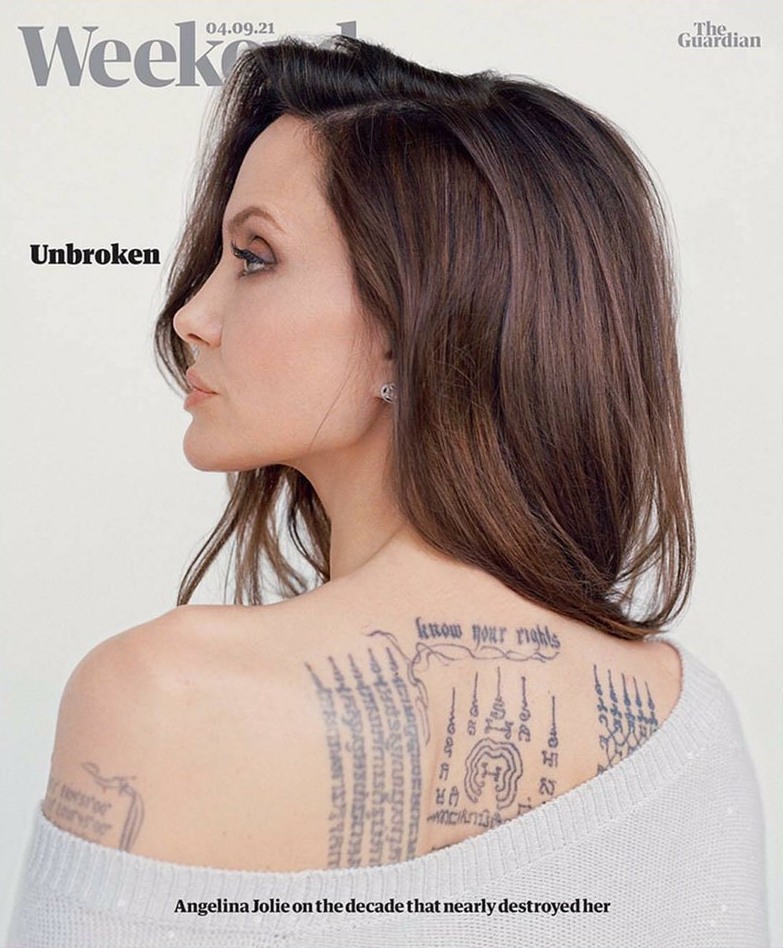 Angelina Jolie covered The Guardian Weekend, the newspaper's in-house magazine this weekend. She is promoting her new book, which she co-authored with Geraldine Van Bueren QC and Amnesty International. The book is called Know Your Rights, and it's "a guide for young people." It will hopefully be a handbook of sorts for disenfranchised children and young people around the world to know their rights, to know how to fight for their rights and know how to advocate for themselves. Angelina spilled in this interview and I'm just going to do as many highlights as possible, but it's worth it to read the full piece, if only for the repeated references to Dusty, her talkative Rottweiler. She spoke in-depth about Brad Pitt, what happened on the plane in 2016 and Harvey Weinstein. She also denies the story/rumor that she wants to move to London or somewhere else – she is fine with staying in LA, at least until her kids grow up. Some highlights:
Something happened which made her fear for her children's rights. "I… I'm still in my own legal situation. I can't speak about that." Are you talking about your divorce from Brad Pitt and the allegations you have made against him of domestic abuse? She tells me she is sworn to silence. Well, nod if you're talking about the divorce and allegations. She nods. And did she fear for the safety of her children? This time she answers. "Yes, for my family. My whole family."

Fighting for children's rights across the board, and for her kids' rights: "Often you cannot recognise something in a personal way, especially if your focus is on the greatest global injustices, because everything else seems smaller. It's so hard. I'd like to be able to have this discussion and it's so important…I'm not the kind of person who makes decisions like the decisions I had to make lightly. It took a lot for me to be in a position where I felt I had to separate from the father of my children."

When a child is harmed: "What I know is when a child has been harmed, physically, emotionally, or witnessed the harm of somebody they love or care for, it can cause damage to that child. One of the reasons children need to have these rights is because without them they are vulnerable to living unsafe, unhealthy lives."

Working with Harvey Weinstein when she was 21, on 'Playing By Heart': "Harvey Weinstein. I worked with him when I was young… If you get yourself out of the room, you think he attempted but didn't, right? The truth is that the attempt and the experience of the attempt is an assault." What happened? "I really don't want to derail the book into stories about Harvey." But that was an abuse of rights? "It was. It was beyond a pass, it was something I had to escape. I stayed away and warned people about him. I remember telling Jonny, my first husband, who was great about it, to spread the word to other guys – don't let girls go alone with him. I was asked to do The Aviator, but I said no because he was involved. I never associated or worked with him again. It was hard for me when Brad did."

Pitt worked with Weinstein on Inglourious Basterds & Killing Them Softly: In doing so, Jolie felt he was minimising the sexual assault she had endured. "We fought about it. Of course it hurt," Jolie says about Pitt being happy to work with Weinstein, despite knowing he had assaulted her. She avoided attending promotional events for the film.

The past five years of divorce: "I mean, in some ways it's been the last decade. There's a lot I can't say. I think at the end of the day, even if you and a few people you love are the only people who know the truth of your life, what you fight for, or what you sacrifice, or what you've suffered, you come to be at peace with that, regardless of everything going on around you…. I'm not out of it… How am I? I'm realising that sometimes you can survive things, but not know how to feel and live in the same way. So it's more about being open. I'm really trying to be open as a human being again."

She's trying to see the silver lining of her divorce: "It has been so horrific that I almost have to see it as a godsend to be in a position to be able to fight this system. It doesn't start with the violation [the plane incident]. It's so much more complicated than that." She says the lack of ratification has had a significant impact on her battle: "My 17-year-old, for example, has been denied a voice in court."

She wants everyone to heal: "It's not that I want to talk about anything really, because I just want my family to heal. And I want everyone to move forward – all of us, including their dad. I want us to heal and be peaceful. We'll always be a family."
I checked it out, and Jonny Lee Miller worked on three films with Harvey Weinstein listed as producer or distributor – Dracula 2000, Mansfield Park and Mindhunters, all between 1999-2004. I do wonder if JLM was in a position to say no, or if he wanted to use his position to warn people on set. But yeah… Angelina was Brad Pitt's second girlfriend/partner to have a Harvey Weinstein story. Gwyneth Paltrow told him about Weinstein assaulting her too, and she had a story about Brad's heroism at the time. Fifteen years later, I guess Brad didn't mind working with predators.
As for what she says about the divorce… my heart is broken for her. She's been through the wringer on for five years, all because it finally got to a point where she was terrified for the well-being of her children. He's still punishing her for that too.
Cover/pics courtesy of The Guardian Weekend.