Jada Pinkett Smith has hit several milestones these last few months. She shaved off her hair after years of dealing with alopecia and started building a tattoo sleeve because "carpe diem." Jada also made a surprise appearance at the Emmys on Sunday to honor her dear friend, Debbie Allen, with the Governors Award. In fact, Debbie mentioned how she was just at Jada's 50th birthday party. Jada has crossed the threshold into a new decade and decided to do it in style. Jada invited her friends to a roller skating party under the stars. Jada posted videos and photos on Instagram Stories of the event. Below are a few more highlights via Yahoo!
Smith took to her Instagram Story to share details of the event. In one video, she posed under a neon sign that read Jada's Roller Rink. She captioned the video, "I rolled into 50 like…"

She also shared a video of the roller rink at night, writing, "I got to skate under Mother Moon for the first time in my life."

Smith's mother Adrienne Banfield-Norris, who co-hosts Red Table Talk alongside Jada and Willow, gushed over her daughter on Instagram, sharing several throwback photos of the Girls Trip star.

"​​50 years ago today @ 12:38pm you arrived weighing a whopping 7lbs 3 3/4 oz. I was and still am so very proud," she wrote. "I thank God for the village of family and friends who helped me guide you over the years. I take very little credit for the incredible woman you have become. I am overwhelmed w gratitude. In this next season, I wish for you an abundance of love, laughter, health, wisdom, peace and just all the things as ordered by the divine."
I love how Jada's mom, Adrienne Banfield-Norris, celebrated her on Instagram by sharing the story of Jada's birth. It was even sweeter that her mom thanked those who helped Jada become the woman that she is by helping to raise her and giving her opportunities. I am looking forward to see what this next decade brings Jada and her clan. I love how all of us Gen Xers are doing all of these nostalgic parties. I also threw myself a 70s roller skating party for my 40th. I fell on my ass several times and enjoyed the hell out of the night. It felt so good to revisit the experiences of my childhood that are slipping away in our more digital world. And as a wild moon child, I love how Jada had the rink made outside under the moon and the stars. All I can say is, I am suffering from serious FOMO. I am not sure why my invite didn't come in the mail. But it's ok, I'll have my people reach out to Jada's people and maybe I can be at the next big event. All joking aside, I hope that, despite the circumstances of COVID, Jada had an amazing 50th. Hopefully Jada will get to do something special with Willow once they are reunited since she was unable to make it to her mom's party.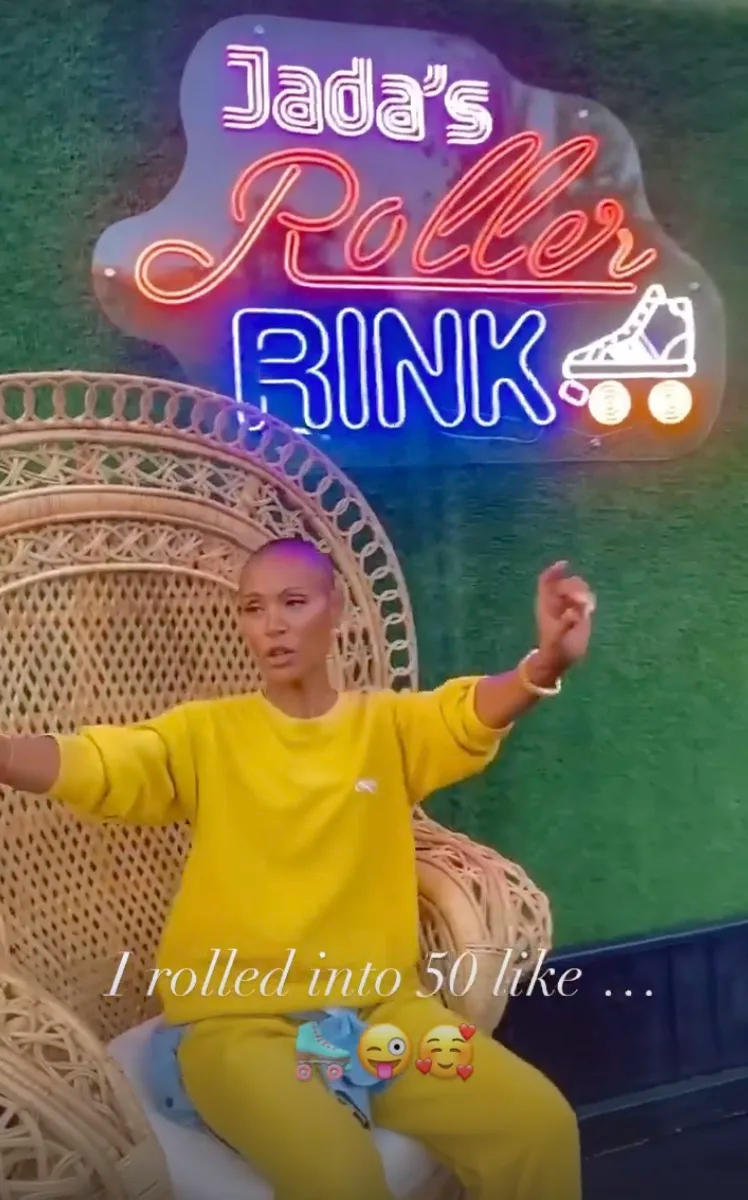 Photos from Instagram and via Yahoo!