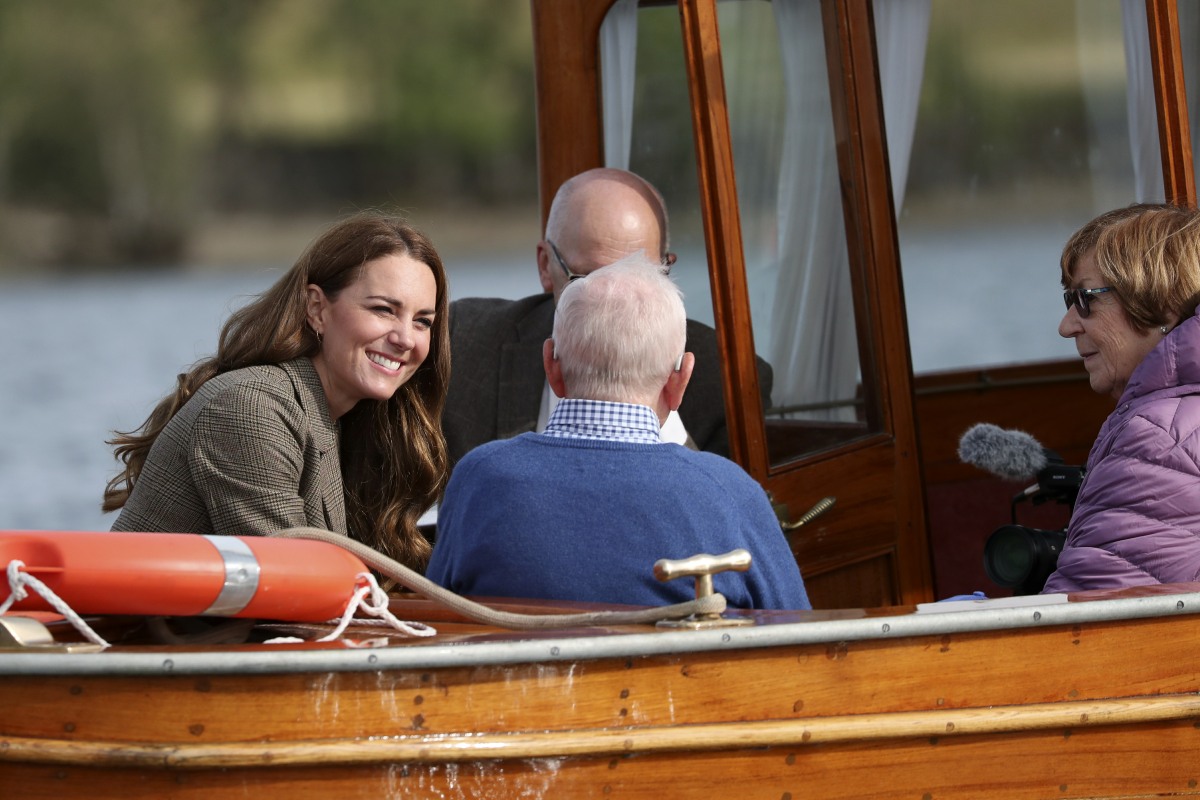 Yesterday, I mentioned something about the Duchess of Cambridge, something I've noticed over the years: she's much better and more engaged when she does events with seniors. I think it was the author Sue Grafton who said that there are two kinds of people in the world, people who prefer kids and people who prefer the elderly. Kate might prefer the elderly. The Early Years stuff is just vague embiggening and buttons to her, but give her a chance to spend time with survivors of the Holocaust, and she's genuinely engaged. That's what happened yesterday, when Kate took a boat ride and spent time with some of the "Windermere Children," the children who survived the Holocaust and were resettled in the UK's Lake District following the war. This event went exactly as it should have, like all of Kate's events should go: Kate is engaged and kind and her visit gives a boost and a platform to the people she's met with.
"She was absolutely delightful," Ike Alterman, a 93-year-old survivor from Poland who was a prisoner at Auschwitz, Buchenwald and Theresienstadt, told PEOPLE. "We laughed, she asked questions and she wanted to know the answers. We talked about her kids and my kids, and how we love the lakes. I have two girls and two grandchildren. I told her what happened to me during the war and when I arrived and how I progressed in business later. I didn't know what to expect, but we spoke like a couple of friends. She was so down-to-earth."

Arek Hersh, 92, was also joined by the Duchess on the boat. A survivor of Auschwitz, he lost his parents and his brothers and sisters — in total 81 members of his family perished. He settled in Leeds, Yorkshire, and worked as a mechanic and, in later years, as a landlord for students in the city. He is featured in the 2020 film The Windermere Children and the documentary The Windermere Children: In Their Own Words.

"It was very nice. She was very interested," he told PEOPLE. "It brought back happy memories of being on the lake." Still, "It took some years to get rid of the whole situation. I lost everybody, my parents, brothers and sisters." Kate, he recognized, "can't help me as far as that's concerned. I talked to her and her husband [Prince William] in London, and we discussed certain things. I told her my point of view. The outdoor life here helped a little bit but it wasn't everything."

His wife, Jean, added that the Windermere Children didn't know English. "Arek had many, many years of nightmares," she said. "They were all very small. They couldn't believe how beautiful this place was. He says he literally felt himself growing here."

"This is a happy day," she added. "Arek has had some lovely moments through his teaching about the Holocaust. It isn't because he's meeting important people — he's met the Queen — but because he's met some wonderful ordinary people too. Our life is very rich. Meeting the Duchess is obviously is a nice honor."

Following the boat ride, Kate spent about an hour talking to the families of the survivors.

"I really felt that she was listening and engaged and genuinely interested in our stories. This wasn't a 'by the way I'm meeting these people today' but her genuinely showing she cares," David Shannon, whose uncle and aunt were Holocaust survivors, told PEOPLE.

"She is using her position of influence to engage with survivors and their families," said Shannon. "But what about the future generations? When we talked with her, that was what we discussed. The concentration camps are the end of the process, not the beginning. It's important that people learn about tolerance and about right-wing nationalism. I felt she gets that and her part in the process."
"It's important that people learn about tolerance and about right-wing nationalism. I felt she gets that and her part in the process…" I mean, RIGHT?? This is not "Kate cuddles cute kids on a vague Early Years project." This is Kate platforming Shoah survivors and engaging them in conversation about right-wing nationalism, tolerance and how to do more. Now, will anything come of this? Probably not. But I really like this subject for Kate. We are losing the generation of Shoah survivors, and we've already lost so much of their history.
Thank you Ike and Arek, two of the 'Windermere Children', for sharing your powerful stories today. pic.twitter.com/M8GXajXW74

— The Duke and Duchess of Cambridge (@KensingtonRoyal) September 21, 2021
This group of children were called the 'Windermere Children'. I wanted to be able to meet some of the survivors Ike & Arek in person to hear their stories; about how they went on to create their own companies, write a book & to this day, still sneak in the odd round of golf.(2/3) pic.twitter.com/XNTimAxZ8K

— The Duke and Duchess of Cambridge (@KensingtonRoyal) September 21, 2021
It was so powerful to hear how their time in the Lakes enjoying outdoor recreation, sport and art therapy, allowed them to be able to begin to rebuild their lives and eventually, their families here in the UK. (3/3)

— The Duke and Duchess of Cambridge (@KensingtonRoyal) September 21, 2021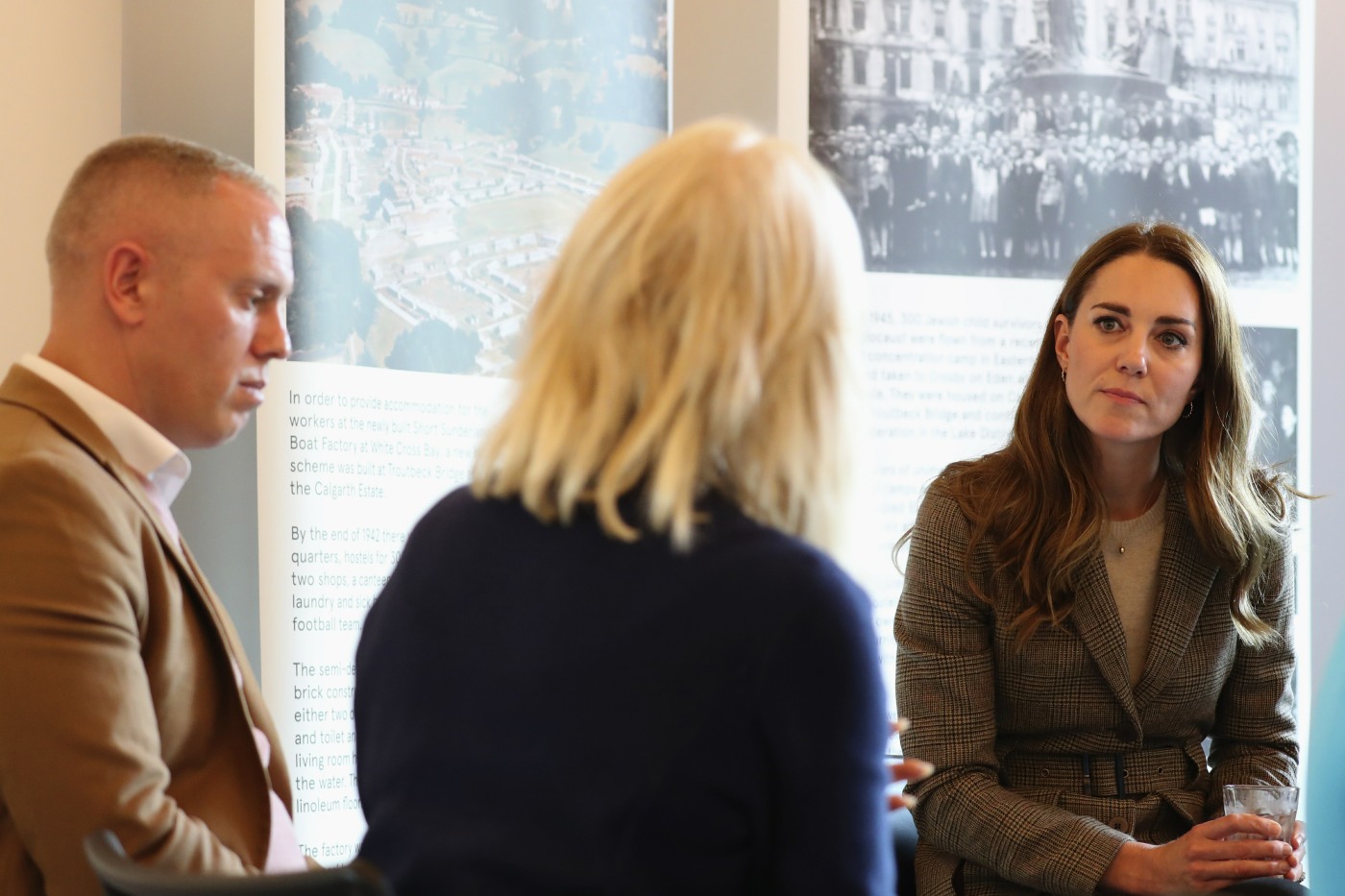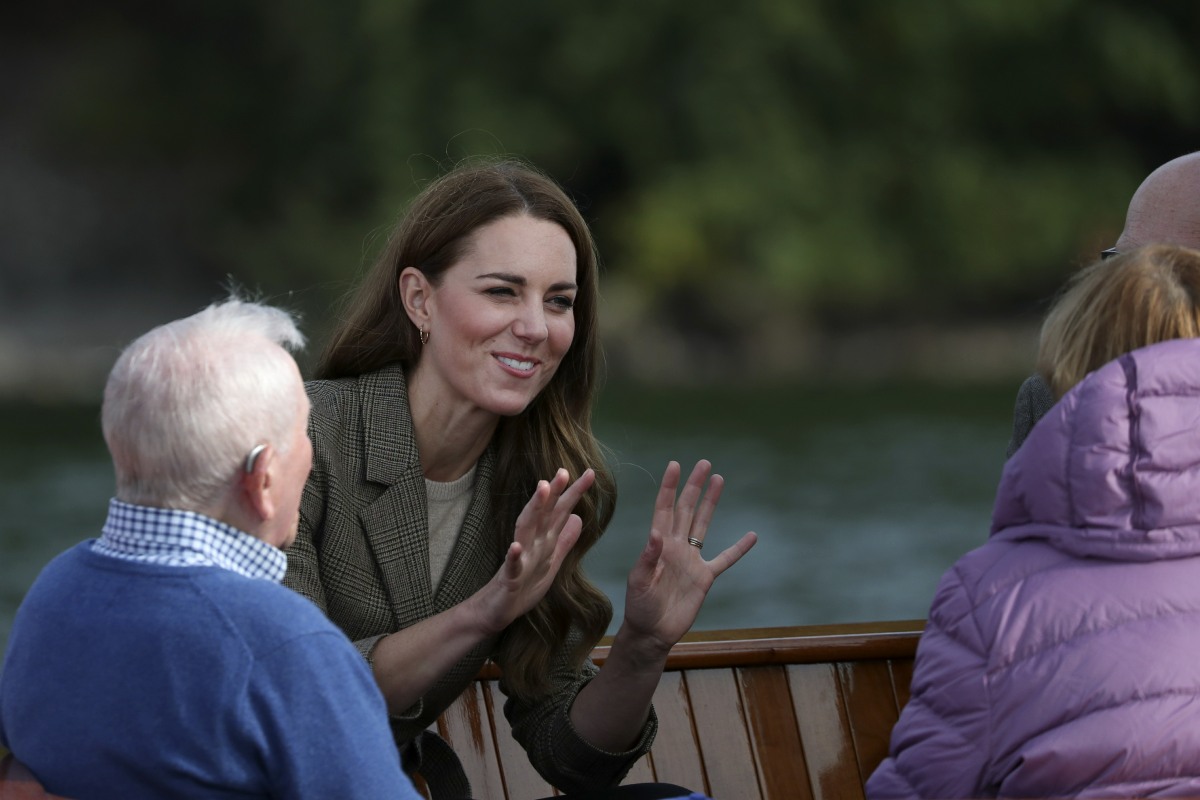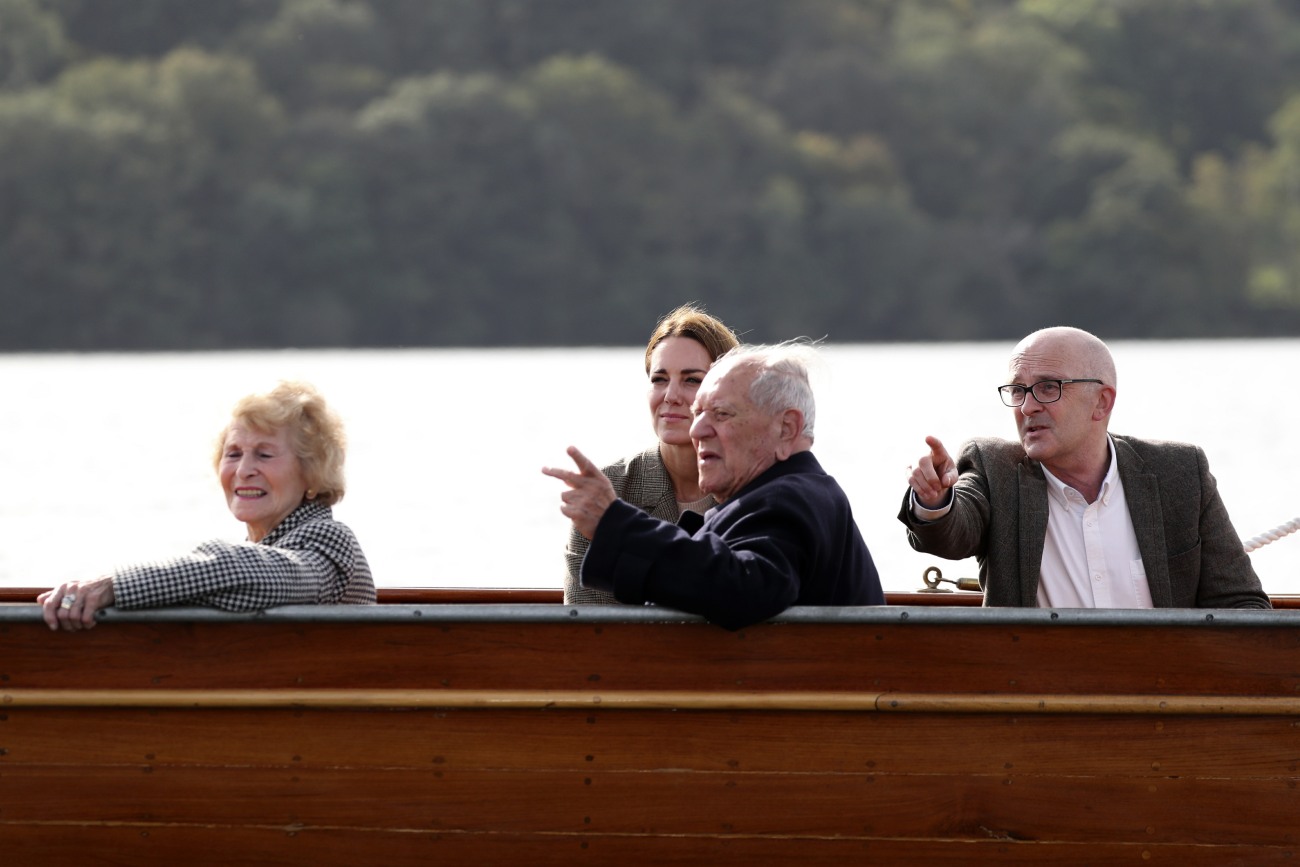 Photos courtesy of Avalon Red.