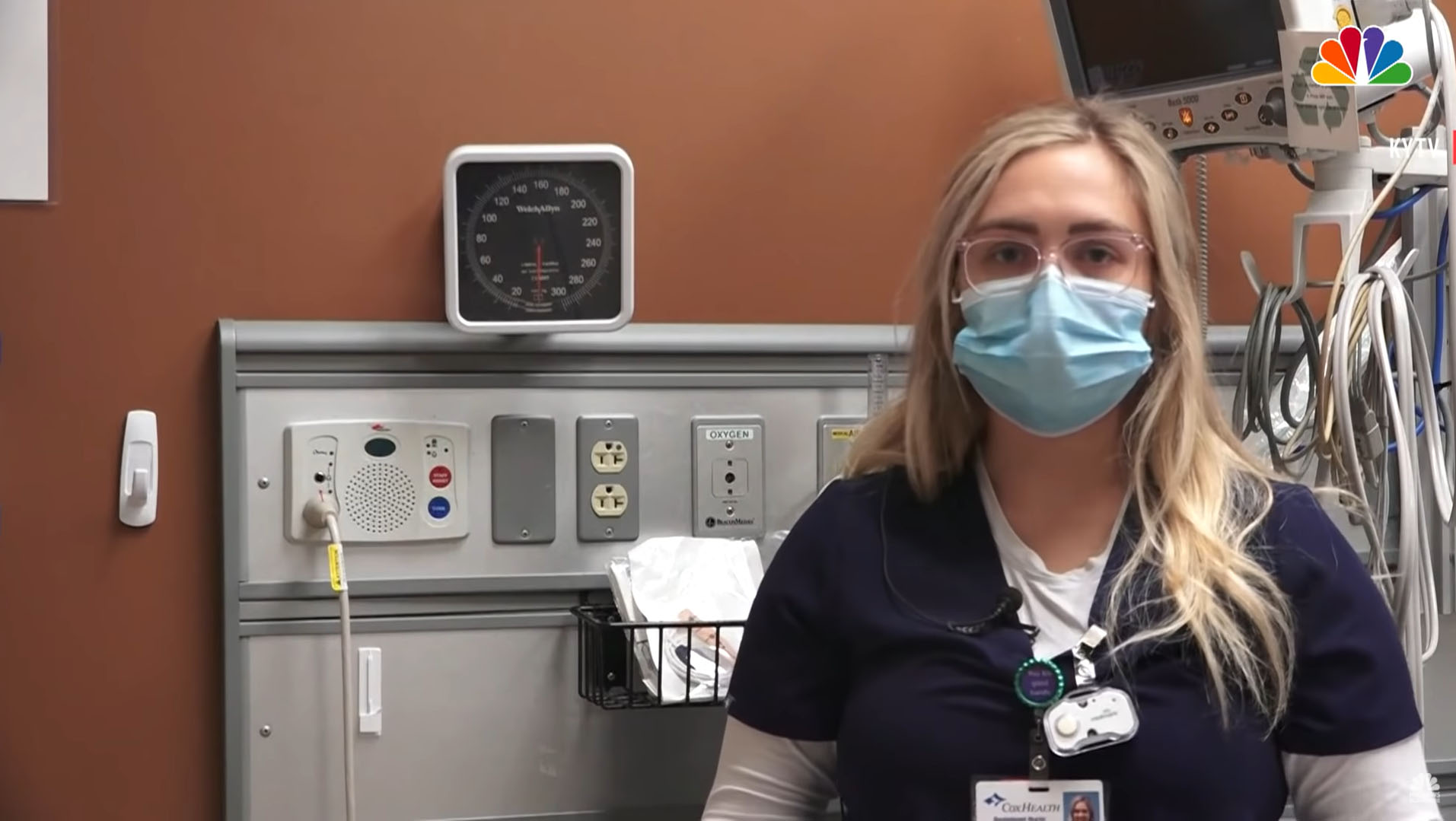 I follow a lot of doctors and nurses on TikTok. They're exhausted and frustrated. Covid patients they thought were improving will die suddenly. Patients' families often blame them for their loved ones dying and others are dealing with combative patients and families. One hospital center in Branson, Missouri (where the vaccination rate is 39th among US states) is so concerned about the safety of their staff that they've given them panic buttons to summon security. GPS chips ensure that they can be quickly located.
Cox Medical Center Branson workers will soon have an added layer of protection after reports of staff assaults by patients tripled this past year.

Nurse Ashley Blevins says in the past year staff have been spit on, cussed out, and in some cases beaten by patients.

"It's nice we have the chance to press our button and security knows exactly where we are and if we end up having to chase a patient down they'll know where our last location is," Ashley Blevins said.

Cox Branson's Patient Safety Facilitator Angie Smith says after analyzing workplace violence numbers in Branson, she knew they needed this system…

Smith says the Emergency Room nurses see a lot of violence, but it also happens all throughout the hospital.

"It's in our critical care units, it's in our med surge floor areas, a lot of times it's repeated violence as well we may have the same patient doing the same thing or getting worse each time they do it," said Smith.

Nurse Blevins says she thinks the pandemic has had an impact on these situations as well.

"They come in here and they have to sit in here because everywhere's full, we have no placements to put anybody and that's frustrating on the patient that's frustrating on us and I think that's increasing a lot of violence towards everyone," said Blevins.
This is so bizarre to me but it turns out it's part of a growing movement from the Qanon crowd to blame healthcare workers for the pandemic. Some are now advocating that people check their very sick loved ones out of ICUs and into hospice, which might sound superficially good as it would help lighten the burden on hospitals. It's making things worse for them because these people are angry, radicalized, using harmful self treatments and sometimes attacking doctors and nurses. NBC news has a sad and sobering report about this. I'm not going to excerpt it as it's a lot and is worth reading at the source.
Unvaccinated covid patients need DNR orders, they don't need to be breathing hydrogen peroxide, gargling iodine and taking dewormer. I can't imagine what nurses are going through at this point in the pandemic. I want to hear their stories and I don't want to forget this point in history. A recent study showed that 66% of critical care nurses have considered quitting in the past year. They deal with patients whose arrogance has put them in the hospital when a vaccine is free and available at every pharmacy. Healthcare providers and beds are a limited resource and vaccinated people are dying from treatable conditions. Nurses are burnt out and getting attacked for doing their jobs. No wonder so many want to quit. A little button that summons a person with a gun isn't going to fix that.
Photos are screenshots from NBC News video and via Instagram