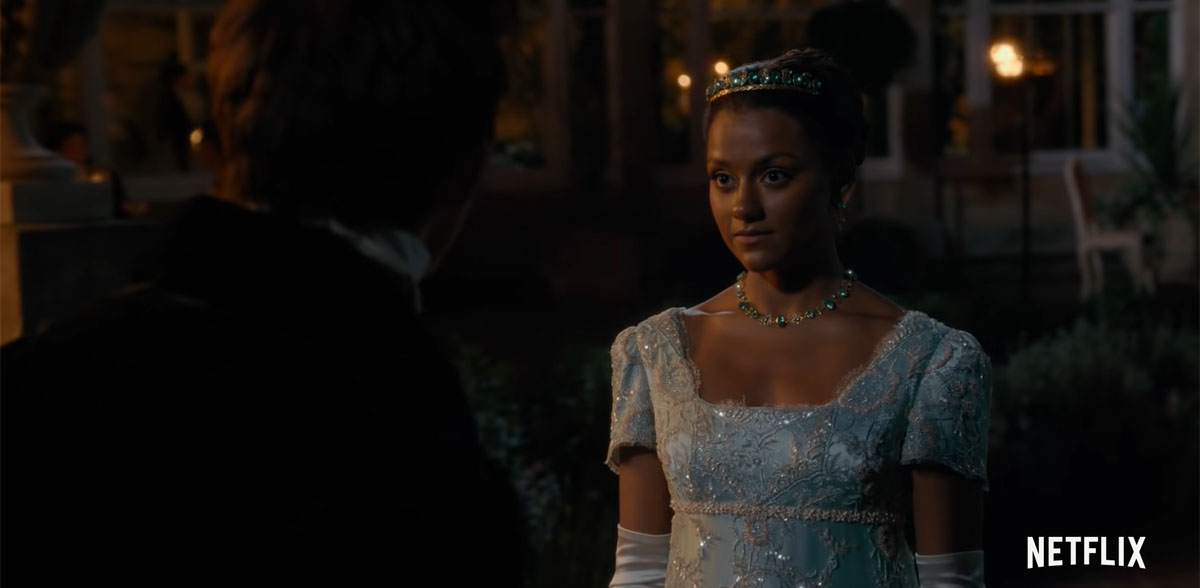 Dear Readers, it has been a long dry passionless season without our favorite duke and the Bridgerton clan. And even though we know we will not be getting the Duke back, many of us have been looking forward to the new romance between Kate Sharma and Anthony Bridgerton. Bridgerton season two has been delayed after set shutdowns due to COVID outbreaks, but we no longer have to wait for that first look. Netflix posted a minute-long clip of Anthony Bridgerton getting dressed down by Kate Sharma and I am chomping at the bit. The chemistry between Simone Ashley (Kate Sharma) and Jonathan Bailey (Anthony Bridgerton) is off the charts. Netflix also announced that Bridgerton season two will be out in 2022. Below are a few more details from Entertainment Weekly:
The first look reveals a scene between Anthony and Kate, showing how he, in more ways than one, has met his match.

"We left [Anthony] at the end of the first season at a bit of a crossroads, so I'm looking forward to jumping in and discovering how he fares on the marriage market," showrunner Chris Van Dusen previously teased of season 2.

Chandra and Ashley appeared alongside Bailey and Nicola Coughlan during TUDUM to tease the introduction of the Sharma family.

Ashley noted how the sisters don't have a father, so it's very much them against the world.

"They very much feel like outsiders," Chandra said. When put up against other families like the Bridgertons and the Featheringtons, the sisters "don't really know what's happening, they have their ideas," the actress added. "I think the Sharmas represent the audience [viewpoint]."

As for Anthony, Bailey teased, "He gets to deal with a lot of things that I think he hasn't been given the space to deal with." Ashley promised "a lot of arguing" between the eldest Bridgerton son and Kate. "They challenge each other," she said.
*SCREAMS* OMG I cannot wait for season two. Yes, I know my inner middle aged thotiana was mad because Rege-Jean Page wasn't returning for season two. And honestly I just felt like the other male characters fell flat in season one. However, comma, this clip has got me hyped all the way up. The chemistry between Jonathan and Simone does not disappoint and I am here for it. The way Kate dresses down Anthony in that clip was my type of female character. I personally felt Daphne in season one fell flat. I like Phoebe Dynevor but I didn't warm to her character. I am also looking forward to seeing a dark skinned South Asian woman on my screen in a major role. Ya'll know I called that casting from the jump (and yes I am gloating). I think the passion between Kate and Anthony is going to be smoking and I am glad they got rid of Anthony's ridiculous mutton chop side burns. Those really put me off him in season one. I believe that Kanthony are going to be hotter than Daphne and the Duke. Although nobody asked, I can't wait to clutch my pearls and bite my lip when season two drops sometime in 2022. Until then, I will have The Witcher to keep me warm.
Here's the TUDUM interview with the cast of season two of Bridgerton. I have embedded the video to start with the Bridgerton cast:
photos are screenshots from YouTube/Netflix