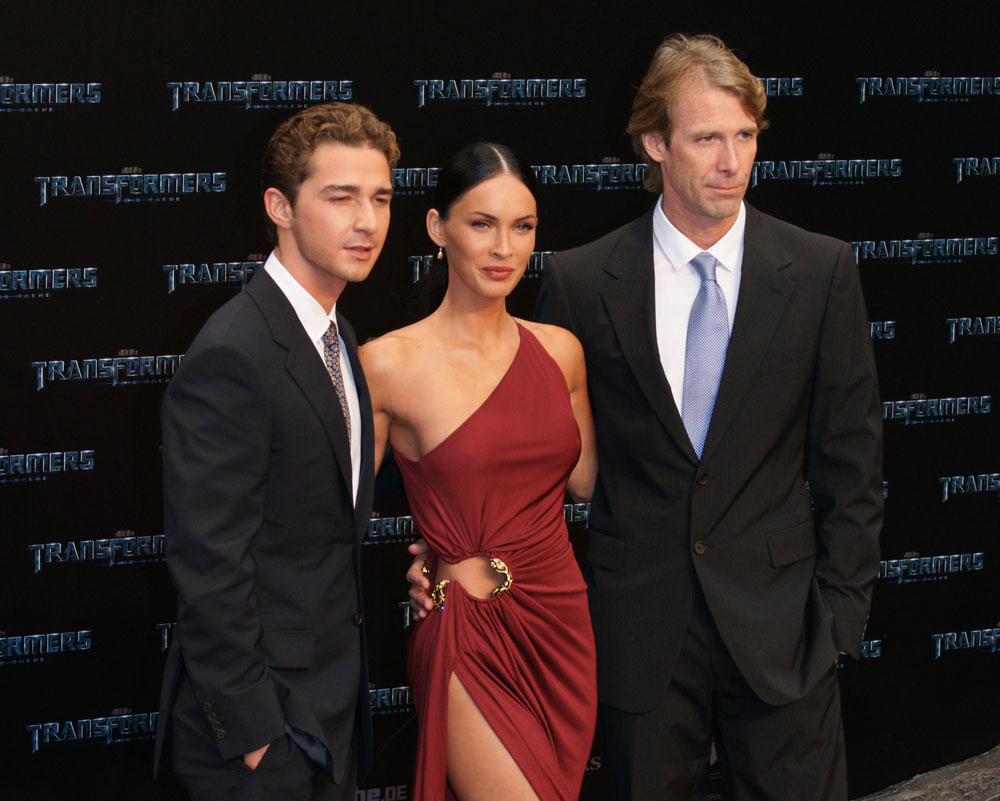 The war of words between Megan Fox and her Transformers director Michael Bay was a virtual bloodbath for months. There were a lot of different chapters to it (try the Michael Bay archives for a refresher), but some of the latest moves went down like this: Michael Bay slamming Megan as immature and ridiculous after she criticized the Transformers films; Megan saying Michael was like Napoleon and Hitler; unnamed Transformers crew members sending out (on Michael's site) an open letter slamming Megan as a thankless, graceless, classless bitch; Michael sort-of apologizing for the letter and Megan sort-of apologizing for being a snotty brat.
In this month's Nylon Magazine, Megan made another reference to Michael and their war of snotty, bitchy attrition. I saw this last week and didn't say anything because I was all "meh, it's barely newsworthy". But I will note – Megan is incapable of shutting up about this crap. In the future, if she ever gets a question about the Michael Bay mess, she should really consider saying "no comment" or "he's nice". Alas, here's what she said: "We say this sh-t to each other. It's not that we're buddies, but to get through making his movies, you have to give him sh-t. You can't mentally and emotionally survive until you get some of that out, and he actually enjoys the process of having his actors bitch at him and him being able to bitch back at his actors." She can't "mentally and emotionally survive" without being a snotty little brat? For f-ck's sake.
Anyway, Transformers 3 just got it's release date, and Michael decided to announce it on his blog (announcement via Just Jared). But Michael is just a friggin' immature as Megan, and he tried to bait her:
Director Michael Bay just updated his blog, announcing the release date of Transformers 3.

He writes, "Well its official: We have a great Transformers 3 story. The release date is now July 1st, 2011. Not 2012. Today is Day One. This morning started with an ILM meeting for five hours in San Francisco. Currently I'm flying with writer Ehren Kruger to Rhode Island to talk to Hasbro about new characters."

Bay continued, "P.S. Megan Fox, welcome back. I promise no alien robots will harm you in any way during the production of this motion picture. Please consult your Physician when working under my direction because some side effects can occur, such as mild dizziness, intense nausea, suicidal tendencies, depression, minor chest hair growth, random internal hemorrhaging and inability to sleep. As some directors may be hazardous to your health, please consult your Doctor to determine if this is right for you. Michael"

This is in response to some of the Transformers crew slamming Megan and one of the film's production assistants defending her.
[From Just Jared]
Ugh. I think Michael was aiming for "light-hearted fun" but ended up creepy. Although, my first thought was that Michael is being very passive-aggressive towards Megan. Jennifer's Body just bombed, she can't carry a film that doesn't have huge explosions, her movie-star status is in question, and she's contractually obligated to work with a director she hates on a project she thinks is beneath her. Michael is kind of rubbing it in her face. In this situation, I have a feeling that an intelligent actress would simply suck it up and act like a professional. But I doubt Megan will – I'd imagine she'll say something bitchy about this within one week.
Michael Bay, Megan Fox and Shia LaBeouf are shown at the German premiere of Transformers 2 on 6/14/09. Credit: WENN.com