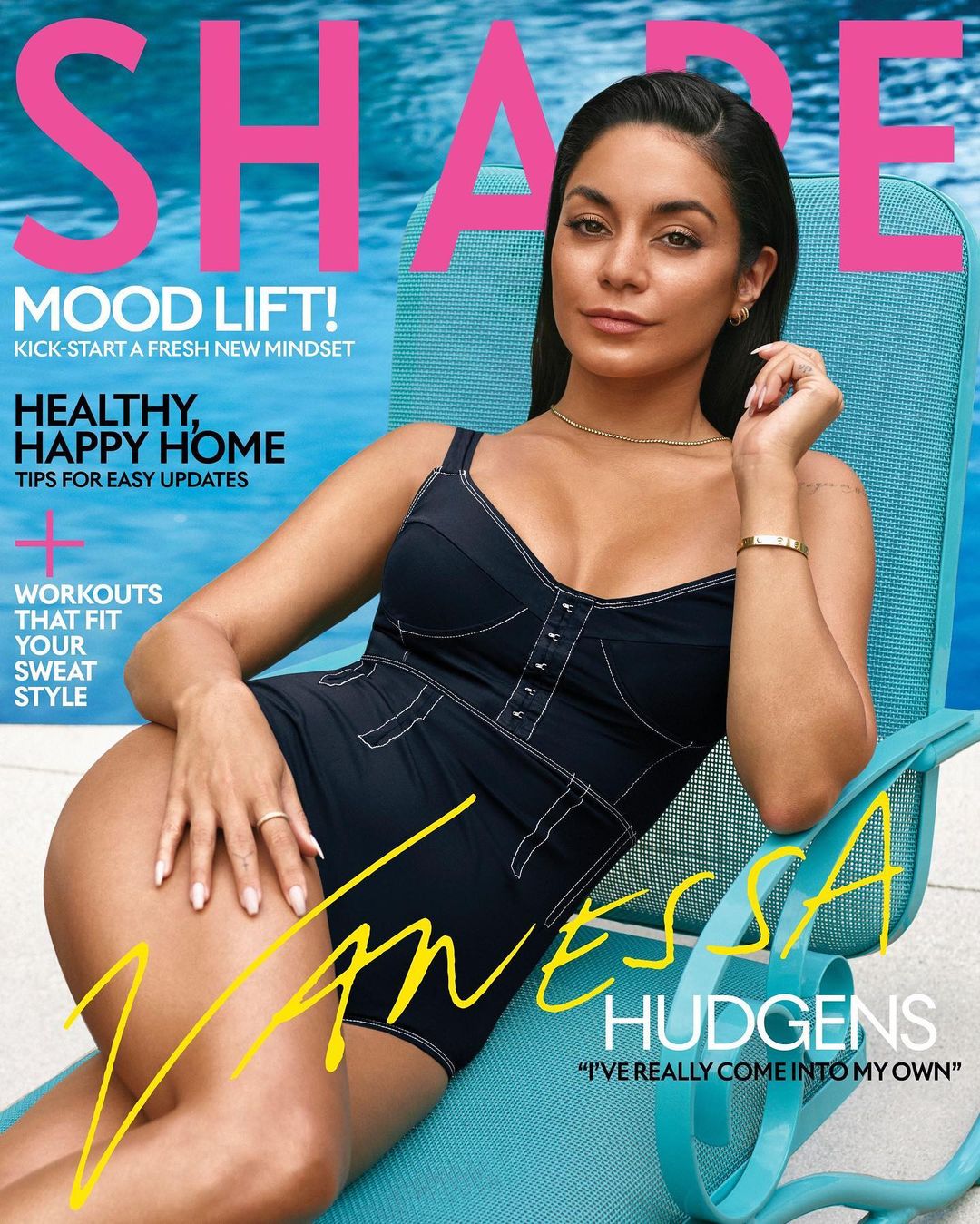 Vanessa Hudgens has made several face palm comments over the years but none of us are perfect (she's a Sagittarius and they tend to suffer from hoof in mouth disease). It would seem that Vanessa has learned from her past mistakes and is moving forward with her life. Vanessa has also become a business woman in her own right. She launched her cactus water brand, CaliWater, in May and started skin care brand, Know Beauty, with Madison Beer. Vanessa also starred in the My Little Pony movie which was released in September and will be in Lin Manuel Miranda's upcoming film Tick Tick Boom! Vanessa covers the November issue of Shape Magazine. In her profile, Vanessa discusses the seven habits that she has incorporated into her life. One of the things Vanessa says that helps her keep her energy up is staying away from processed food and only eating fish instead of land mammals. Here are a few highlights from Shape:
Jumping in and going full throttle is something Vanessa, 32, has come to appreciate. "I love a good challenge," she says. "It forces you to figure out who you are and what you stand for." One of her greatest accomplishments right now: Feeling confident in her skin.

"Over the past couple of years, I've really come into my own," says Vanessa. "When you're fully accepting of who you are, and you stop trying to suppress pieces of yourself, you can conquer the world. I love how silly I am. I love how excitable I am. And I love that I'm finally at a place where I can access those things. Even the quirky stuff that might have been shut down by other people in the past, like being ridiculous with my friends, those are things I'm now allowing to thrive. For some people, I'm way too much. But I love who I am, and there's such power in that."

"At my fittest, I feel unstoppable. You think, 'There's no way I can get through 30 reps.' But then you do, and you remind yourself that you can do anything you set your mind to. Those little victories should always be celebrated. That's what contributes joy and happiness and power and strength to your life."

"My overall food philosophy is, if it's real, I'll eat it. Many things are processed and contain chemicals and ingredients I can't pronounce. I want real food. If I'm in Italy, and I see them making pasta by hand, or if it grows from the earth, that's real. I stay away from the processed stuff. I also don't eat meat. I'm a pescatarian. What animals go through is so inhumane. That's not a system that I support.

I eat two bigger meals a day instead of three. Breakfast typically has avocado, maybe vegan sausage, and a piece of healthy bread. Dinner depends on my mood. I let myself have what I want. If that's a big bowl of spaghetti with clams and a glass of wine, then that's what I'm eating. Sometimes I crave a salad, and I'll make a big one with nuts and goat cheese and salmon. Other times, it's tacos and a margarita. I've learned that when I try to be super conscientious of everything I put into my mouth, all I can think about is food. But when I listen to my body and eat what I want, that's when I'm happiest."

"I'm so grateful for my group of friends because they're such unique individuals. We have this bond — we lean on one another, and we're inspired by one another. Whenever I'm stressed, I'll tell one of them and they'll say, 'I'm coming over,' and we'll talk it out. That's so important. Much of the time, when people are dealing with stress or mental health issues or depression, it's easy to keep it all inside. But that's the most destructive thing you can do. Having a community is my stress relief."
I love how Vanessa says that she embraces everything about herself including her silly and extra sides that people may not necessarily appreciate. For me embracing and loving all of myself brings complete freedom in life. I also love how Vanessa talks about finding your tribe. Having people around who accept and love you definitely helps with being mentally strong and enjoying life.
I am moving towards a pescatarian lifestyle for the same reasons that Vanessa has decided to go that route. Every time I eat meat in America I tend to gain ridiculous amounts of weight. This doesn't happen when I live abroad so I am definitely looking at my lifestyle choices. I prefer to make a lot of my own food and sauces because I want to avoid processed foods and preservatives. I also agree with Vanessa about physical fitness. I just started back at the gym a month ago despite some physical restrictions due to injuries I sustained while serving in the military. And although I fight getting up in the morning to go the gym, once I finish I feel so damned good. Anyways, I hope Vanessa continues growing and maturing.