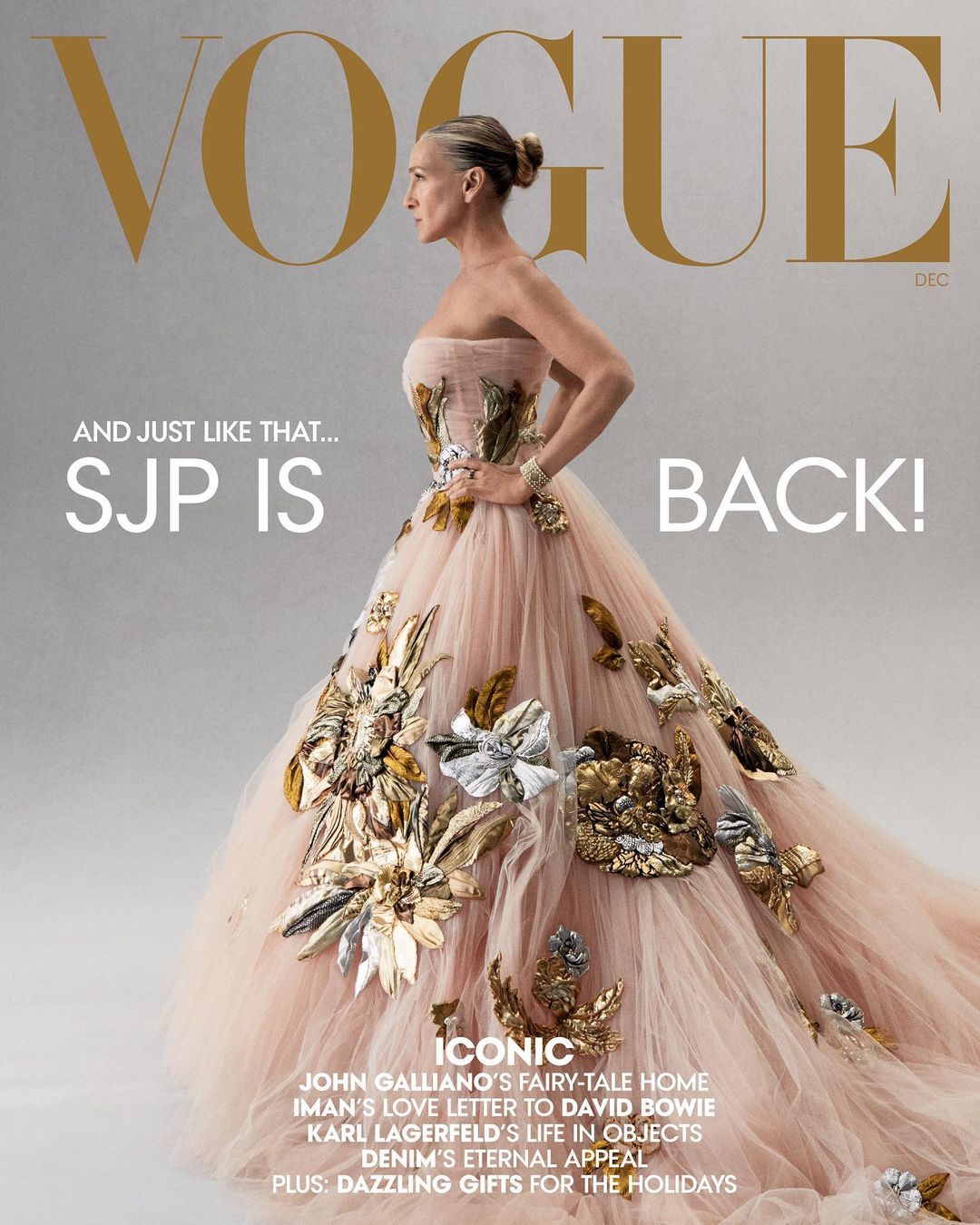 Sarah Jessica Parker covers the December issue of Vogue (US) to promote the Sex and the City revival, …And Just Like That. Little bit surprised that the cover wasn't done with SJP, Cynthia Nixon and Kristin Davis, but SJP always liked to remind everyone that she was and is still the alpha of the show in every way. Of course she wouldn't want to include Nixon and Davis, anymore than she'd want to include the women of color who joined the show as characters and writers. This is, after all, the SJP Show. The Vogue piece is okay – I was actually kind of grateful that it wasn't some twenty-page diatribe about how and why this series is super-relevant today and including every detail about Sarah Jessica's life these days. You can read the full piece here. Some highlights:
On Kim Cattrall's absence: "We have some new people, and we have some people who aren't back anymore."

How busy she is on all of her projects: "How can I even complain when I know what's going on in this country, and how it's failed working parents? I don't have any tips and tricks, except that I'm incredibly fortunate that I have childcare and a partner, because so many mothers who work two and three jobs do not."

She kept all of Carrie Bradshaw's apartment in storage: "I had all of the original stuff in my own storage. Furniture, clothes, everything, packed according to season and episode and scene. I kept every single solitary thing."

Why is the show featuring Carrie's old place? "One of the questions that's going to come up in And Just Like That… will be, What is it about a place like this that you need to hold on to for all these years? Why can't you just let it go?"

On the newly diverse cast & writers room: "In no way were we interested in tokenism. You can't bring people on the show and not let the camera be with them! These characters are all gifts to us."

On ageism & representing women in their 50s with sex lives & romance. "There's so much misogynist chatter in response to us that would never. Happen. About. A. Man. 'Gray hair gray hair gray hair. Does she have gray hair?' I'm sitting with Andy Cohen and he has a full head of gray hair, and he's exquisite. Why is it okay for him? I don't know what to tell you people! Especially on social media. Everyone has something to say. 'She has too many wrinkles, she doesn't have enough wrinkles.' It almost feels as if people don't want us to be perfectly okay with where we are, as if they almost enjoy us being pained by who we are today, whether we choose to age naturally and not look perfect, or whether you do something if that makes you feel better. I know what I look like. I have no choice. What am I going to do about it? Stop aging? Disappear?"
Well, honestly, a lot of people DO want women older than 40 to "disappear." That's the way advertising, the fashion industry, the beauty industry and the entertainment industry treats middle-aged and older women: like they're invisible. That's why I narrowly support the idea of this series and seeing how friendships develop and all of that. But that's the thing… I feel like this is so far from truly representative. That's the problem when there are so few stories about female friendships and sex/romance for women in their 50s: the few stories that are out there can't be all things to all people. And I know this series is going to be so stupid and superficial, my God.
Cover & IGs courtesy of Vogue.