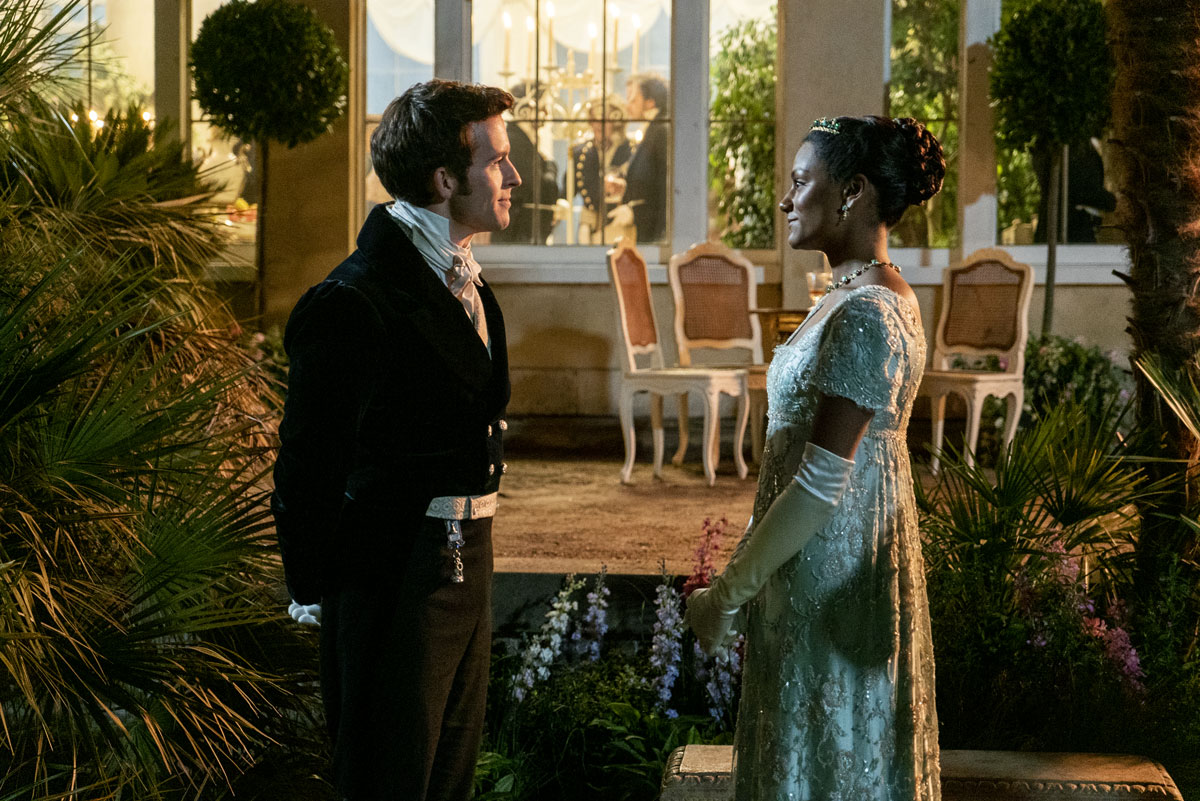 My favorite regency era series has finally wrapped filming season two. After several set shut downs due to COVID, Bridgerton season two will premiere sometime in 2022. Showrunner Chris Van Dusen tweeted a picture with Simone Ashley (Kate Sharma) and Jonathan Bailey (Anthony Bridgerton) along with a message that season two has wrapped. Florence Hunt (Hyacinth Bridgerton) and Polly Walker (Portia Featherington) also posted to their Instastories about finishing up season two. Below are a few more details from Entertainment Tonight Canada:
"That's a wrap on Season Two! So proud of this cast and crew who brought their A-games to work each and every day in this very challenging year," Van Dusen wrote in a caption that accompanied a photo of him hugging season 2 stars Jonathan Bailey (Anthony Bridgerton) and Simone Ashley (Kate Sharma). "And these two in this photo with me right here," he added, referring to the actors. "Words are not enough. Coming in 🔥🔥 in 2022." Van Dusen closed the post with "#BuckleUp."

Shortly after Van Dusen shared the news, "Bridgerton" began to trend on Twitter. Eagle-eyed fans of the show shared photos from the show's wrap party that were originally captured and posted by crew members from the show.

Actors Florence Hunt and Polly Walker were among the cast members who also posted on social media about the show wrapping. Hunt posted a photo on her Instagram story of flowers she received to celebrate the end of filming. Walker, meanwhile, shared a snap of a corset and a lock of her character's signature red hair.

"Bridgerton" season 2 did not have a smooth road to completion. Filming was shut down indefinitely in July after the production was hit with a second positive case of COVID within a week. However, filming resumed in August and progressed steadily from that point on.
[From Entertainment Tonight Canada]
Although Bridgerton season two might not be out until later in the year, I am excited about it. I was afraid that we would have to wait until 2023. Based on the first look I think season two will be better than expected. As I've mentioned, I did not like Anthony Bridgerton in the show. Anthony in the series was pretty one note and I am sure the writers did that purposely so that Daphne and Simone stood out more. I have read the second book in the series and I really like Anthony and Kate's story. I hope that the writers stick as close as possible to the book. Until Bridgerton comes out, I will be using season two of The Witcher and Emily in Paris to keep me company.
That's a wrap on Season Two! So proud of this cast and crew who brought their A-games to work each and every day in this very challenging year. And these two in this photo with me right here. Words are not enough. Coming in 🔥🔥 in 2022. 🎩🐝🎬 #Bridgerton #SeasonTwo #BuckleUp pic.twitter.com/SP8IKXxOJh

— Chris Van Dusen (@chrisvandusen) November 20, 2021
More wrap stuff from #Bridgerton s2 hair & mua crew pic.twitter.com/nhbtXNXqMy

— 🐝 no context bridgerton 🐝 (@NoContxtBR) November 22, 2021
More pics from the #Bridgerton s2 wrap party from one of the crews pic.twitter.com/wBAkS6A1UH

— 🐝 no context bridgerton 🐝 (@NoContxtBR) November 20, 2021
photos via social media and credit: Liam Daniel for Netflix