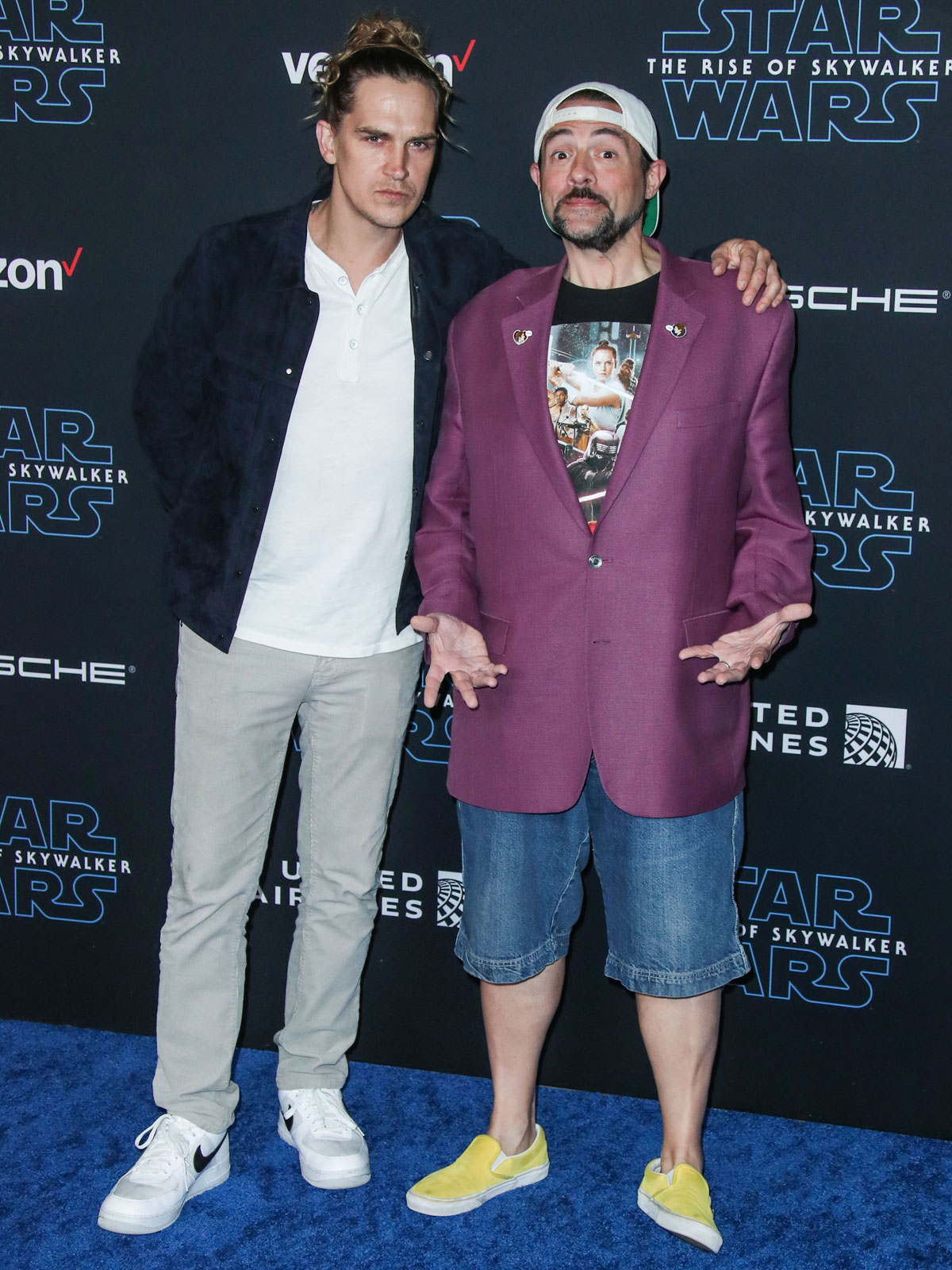 Jason Mewes of Jay and Silent Bob was a guest on Steve O's podcast, which films in his tricked out van. Jason opened up about the fact that he's been sober for 11 years, and talked about how his friend and collaborator Kevin Smith was instrumental in that. Kevin was so patient, kind and helpful to Jason, letting him stay in his guesthouse and paying for rehab. Even in the midst of Jason's heroin addiction, Kevin didn't turn him away, he only told him that he couldn't come in the house and be around his little daughter when he was strung out with visible track marks. You could tell that Jason was grateful to Kevin and that he feels like he owes him a lot. He said that he wasn't even mad at Kevin at the time. Jason understood that Kevin was setting boundaries protect his daughter, Harley, now 22, who considers Jason like an uncle. Kevin also explained that he needed to be sober to work with him, due to insurance issues. Here's some of what Jason said via EW:
Mewes, who has been sober for 11 years now, spoke candidly about Smith's support with fellow recovering addict Steve-O on the latest episode of his podcast, Steve-O's Wild Ride! The actor recounted how Smith masterfully used collaborations as a crux to help embolden him to get sober, encouraging Mewes to get clean so he could continue to appear in his films.

Mewes shared the lengths that Smith went to in an attempt to keep him clean, including driving him to rehab, paying for treatment, and housing him in his guest home to keep an eye on him.

"In the past, he would always try to help me like, 'Hey, if you don't want to miss out on this opportunity then you need to either go into rehab or you're going to come stay with me and you're going to stick by my side,' " Mewes said. "Right before [Jay and Silent Bob Strike Back] I went and stayed with him in his guest house and I literally couldn't leave his house or guest house unless I was with him."

Mewes also remembered a particularly emotional Thanksgiving with Smith that led to one of his earlier stints in recovery, sharing, "I remember I went to his house, it was Thanksgiving and I always used to have Thanksgiving with him. I remember me and him sitting out in front of his house, and he's crying, saying 'I want to let you in, but the whole family is here.' "
Jason said that Kevin brought him a plate outside that year instead of inviting him in for Thanksgiving. Watching this got me teared up! Imagine having that kind of patience for an addict. Kevin treated Jason like family and never gave up on him. We have never heard a bad word about Kevin Smith. Remember when he responded to the news of Weinstein's abuse by donating residuals from his Miramax films to women's groups? I'm glad Jason got sober and that he's been able to stay sober for over a decade. That's a huge accomplishment. Also Clerks III is coming and has already been filmed! I still remember seeing the original when I was in college. I'm glad these two are doing well and I will continue to support Kevin Smith.
If you or someone you know is struggling with addiction I highly recommend the resources at SmartRecovery.org, which are free and helped me quit drinking five and a half years ago. Start with the Cost Benefit Analysis worksheet. The book Stop Drinking Now by Allen Carr also helped me.