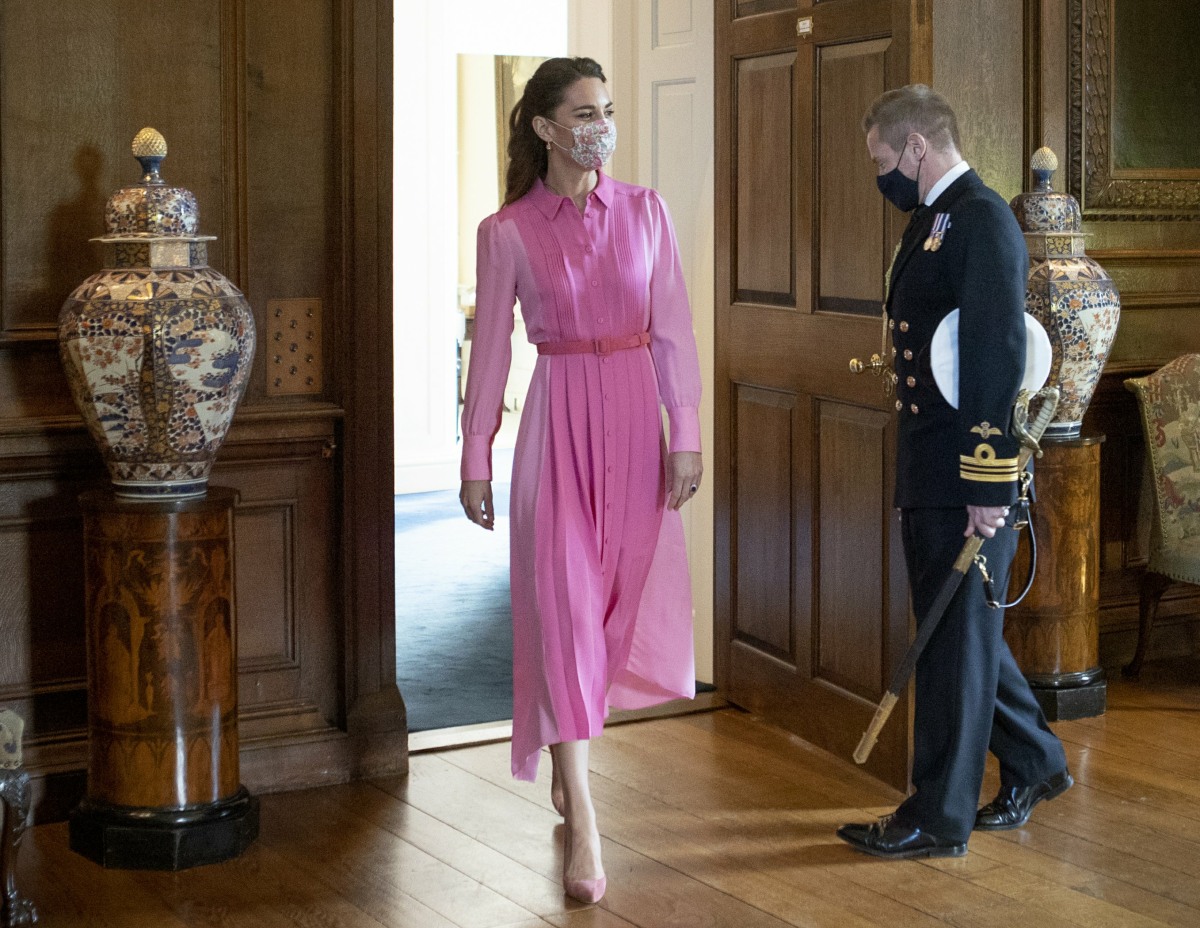 Last year, the Duke and Duchess of Cambridge visited Scotland together. It was a hilariously lightweight trip and a harbinger of colonialist tours to come. William and Kate rode go-karts and did a movie screening, and William looked utterly miserable the entire time. Towards the end of the trip, Kate did a solo event – she spent a little time with Mila Sneddon, a little girl who was treated for leukemia, and one of the subjects of a photo in Kate's Hold Still project. Mila's favorite color is pink, so Kate made the effort to wear a pink Me & Em dress.
Crash-cut to Royal Ascot, thirteen months later. Magically, the same Me & Em dress is being worn by Kate's mother Carole Middleton. Carole turned up at the first day of Royal Ascot, which makes perfect sense to me. Queen Elizabeth couldn't be there, so Queen Carole took her place. Carole styled the Me & Em dress differently too – Kate wore the dress with everything buttoned up like a true sister wife. Carole wore it more like a loose shirtdress with an open collar. Kate wore her hair back in a prim pony. Carole's hair was loose and she wore a black hat/fascinator.
Carole and Kate have always shared clothes, and… I never think any of it is a good idea? While Kate and Carole have similar body types and figures, Kate is a lot smaller. When Kate wears Carole's clothes, she swimming in them. When Carole wears Kate's clothes, they look so ill-fitting. Plus, I just don't think this particular dress is the right look for Royal Ascot? Still, at least some pieces of Kate's crazy-expensive royal wardrobe are getting aired out, I guess.
Photos courtesy of Avalon Red, Instar and Getty.

The Duchess of Cambridge during her meeting with Mila Sneddon, aged five, and her family, at the Palace of Holyroodhouse in Edinburgh. Cancer patient Mila features in an image from the Hold Still photography project which showed her kissing her father Scott through a window whilst she was shielding during her chemotherapy treatment. Picture date: Thursday May 27, 2021.,Image: 612954071, License: Rights-managed, Restrictions: NO UK USE FOR 48 HOURS- Fee Payable Upon reproduction – For queries contact Avalon sales@Avalon.red London +44 20 7421 6000 Los Angeles +1 310 822 0419 Berlin +49 30 76 212 251 Madrid +34 91 533 42 89, Model Release: no, Credit line: Avalon.red / Avalon
North America Rights Only – Edinburgh, UK -20210527- Catherine, Duchess of Cambridge meets with Mila Sneddon, at the Palace of Holyroodhouse. Cancer patient Mila features in an image from the Hold Still photography project which showed her kissing her father Scott through a window whilst she was shielding during her chemotherapy treatment. -PICTURED: Catherine, Duchess of Cambridge -PHOTO by: Jane Barlow/PA Images/INSTARimages.com Disclaimer: This is an editorial, rights-managed image. Please contact INSTAR Images for licensing fee and rights information at sales@instarimages.com or call +1 212 414 0207. This image may not be published in any way that is, or might be deemed to be, defamatory, libelous, pornographic, or obscene. Please consult our sales department for any clarification needed prior to publication and use. INSTAR Images reserves the right to pursue unauthorized users of this material. If you are in violation of our intellectual property rights or copyright you may be liable for damages, loss of income, any profits you derive from the unauthorized use of this material and, where appropriate, the cost of collection and/or any statutory damages awarded For images containing underage children: Be advised that some Countries may have restricted privacy laws against publishing images of underage children. Inform yourself! Underage children may need to be removed or have their face pixelated before publishing