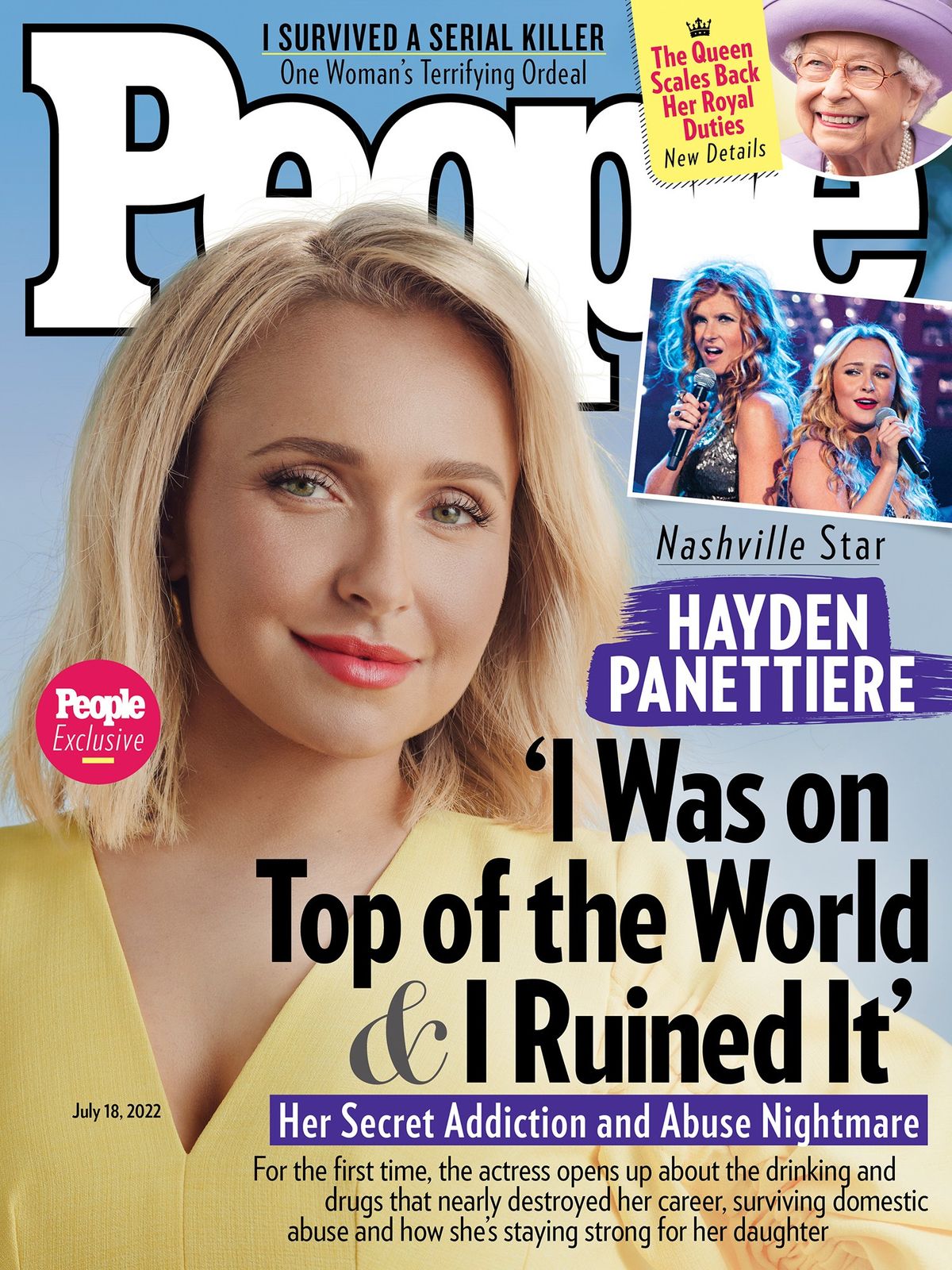 Hayden Panettiere is covering People Magazine this week, where she opened up about her battle with addiction and her relationship with her daughter Kaya, seven. Hayden battled postpartum depression after the birth of her daughter in late 2014 (which she was open about at the time) and self medicated for that. She had a particularly hard time with PPD because her own experience mirrored the role she was playing on Nashville.
The last we heard about Hayden she was in an off-on abusive relationship with her ex, Brian Hickerson. In 2021 Brian plead no contest to felony abuse of Hayden after multiple domestic incidents. He served less than two weeks in jail and they were seen out together again a few weeks later. Brian told E! around that time that "the first step in my recovery as an abuser is making amends." There was video this March of Hayden and Brian in a bar fight with other people. Hayden spoke about fight, saying it was not as bad as it looked. As for her relationship with Brian, she said she's trying to forgive and People states that they're "friends." Given Hayden's statements and the careful way that part is worded, I'm worried that she's still with Brian, but the People article says she's single. Here's some of what Hayden told People and there's a video of her on People's site.
Hayden Panettiere is opening up as she never has before about an abusive relationship in her past — and how she says forgiveness is helping her heal.

"It was a very dark and complicated time in my life," says Panettiere, whose relationship with Brian Hickerson was on and off for nearly four years. "But a lot of women go through what I went through, and I want people to know it's OK to ask for help."

Panettiere, 32, and Hickerson, 33, began dating in 2018 while the actress was in the midst of a painful addiction to alcohol and opioids.

"I wanted to party, I wanted to do everything I wasn't supposed to do," recalls Panettiere, who had just come off of six seasons of Nashville. "Acting was my life, but I felt so bad about myself that I lost trust in myself. And that is very detrimental. The idea of not having a responsibility was very appealing at the time."

Following the 2020 arrest, Panettiere issued a statement that read: "I am coming forward with the truth about what happened to me in the hope that my story will empower others in abusive relationships to get the help they need and deserve. I am prepared to do my part to make sure this man never hurts anyone again."

Panettiere reflects on the statement today, saying, "I still feel the same way. None of it is OK. But I want to make sure that everybody knows that each person who goes through something like that, they're on their own journey. No two things are exactly alike."

Yet last March, Panettiere and Hickerson were together in Los Angeles when they were involved in a public altercation with another group at an L.A. hotel. "It was not my best behavior, it was not anyone's best behavior," she says of the incident. "But it was not as insane as it was made to look, and everyone is OK."

She says she reconnected with Hickerson as friends despite their turbulent past together. "None of it is OK, and I want to make sure that everybody knows that," she says of his behavior. "But I am open to people who are willing to get help and make amends. He's gone to treatment and done his time. And I'm trying to live in a place of forgiveness."

Panettiere is sober, single and focused on her future.
Hayden also talked about her daughter Kaya, seven, whom she sent to live overseas with her father, the incredible boxer and person Wladimir Klitschko, a few years ago. (I believe Kaya lives in Germany with the Klitschko family. Wladimir has been in Ukraine fighting along with his brother, Vitali, the mayor of Kyiv. They were last at the NATO summit in Madrid.) Hayden visits Kaya when she can and says that they're still close. Hayden got so much hate for giving up custody of her daughter. I didn't make that the focus of this post for that reason. I think she made the best choice for her daughter given her situation.
Hayden is going to be reprising her role as Kirby Reed in the sixth Scream installment, coming out 2023. It's so great to see her sober and working again and I'd love to see her in more roles. It sounds like she's still with that POS Brian though, and that makes me worry about her. On a superficial note, she looks so much like Cameron Diaz now it's crazy.