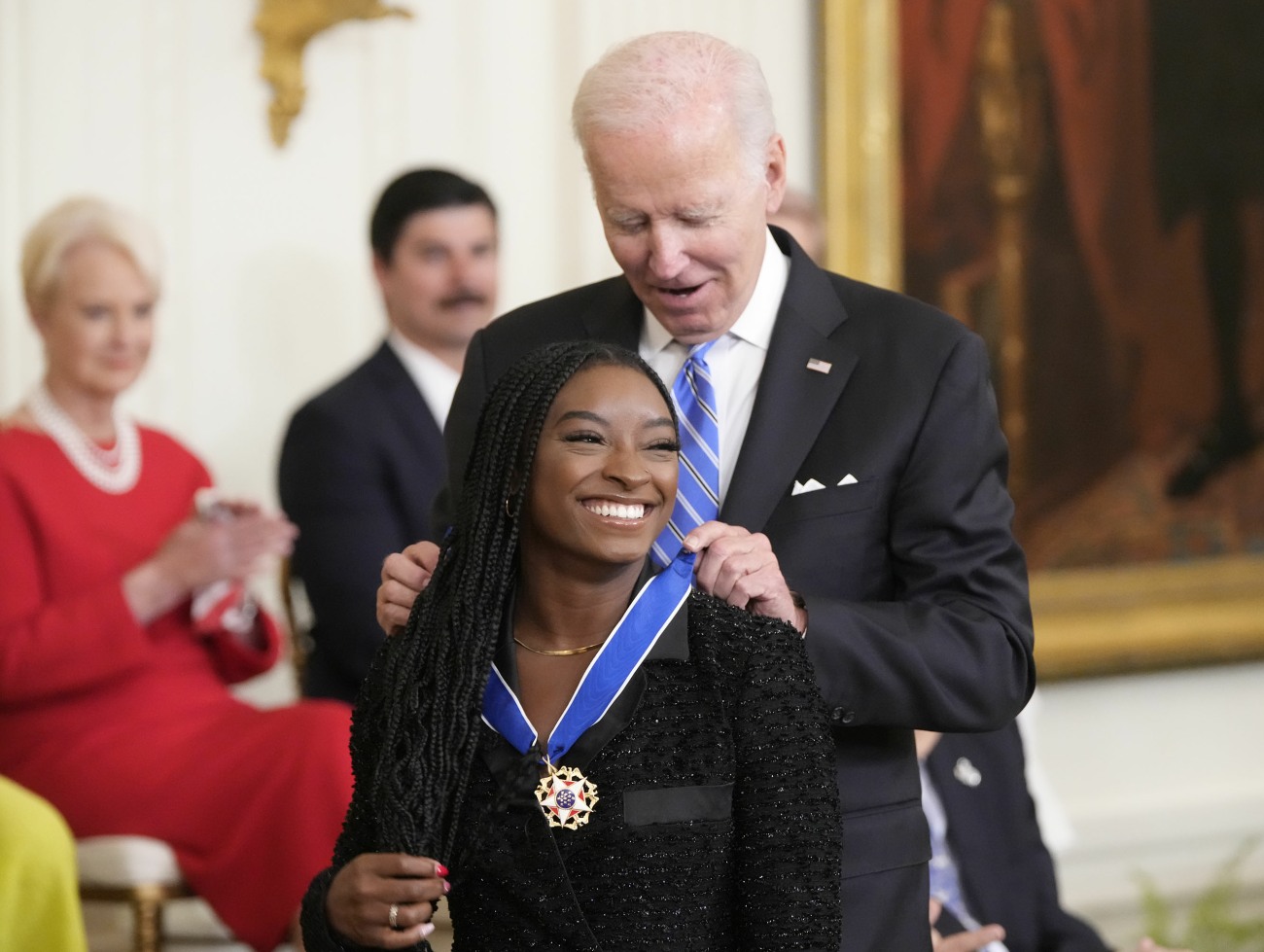 The Presidential Medal of Freedom is the highest civilian honor anyone can receive in the United States. The annual list of recipients of the Medal of Freedom are entirely at the sitting president's discretion, and many presidents will pass out the awards to political allies or to people who have given a lifetime of service in a particular field. When Donald Trump was in office, he passed out Medals of Freedom to a–holes like Rush Limbaugh and (no joke) Jim Jordan and Devin Nunes. To say that Trump "cheapened" the highest honor is a massive understatement. But now President Biden is in office, and his 2022 Medal of Freedom recipients are completely awesome. On Thursday, Biden presented medals to Simone Biles, Megan Rapinoe, Gold Star father Khizr Khan, a nun, a union boss, a civil rights lawyer and Gabby Giffords. I feel like crying!!
The 17 honorees range from 25-year-old Simone Biles, the most decorated American gymnast in history who has become an advocate for victims of sexual assault, to 91-year-old Fred Gray, who Biden called one of the "most important civil rights lawyers in our history."

"Today, [Biles] adds to her medal count of 32 — I don't know if you're going to find room," Biden chuckled as he delivered remarks in the East Room at the White House. He praised Biles for her courage "to turn personal pain into a greater purpose, to stand up and speak for those who cannot speak for themselves," and noted she's the youngest person ever to receive the Medal of Freedom.

Biden also acknowledged soccer star Megan Rapinoe's "remarkable career" and her campaign for equal pay for women.

Recipients included retired Air Force Gen. Wilma Vaught, one of the most decorated women in the history of the U.S. military, Diane Nash, who worked closely with Dr. Martin Luther King Jr. and organized major civil rights campaigns, and the late Richard Trumka, former president of the AFL-CIO and United Mine Workers. Also honored was Sister Simone Campbell, a member of the Sisters of Social Service and former Executive Director of NETWORK, a Catholic social justice organization.

Biden also honored former Rep. Gabby Giffords, D-Ariz., who was the youngest woman ever elected to the Arizona state Senate and went on to serve in the U.S. Congress. She was shot in the head and severely wounded in 2011 during a constituent event. Her husband, Democratic Sen. Mark Kelly of Arizona, is up for reelection this November.

Also honored was Sandra Lindsay, a New York critical care nurse who served on the frontlines of the COVID-19 pandemic response and was the first American to receive a COVID-19 vaccine outside of clinical trials. "If there's any angels in heaven, they're all nurses, male and female," Biden said. He noted Lindsay's vaccination card and badge are part of a Smithsonian exhibit on the coronavirus pandemic.
Just the fact that Rapinoe and Biles were recognized – and recognized together!! – is amazing enough for me, but the rest of the list is amazing too. The fact that President Biden made a special note to honor so many women is important too, and IDGAF about the bros who are like "Simone Biles is too young" or "what has Rapinoe done?" Biles is the most decorated gymnast in history AND she survived a serial predator AND she still fights for justice for herself and for the hundreds of other survivors. Megan Rapinoe and Biles are two of the most significant American sports icons of the last fifty years.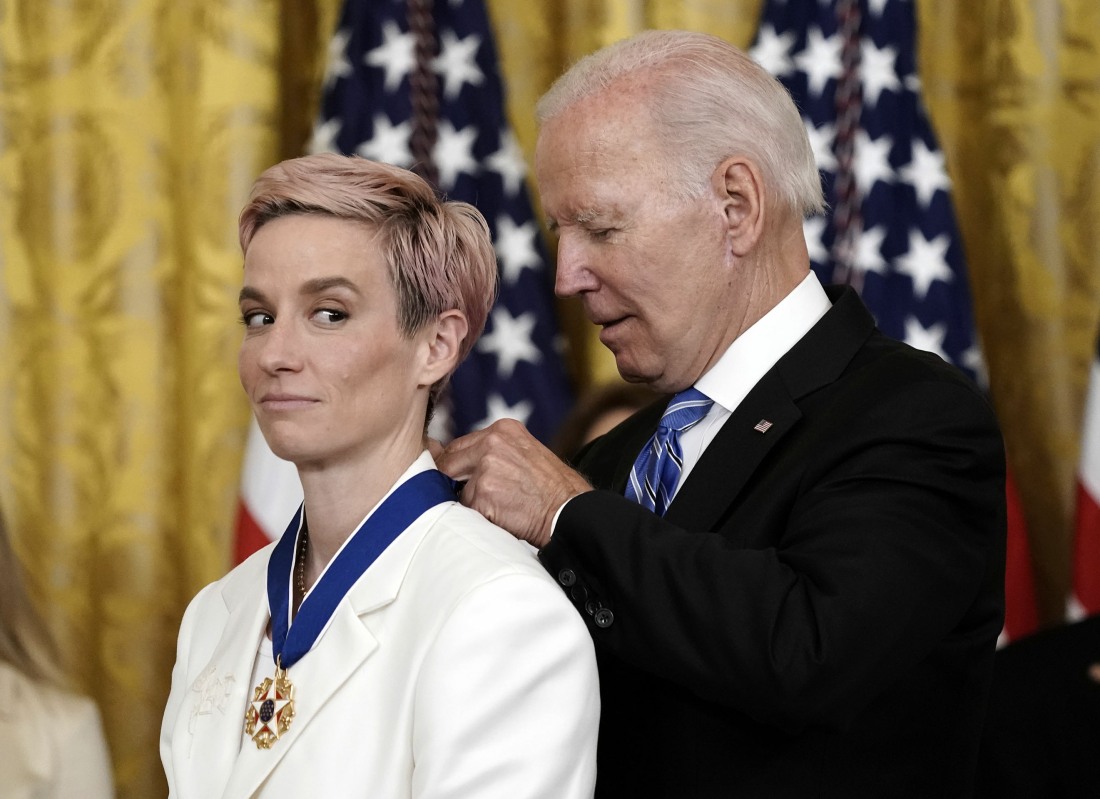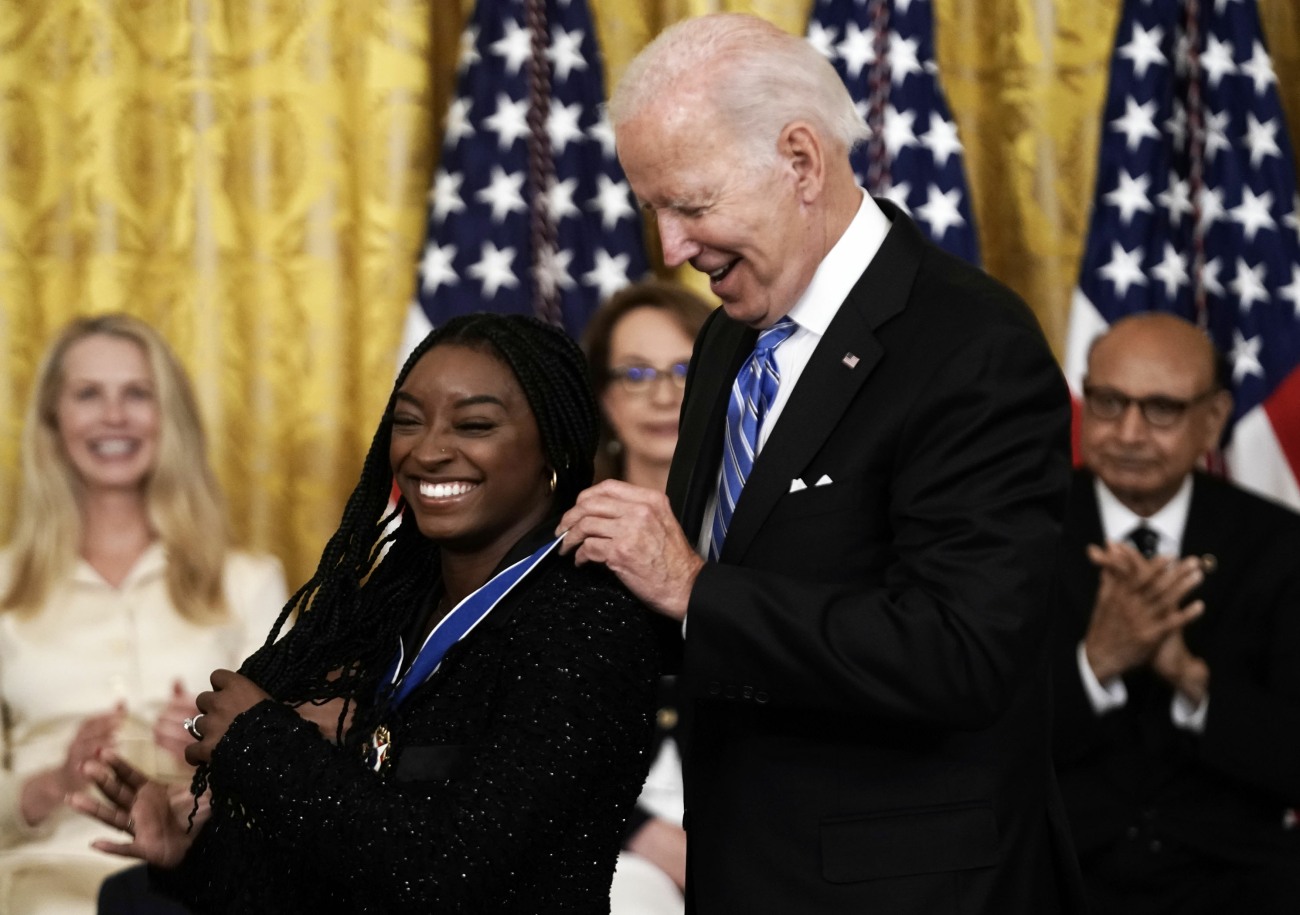 Photos courtesy of Cover Images.

President Joe Biden Presents The Medal Of Freedom To Seventeen Recipients Gymnast Simone Biles accepts the Medal of Freedom from United States President Joe Biden during a ceremony in the East Room of the White House in Washington, DC Featuring: President Joe Biden, Simone Biles Where: Washington, District of Columbia, United States When: 07 Jul 2022 Credit: Chris Kleponis/CNP/startraksphoto.com/Cover Images
United States President Joe Biden awards the Presidential Medal of Freedom to Megan Rapinoe, an Olympic gold medalist, two-time Women's World Cup champion and advocate for gender pay equality, racial justice and LGBTQI+ rights, and sixteen other recipients in the East Room of the White House in Washington, DC Featuring: President Joe Biden, Megan Rapinoe Where: Washington, District of Columbia, United States When: 07 Jul 2022 Credit: Ken Cedeno/Pool/CNP/startrakspho/Cover Images
President Joe Biden Presents The Medal Of Freedom To Seventeen Recipients Featuring: Joe Biden, Simone Biles Where: Washington, District of Columbia, United States When: 07 Jul 2022 Credit: Ken Cedeno/Pool/CNP/startrakspho/Cover Images