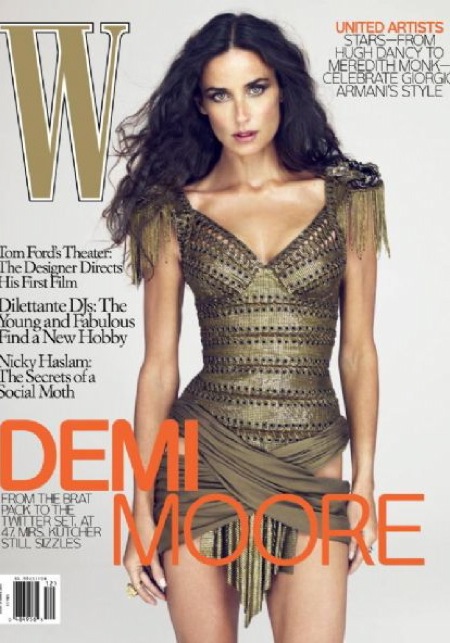 I'm skimming through W Magazine's cover interview with Demi Moore, and I've come to conclusion that pretty much everyone knows that Demi has had a lot of work done. She can deny it (and deny itand deny it) all she wants, but I think it must be the kind of plastic surgery that is really noticeable when you see her in person. Sometimes, when I look at photographs of her, I'm jarred. Often, she looks fabulous in pictures, but there is something so… unreal about her face, and I think it must be quite something in person.
Just for example, here's how W Magazine describes her:
At 47, she looks changed, although more by time than by the surgeon's knife. One might say she looks her age, although hers is an undeniably striking version of midlife. The skin of her forehead and around her eyes does indeed wrinkle as she expresses emotion, its surface less dewy fresh than it once was. Beneath her haystack of wavy black hair, Moore is thinner than expected, which emphasizes the prominent bone structure that still photographs so well but also gives her a slightly gaunt appearance in person. Her chopstick legs are sheathed in skinny dark jeans, and her oversize cashmere sweatshirt looks as if it could have been borrowed from husband Ashton Kutcher's side of the closet.
[From W Magazine]
It's like the writer is trying to find a nice way of saying "Sure, I'll go along with her looking weird because she's aging 'naturally' and she's just really thin, so I'll say that Demi looks 'changed' and we'll all know what I'm really saying." Anyway, here are some of the highlights from Demi's interview:
Demi on the film roles she's offered: "The frustrating part is that the type of roles I'd be interested in are not really coming to me," says Moore, who fidgets and balls herself into various contortions like a kid but speaks in her signature hoarse whisper. "I hate to say it's a function of my age—but yes, I think in some ways it is. The majority of [female] roles are geared between 25 and 35."

On her Hollywood downfall: In 1996 she became the highest-paid actress to date with her $12 million paycheck for the unloved Striptease. Then, at the height of her prowess, Moore produced and starred in Ridley Scott's G.I. Jane, a film that put forward the then radical notion that women should have the right to serve in active combat. Or at least women as buff as Moore. For the part, Moore shaved her head and mastered a one-armed push-up; during a brutal fight scene with Viggo Mortensen, she growled the jaw-dropping line "Suck my dick!" The movie, as she puts it, "got slammed… I think G.I. Jane got hit because I was paid $12 million to do Striptease," says Moore. "In a sense, Striptease was a film where women felt I betrayed them. G.I. Jane is a film where men felt I betrayed them. The focus went on that paycheck."

On leaving Hollywood: "One of the things that hit me very strongly was the realization that what we do is not who we are. I had worked my whole life. Until I became a mother, that's the only way I measured my value."

On her "quirky" side: "I know I have an eccentric, obsessive-compulsive side," Moore acknowledges. "I'm looking for roles that reach into that quirkier place."

On her cougar/puma cred: "I'm certainly not the first person to be in a relationship with a younger man, but somehow I was plucked out as a bit of a poster girl… I'd prefer to be called a puma," she says, explaining how she came up with the new designation and "Twittered it out. People wrote back hilarious stuff, saying, 'I'm going to get T-shirts that say puma power.'"

On Twitter: "People are much more interested in what I have to say directly," she says, "and that really changed the whole dynamic I have with fans."

On Perez Hilton, who linked to photos of her 15-year-old daughter, Tallulah, and posted comments about her "boobs" and "ass.": Vaguely citing legal limitations, she carefully chooses her words. "We were away for my daughter's birthday," she explains. "When I came back, thousands upon thousands of people were writing to me, outraged about what had been posted about my 15-year-old daughter. I felt like I needed to acknowledge it."

On Ashton Kutcher: "The most overwhelming part of meeting someone that you already felt you had such a deep and old connection with is that your feelings are greater than the time you've had to actually be with one another," she says. "Now we've had the physical time together. The love he has for me makes me a better person by giving me the courage to take risks. I can fail and have someone who loves me just the same. I never knew it was quite possible. As a married woman, I am and will always be Mrs. Kutcher. But I have my career as Demi Moore."
[From W Magazine]
It kills me that Demi is such a consistently good interview. By all probabilities, she should be boring and vapid. But she's not – she has a lot to say on relationships, on life, on religion, on being a mother, on her role in Hollywood. I'm always impressed with her because I think she's one of the smartest businesswomen out there – and the business side of filmmaking might be her true calling, rather than acting. It pains me to see Ashton Kutcher out there, trying to make a go of it as a big-time producer, when Demi is the real business brains. Oh well – I guess it would be too much to hope for to see Demi hang up her acting spurs and just concentrate on a behind-the-scenes stuff.
Thanks to CoverAwards for the W pics