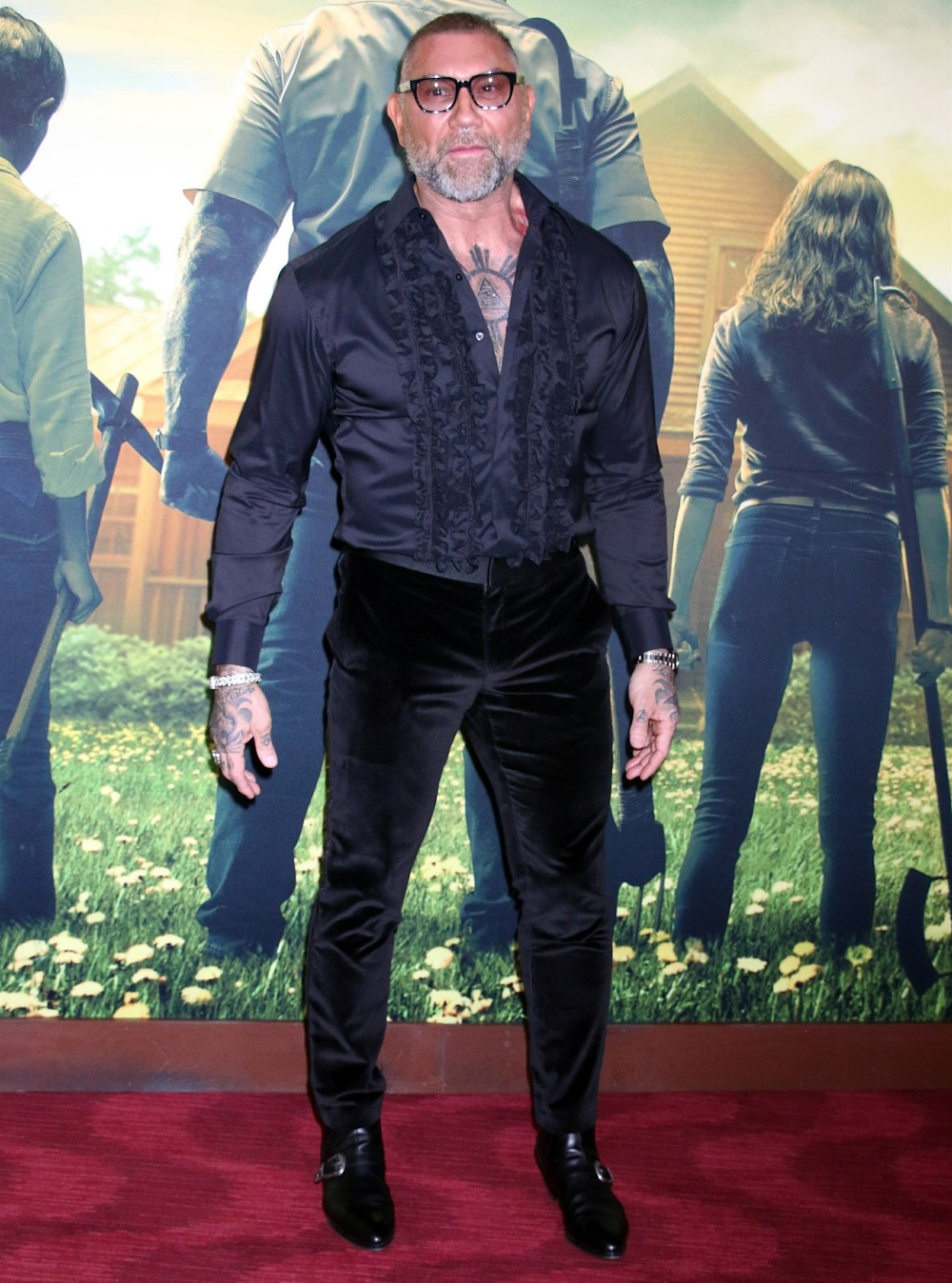 Dave Bautista is a pro-wrestler turned professional actor, with a real filmography full of quality directors and hit films. He's got Guardians of the Galaxy Vol. 3 coming out later this year, and he's been working on Dune Part II for the better part of the past year. These are photos of Dave last night at the Knock at the Cabin premiere in New York last night – he's the villain, I guess, although I don't really know the story (I've only watched the trailers). He's added M. Night Shyamalan to the list of directors who adore him. But the director he really wants to work with? Nancy Meyers or Richard Curtis. Yes, Dave Bautista would love to be the lead in a romantic comedy.
Dave Bautista's filmography spans comic book movies ("Guardians of the Galaxy"), science-fiction tentpoles ("Dune," "Blade Runner 2049"), action comedies ("Stuber") and family movies ("My Spy"). One genre that's missing is the romantic comedy, but that's not been a deliberate choice. Bautista told Page Six that he'd love to star in a rom-com but he's never gotten a single offer to do so. Not one.

"I know I'm not your typical rom-com lead," Bautista said. "I'm a little rough around the edges. But I always, you know, I look in the mirror and I say, I ask myself, 'Am I that unattractive? Is there something that unappealing about me that excludes me from these parts?'"

"I don't know," Bautista added. "It's just never come my way. I've never had an offer to do a rom-com. I still have high hopes. I'll just keep searching."
There's a lot of "give Dave a rom-com, you cowards" going around… but I kind of understand why he hasn't gotten those scripts? It's the kind of situation where you'd probably need a screenplay to be tailored specifically for Dave's strengths and whole… thing. Like, no, he's not getting the same scripts as Chris Pine or Channing Tatum, but in the right part, Dave would probably do a very good job. Mindy Kaling should write something for him? Something where he falls for an Indian girl.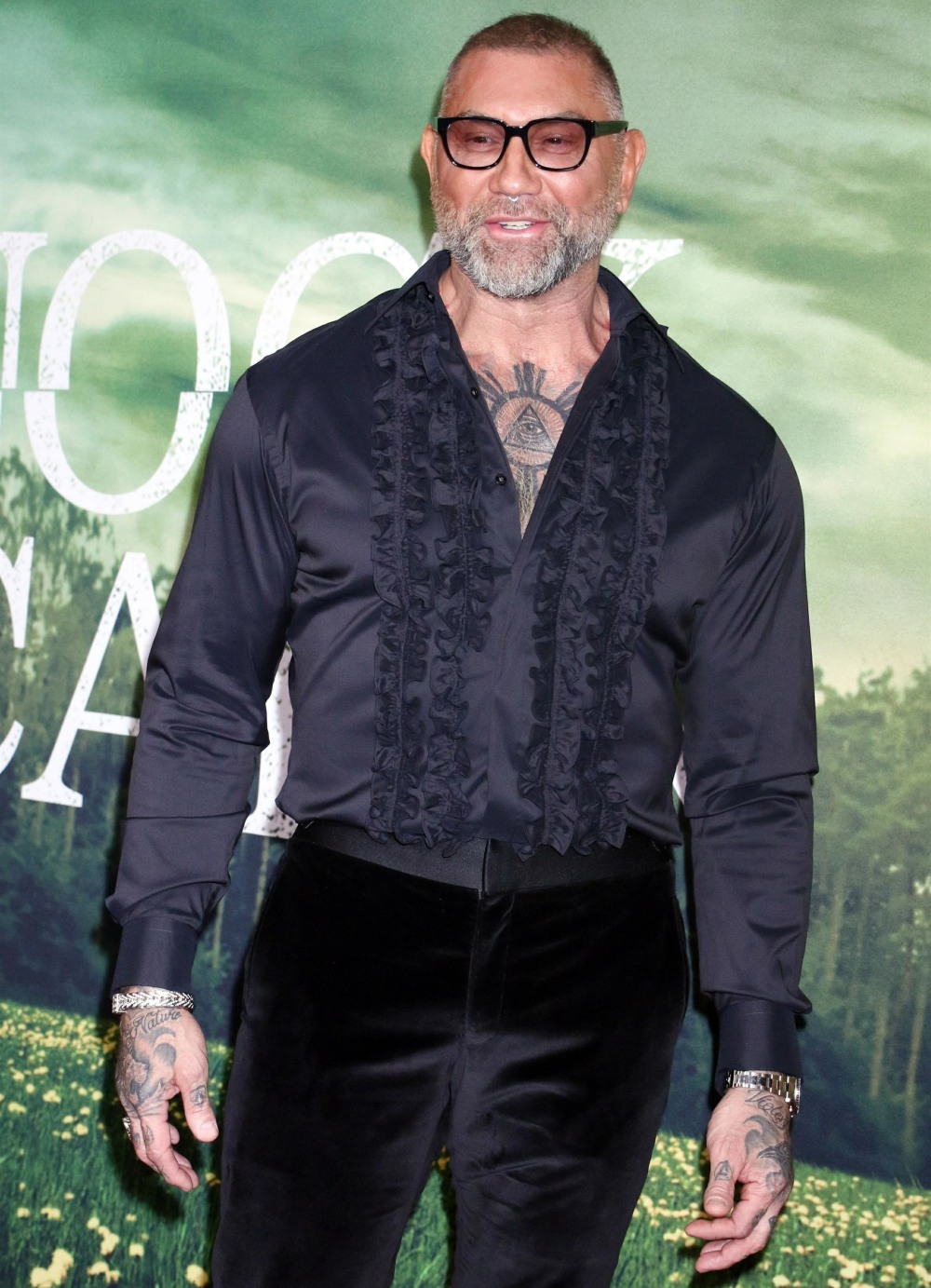 Photos courtesy of Backgrid.

New York City, NY – Celebrities at the NY premiere of "Knock At The Cabin" at Jazz at Lincoln Center's Frederick P. Rose Hall in New York City. Pictured: Dave Bautista BACKGRID USA 30 JANUARY 2023 BYLINE MUST READ: MediaPunch / BACKGRID USA: +1 310 798 9111 / usasales@backgrid.com UK: +44 208 344 2007 / uksales@backgrid.com *UK Clients – Pictures Containing Children Please Pixelate Face Prior To Publication*
New York City, NY – Celebrities at the NY premiere of "Knock At The Cabin" at Jazz at Lincoln Center's Frederick P. Rose Hall in New York City. Pictured: Dave Bautista BACKGRID USA 30 JANUARY 2023 BYLINE MUST READ: MediaPunch / BACKGRID USA: +1 310 798 9111 / usasales@backgrid.com UK: +44 208 344 2007 / uksales@backgrid.com *UK Clients – Pictures Containing Children Please Pixelate Face Prior To Publication*
New York City, NY – Celebrities at the NY premiere of "Knock At The Cabin" at Jazz at Lincoln Center's Frederick P. Rose Hall in New York City. Pictured: Dave Bautista BACKGRID USA 30 JANUARY 2023 BYLINE MUST READ: MediaPunch / BACKGRID USA: +1 310 798 9111 / usasales@backgrid.com UK: +44 208 344 2007 / uksales@backgrid.com *UK Clients – Pictures Containing Children Please Pixelate Face Prior To Publication*