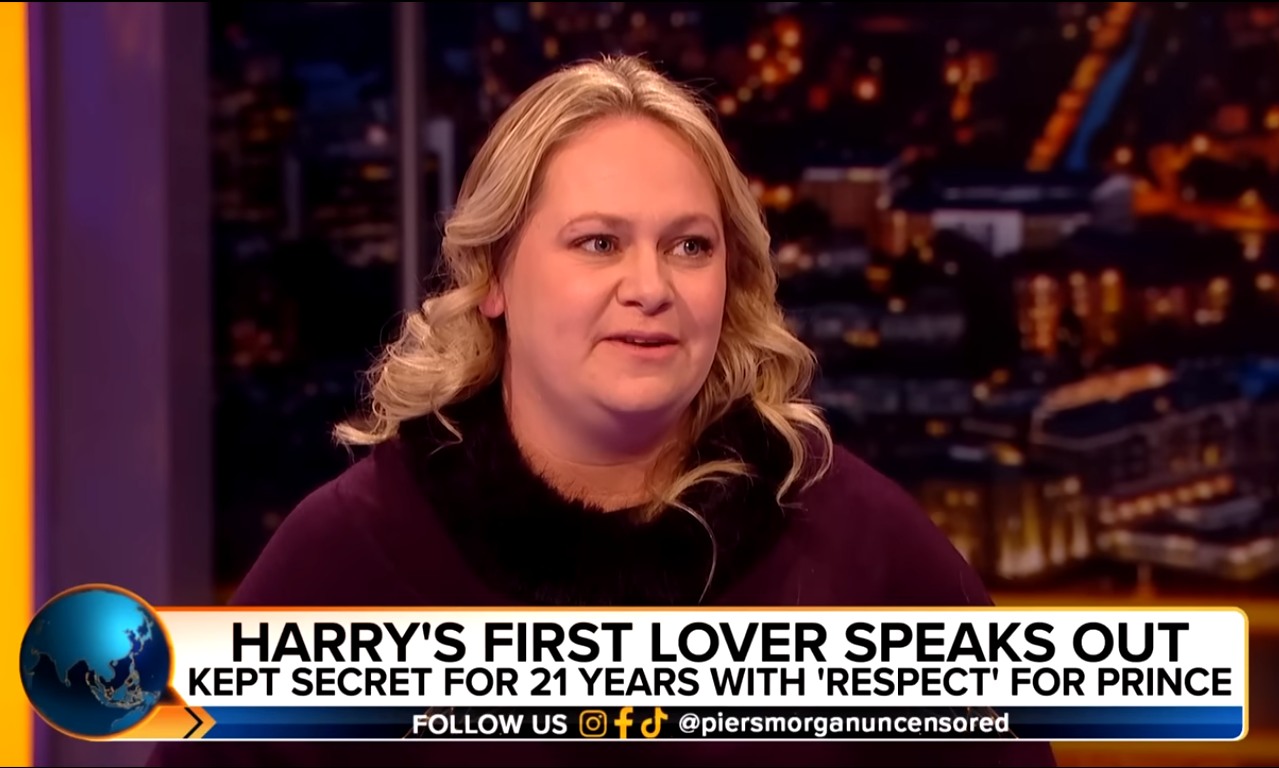 What kind of money do you think Sasha Walpole is getting for all of her interviews with the British media? Walpole came out last weekend to claim that she is Prince Harry's "first," the "older woman" who took his virginity in a field behind a pub in 2001. Harry didn't name the woman in his memoir and he barely described her – all we knew about her was that she was older than Harry and she liked horses. That's it. And yet that instigated Sasha Walpole to give several exclusive interviews to the Sun, the Mail and now Piers Morgan's television show. So how much money do you Walpole has gotten from all of this? My guess is low to mid-six figures?
In any case, she's not shutting up. I would respect her hustle if she was honest about just wanting or needing the money, but instead, she's playing along with the British media's narrative that she was "outed" by Harry, that Harry should have never written about her (again, he didn't identify her), that she was forced to come out in this way. I also have zero respect for all of this sh-t she said on Piers Morgan's show, the biggest headline from which is that she and Piers believe that Harry "downgraded" from Sasha when he married Meghan.
Prince Harry's former lover Sasha Walpole revealed the Duke of Sussex is 'not the boy she remembers' and joked that he has 'traded down' by marrying Meghan Markle. The digger driver – who has come forward as the woman who took Prince Harry's virginity – appears on the latest episode of Piers Morgan Uncensored, which airs tonight at 8pm on TalkTV.

During the interview, Sarah, 40, was quizzed by the host about her feelings towards Meghan Markle. Joking that the two women have 'a lot in common', Piers said: 'He's gone from a digger to a gold digger!'

Laughing along, Sasha then pointed out that both her and Meghan refer to Harry as 'H'.

Piers then went on to ask if Prince Harry – who now lives in Montecito, California after quitting royal life in 2020 – seemed 'happy' to her. She replied: 'He's not the boy I remember, that's for sure. But again I'm not in his shoes, I have no idea what's going on in his head, I haven't seen him for 21 years.'

Piers added: 'Do you think he's traded up from you or down?' Sasha replied with a laugh: 'Definitely down!'

Elsewhere in the interview with Piers Morgan, Sasha said she decided to come forward and reveal her identity because the speculation over Prince Harry's mystery lover was 'never going to stop'. Sasha said: 'People are asking, family and friends. We know who it is, and then suddenly it's just a reality of 'This isn't going to go away'. Forever this is going to flare up. Until they know who it is, they're going to be questioning people. And yes I could not have said anything but then it's never going to stop. He could have given me the heads up that you know, 'I'm going to put it in the book'.'
While this whole thing is disingenuous, this is particularly irritating: "People are asking, family and friends. We know who it is, and then suddenly it's just a reality of 'This isn't going to go away.'" She wasn't being bombarded with questions from FRIENDS, she was being bombarded by tabloid journalists who were looking to humiliate Harry by "finding" his first. Sasha Walpole made a conscious choice to sell her story to a series of high bidders and parrot the lines they fed her.
As for Meghan being a downgrade… be kind, people. I'm not going to say it. If you care, you can see the stupid interview here, I'm not going to post it.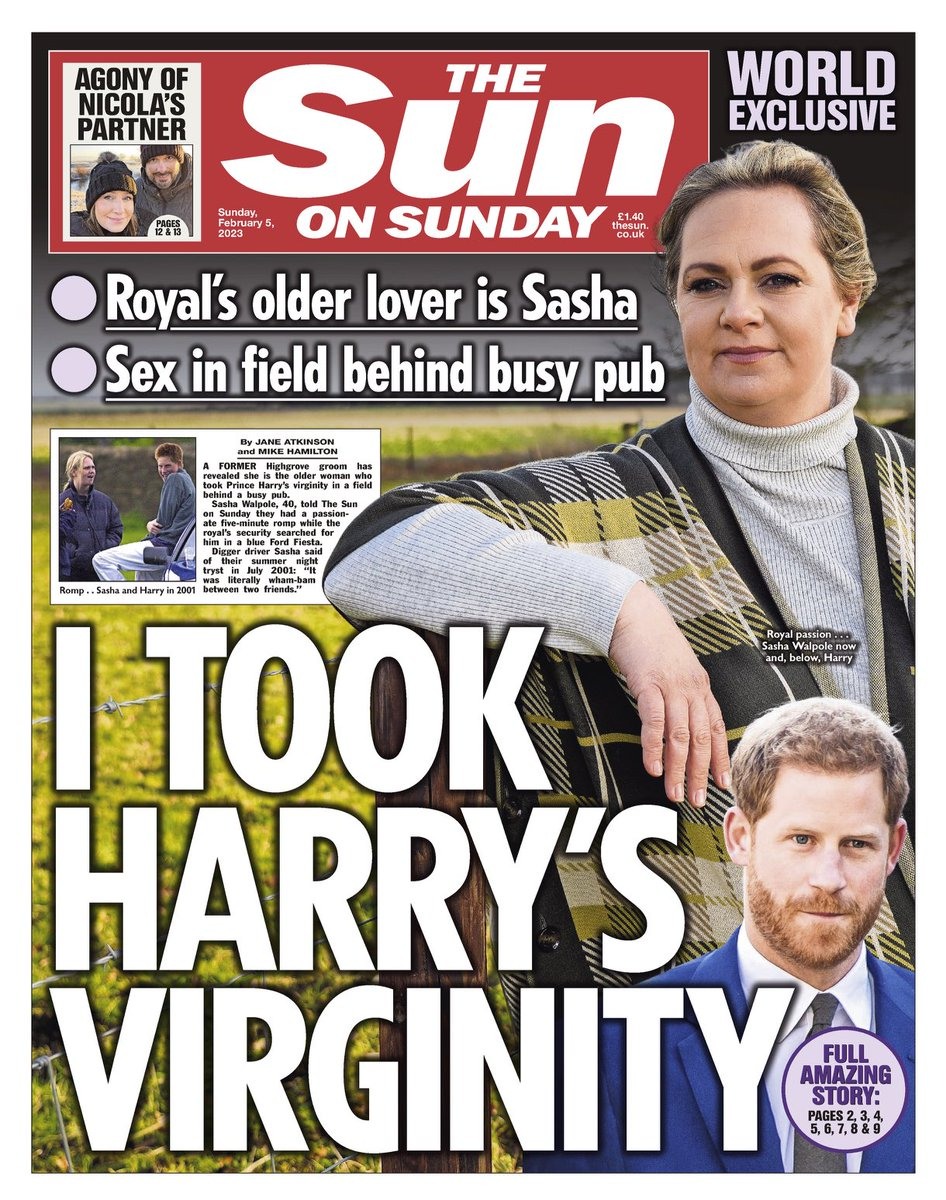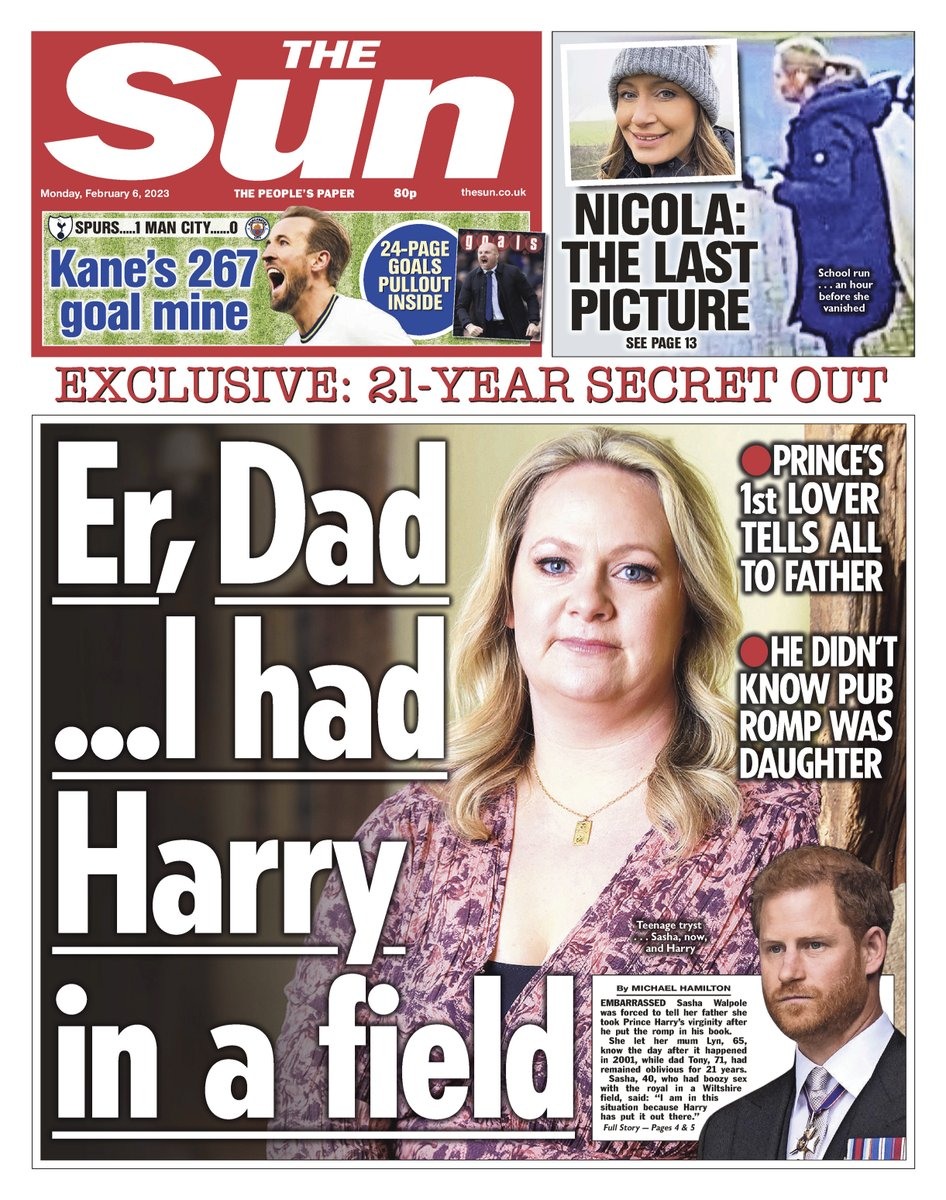 Covers courtesy of The Sun, screencap courtesy of Piers Morgan Uncovered.