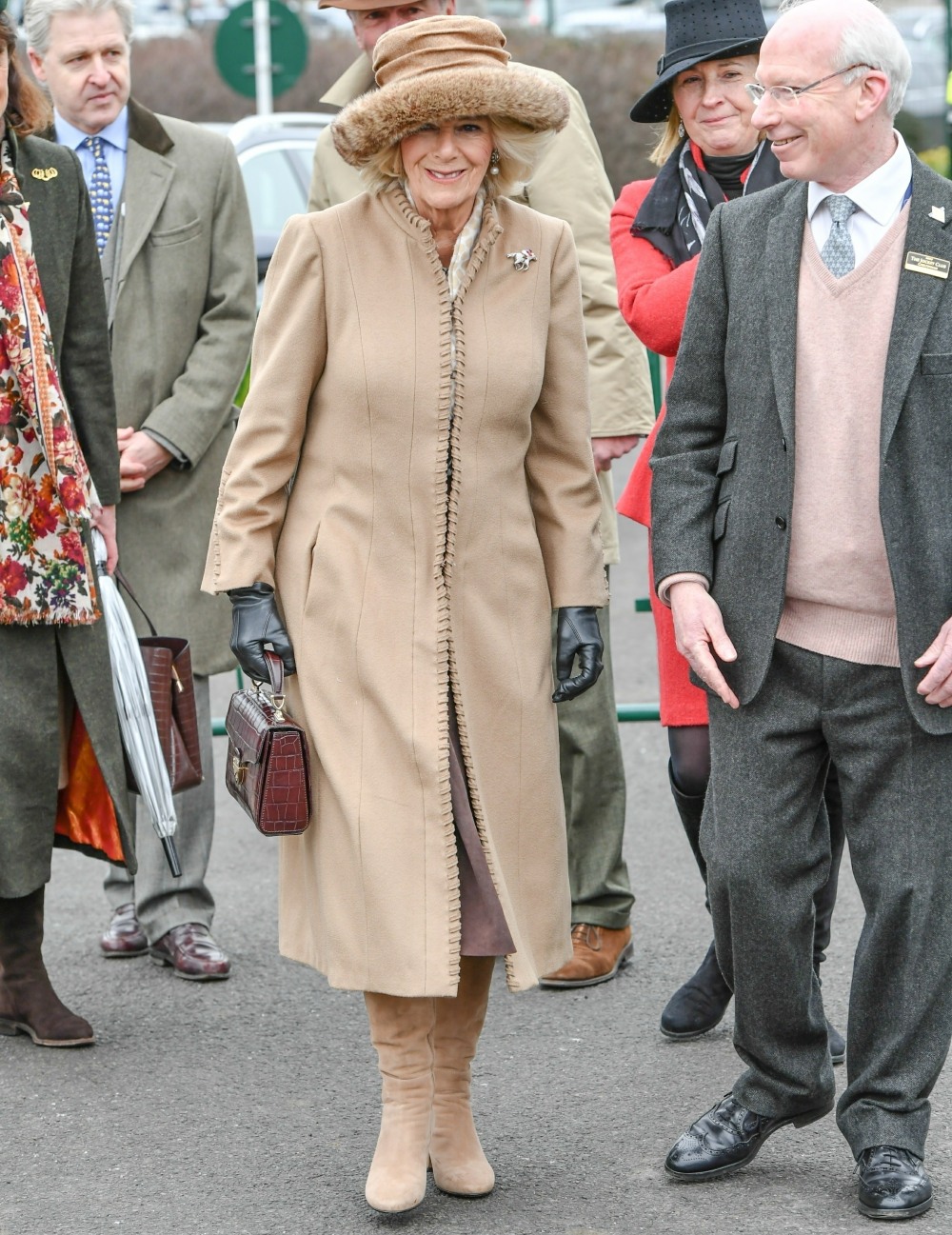 The Cheltenham Festival started on Tuesday. Princess Anne and Zara Tindall were there on Tuesday, and then on Wednesday, the Queen Consort came out. Fashion notes: Camilla's coat is a repeat – she's had this Anna Valentine coat in a fug shade of camel for years. Ditto with the awful hat. That hat is one of her favorites, for some reason. No one even knows if that's faux fur, but it looks like one of those cheap bucket hats you could find in Target. Camilla doesn't "elevate" inexpensive pieces – she makes expensive pieces look cheap and dowdy. Anyway, Camilla looked perkier than usual because she was around horses, plus she looted her dead mother-in-law's jewelry box.
Queen Camilla is taking the reins. The Queen Consort, 75, joined horse racing fans at a high-profile festival on Wednesday, heading to Cheltenham for the landmark race meeting of the spring. She kept warm in a fur-trimmed hat and a matching camel coat, accessorized with a silver brooch featuring a galloping horse and rider — a piece that previously belonged to Queen Elizabeth.

Queen Camilla has picked up the mantle of representing the horse racing fraternity from the late monarch, who was a passionate racehorse owner, breeder and spectator.

The focus of Queen Camilla's visit was the Queen Mother Champion Steeplechase (named for Queen Elizabeth's late mother). Before the race, she visited the paddock to check on the horses before presenting the winning trophy at the end of the race.

As Duchess of Cornwall, Camilla supported a number of equestrian charities, including the Ebony Horse Club, the Brooke Hospital for Animals and the British Equestrian Federation. Queen Camilla is a regular attendee at the Cheltenham races. The late Queen Elizabeth focused mostly on flat racing, with Royal Ascot in June being most closely associated with her. Cheltenham is about 43 miles from Camilla's country home, Ray Mill House in Wiltshire.
Let's just say it – much like the late QEII, Camilla shows much more enthusiasm for horses than she does literally anything else. Camilla was most recently seen staggering away from a group of Maori performers on Commonwealth Day, with the excuse that a blustery wind might knock her drunk ass over. But here she is looking hale and hearty on a rainy day at the races. Priorities, priorities. Meanwhile, I'm sure that King Charles has already sold off a huge chunk of his mother's stables, so all that's left for Camilla is "wandering around Cheltenham without any horses in the race."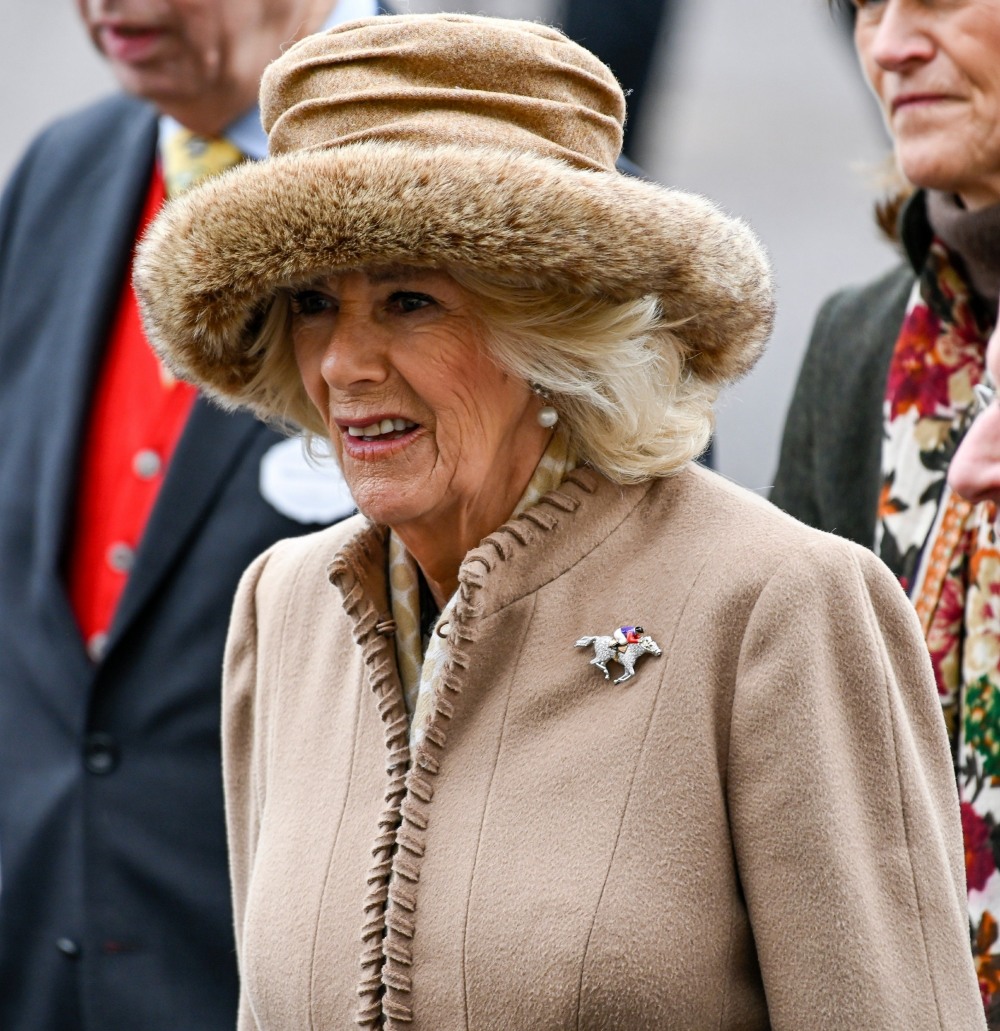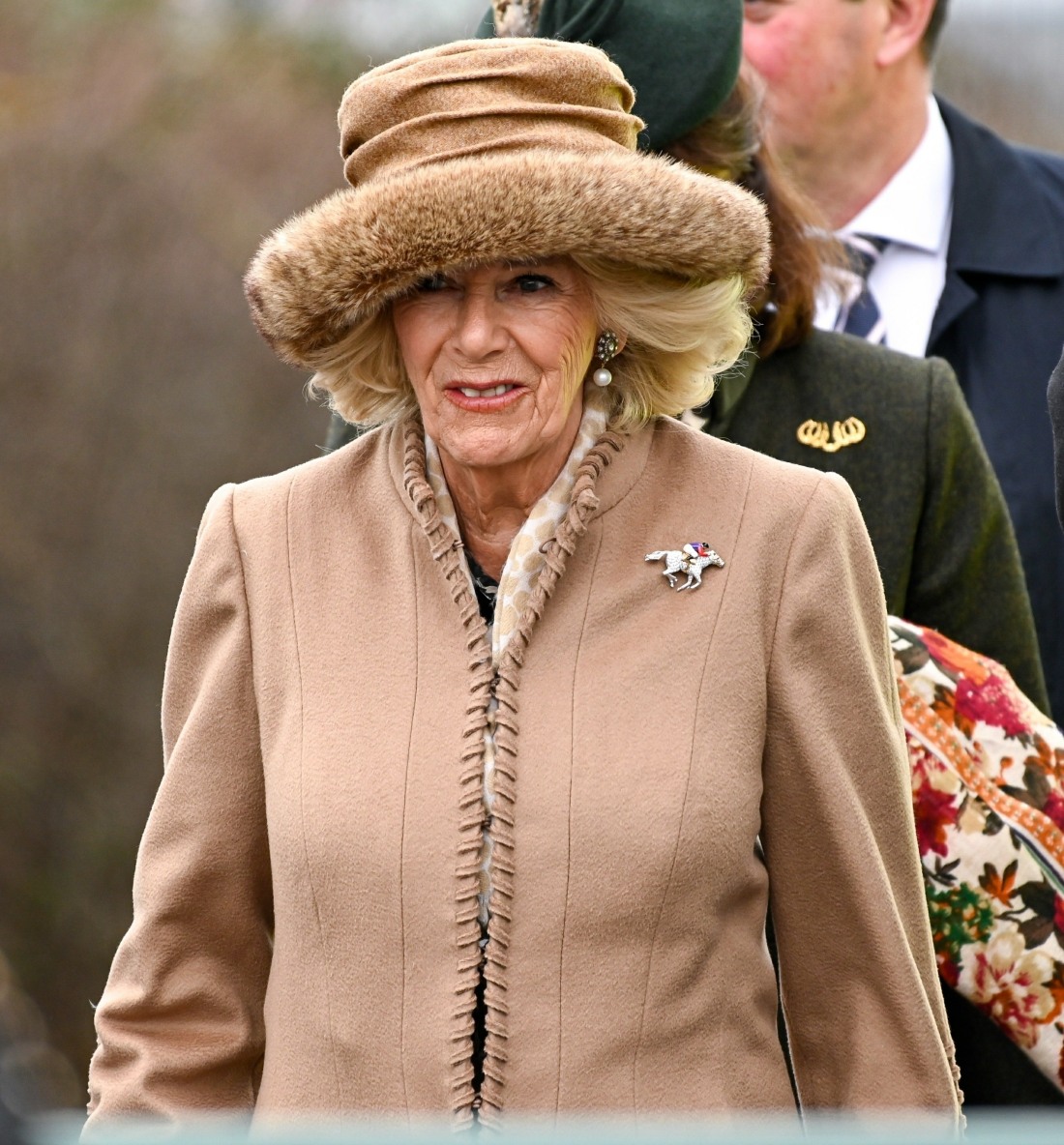 Photos courtesy of Backgrid.