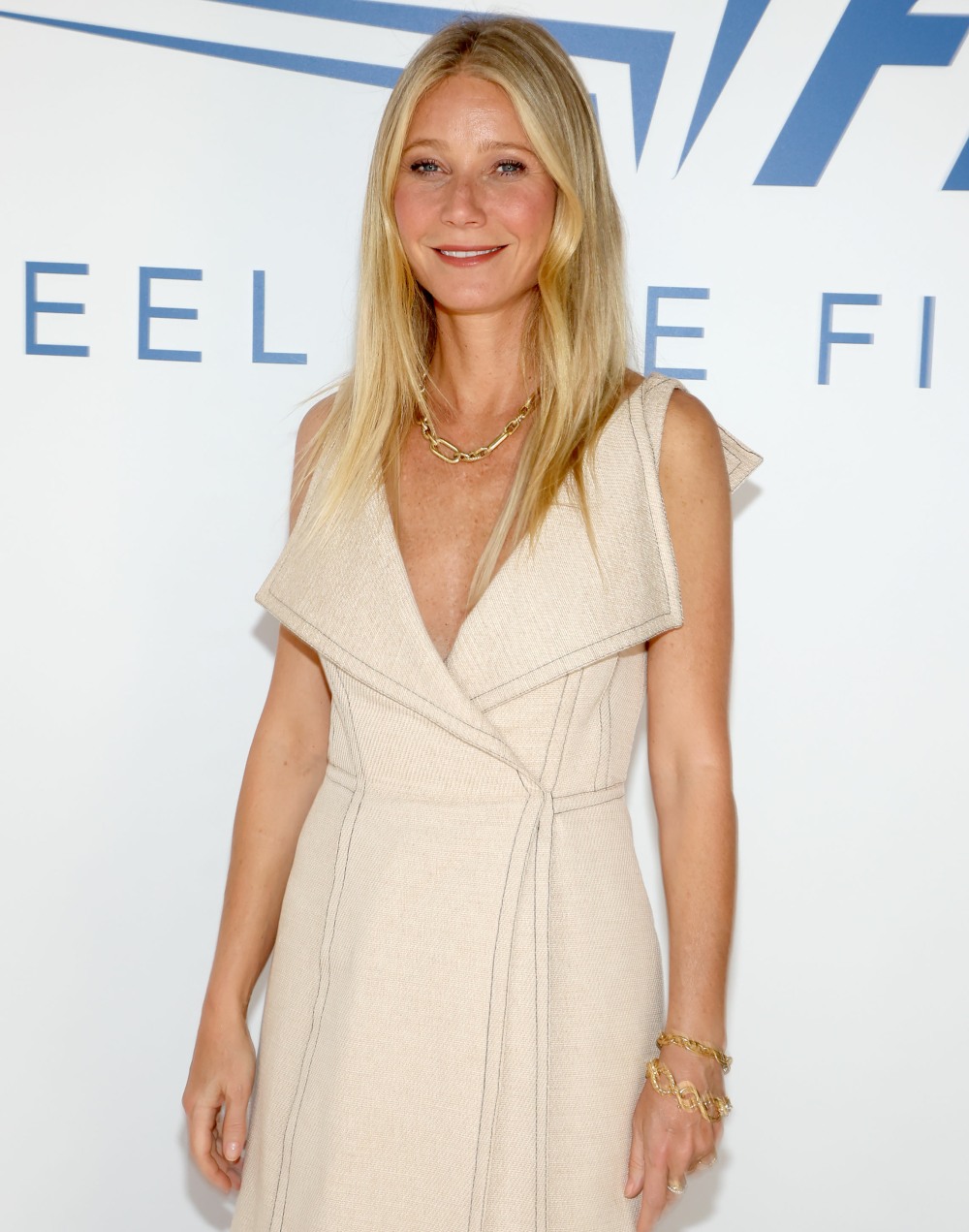 Last week, Gwyneth Paltrow did a podcast interview and the whole thing went viral for several reasons. One, Gwyneth was hooked up to an IV as she did the interview, and she extolled the virtues of being a constant IV-user and even bragged about being an "early adopter" of recreational IV use. In the pod interview, she also talked about her sad-sack diet, describing how she has bone broth for lunch most days and barely eats a Paleo diet for dinner. TikTokers ripped into her for being an Almond Mom and for pushing her disordered eating on everyone through her Goop empire. While Gwyneth has always been like this, it's nice to see new generations get outraged at Gwyneth's extreme diet-culture dressed up as "wellness."
Well, a funny thing happened – after clips of the pod went viral, Gwyneth saw that she was once again facing a huge backlash for being too rich to swallow vitamins, and for making her vitamin deficiency everyone's problem. So she addressed it on her social media, saying that the pod interview was actually done with her doctor and she was describing the specific diet she was on because she's dealing with long Covid.
Gwyneth Paltrow blamed "very high levels of inflammation" and long COVID for her wellness tips that have since been dubbed a "starvation diet."

"I have been working to really focus on foods that aren't inflammatory, [and] it's been working really well," the actress said on her Instagram Story Friday. "This is based on my medical results and extensive testing I've done over time," the 50-year-old added, noting that her daily diet wasn't "meant to be advice for anyone else."

Paltrow, who made headlines this week after describing her intermittent fasts, bone broth lunches and paleo dinners on the "Art of Being Well" podcast, said her habits have "been very powerful and positive" for her. The Oscar winner clarified that she doesn't eat those routine foods "all day every day."

Paltrow claimed to "eat far more than bone broth and vegetables," saying, "I eat full meals. I also have days where I eat whatever I want, French fries or whatever.

"My baseline has been to try to eat healthy and try to eat foods that really calm the system down," the "Shakespeare in Love" star continued.
She always does this, because she's a liar. She's either lying about her disordered eating, her crazy elimination diets, her "intermittent fasts" and her (horsesh-t) inflammation-reduction diets, OR she's lying about eating French fries and real meals. I know what I think she's lying about – in many ways, her Goop newsletter was a window into her starving, disordered soul, and my guess is that Gwyneth's broken, nutrient-deficient brain doesn't even realize how f–king crazy she sounds half the time. So her publicist is like "just tell them you eat French fries!"
Now, she's talked about having long covid before, and I buy that she's still dealing with that. I'm not a doctor, I have no idea if this restrictive diet actually "helps" the effects of long covid. What I do know is that Gwyneth's answer to every medical malady is to starve herself.
Note by CB: Sign up for our mailing list and get the top 8 most obnoxious things Gwyneth Paltrow has said! It was hard to choose just 8, I'm not going to lie. I only send one email a day on weekdays that I personally write.
I'm sorry but this is basically starving and that's why her skin is falling off the bone….You need food and oils to live.Eating bone broth is not a meal I'm sorry. Idgaf what y'all say. Gwyneth Paltrow is pushing disordered eating. Why does my 3 year old nephew eat more than her pic.twitter.com/ESCZgzVbhH

— BIDI BIDI BUM BUM (@layla_job) March 14, 2023
Gwyneth Paltrow reveals her diet is an attempt to treat her Long Covid.

Diet & exercise haven't been proven to help – it's sad how some doctors exploit unproven treatments & the lengths some go to to try to restore health 💔 pic.twitter.com/svg0G3BVIG

— chantzy (@chantz_y) March 18, 2023
Photos courtesy of Backgrid, Cover Images.