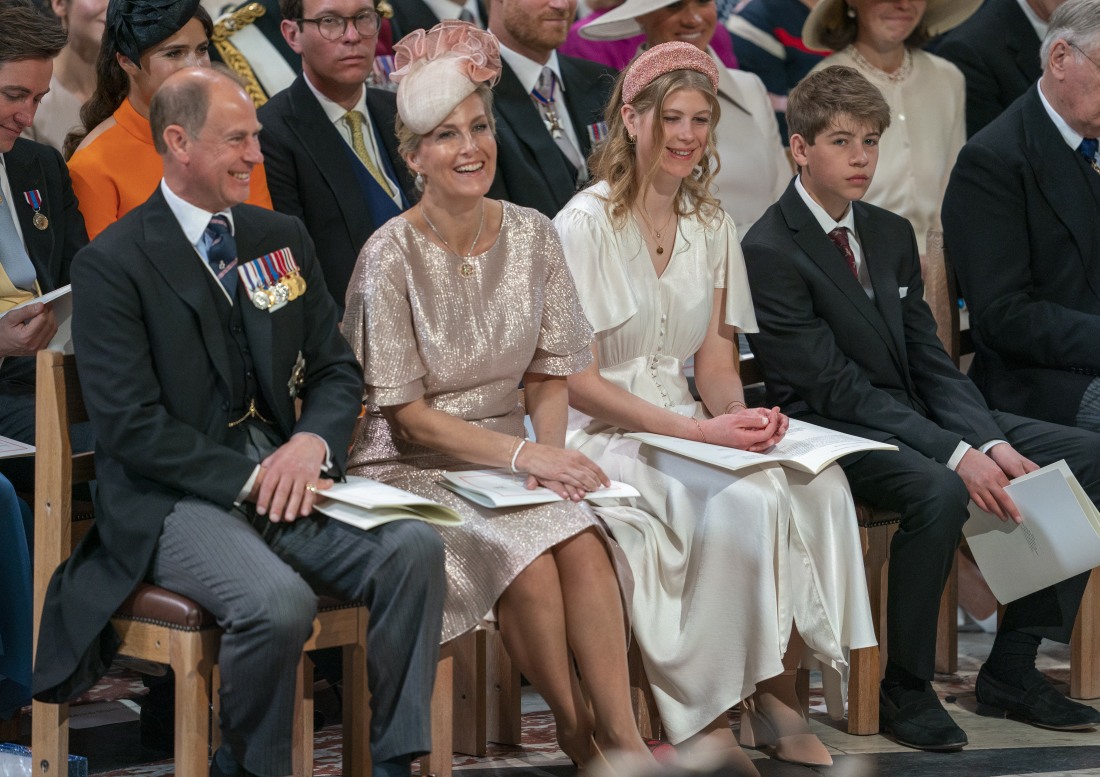 Last week, King Charles and Queen Camilla confirmed the names of their pages, the teens and preteens who would act as little ceremonial helpers during the coronation. Camilla got her way – her grandchildren have all been included as pages, as has one of Rose Hanbury's sons. Prince George is the youngest kid included, and generally, it seems as if the goal is to get pages around the age of 13-15 years old. Which means it's pretty odd that King Charles didn't include his youngest nephew James, Count Severn/Earl of Wessex, right? James is only 15 years old, the ideal age. It feels like Charles gave Sophie and Edward the Edinburgh title and now he wants to completely ignore them and their children. Speaking of, Charles is apparently making a point of not inviting James or Lady Louise on the balcony for his coronation.
The finale of King Charles's Coronation will see the royals gather on the Buckingham Palace balcony – but spots are tight. Like at the late Queen's Platinum Jubilee, the monarch has limited balcony appearances to just working royals only – meaning there is no place for his son Prince Harry or daughter-in-law Meghan Markle if they decide to attend.

Among those landing a place are of course the Prince and Princess of Wales and their children as well as the King's brother Prince Edward and his wife Sophie, the new Duchess of Edinburgh. But unlike Trooping the Colour at last year's Jubilee – it appears there is no place for their children Lady Louise Windsor and James, the new Earl of Wessex.

The late Queen made an exception to her rule for her youngest grandchildren Louise, now 19 and a student at St Andrews University, and 15-year-old James to be on the balcony. But now it appears that the King won't be making an exception for them again come May 6.

Speaking on the Mirror's royal podcast Pod Save The King, the Mirror's royal editor Russell Myers said: "I think it is interesting that the Duke and Duchess of Edinburgh's children won't be there because we did see them on the balcony during Trooping the Colour during the Queen's Platinum Jubilee last year. However, documents that I have seen, it is there in black and white that they were not part of the plans. Some may say that James has just been given this promotion to Earl of Wessex, Lady Louise is now 19 she's now been seen at a couple of engagements with her parents. We know she had a huge bond with the late Duke of Edinburgh but they are not working royals so it doesn't make sense to put them front and centre if Charles wants to let people see this vision [slimmed down monarchy] in the flesh."

Detailed plans seen by The Mirror reveal how the King has chosen to say thanks for the nation alongside a select few royals who have dedicated their lives to public service, while also showing "the heartbeat and future of his family". Future king and queen, Prince William and Kate will appear with their three children – Prince George, nine; Princess Charlotte, seven and Prince Louis, four.

The final group of 15 shows there is no place for Prince Harry and Meghan Markle, should they even decide to attend the coronation. Charles's trusted lieutenant and beloved sister, Princess Anne, will be by the King's side with her husband Vice Admiral Sir Tim Laurence. A source with knowledge of the plans said: "The King has been very clear who he wants to represent the monarchy. There is little room for sentiment, this is a State occasion, not a family occasion and it is right that only the working members of the family are there at the big public moment."

The King also insisted on some of his mother's most trusted and loyal servants and family members to be included, despite their days as working royals being numbered. The Duke of Kent, 87, a working royal and first cousin of both the late Queen and Prince Philip, will also attend alongside his sister Princess Alexandra, 86. The Duke and Duchess of Gloucester have also been asked by the King to join him and Camilla.
"There is little room for sentiment, this is a State occasion, not a family occasion"– Camilla demanded that her grandchildren act as pages and not the children of aristocrats, which was the tradition. Charles is also deciding (sentimentally) to include the Glouchesters, Princess Alexandra and the Duke of Kent? It sounds like it's less about sentimentality or lack thereof and Charles is just picking and choosing which old, white members of the family he wants on the balcony. There's no rhyme or reason to it, they're just staggering from one made-up excuse to the next to explain why Meghan and Harry are not welcome, and somehow Louise and James are getting some of the blowback too.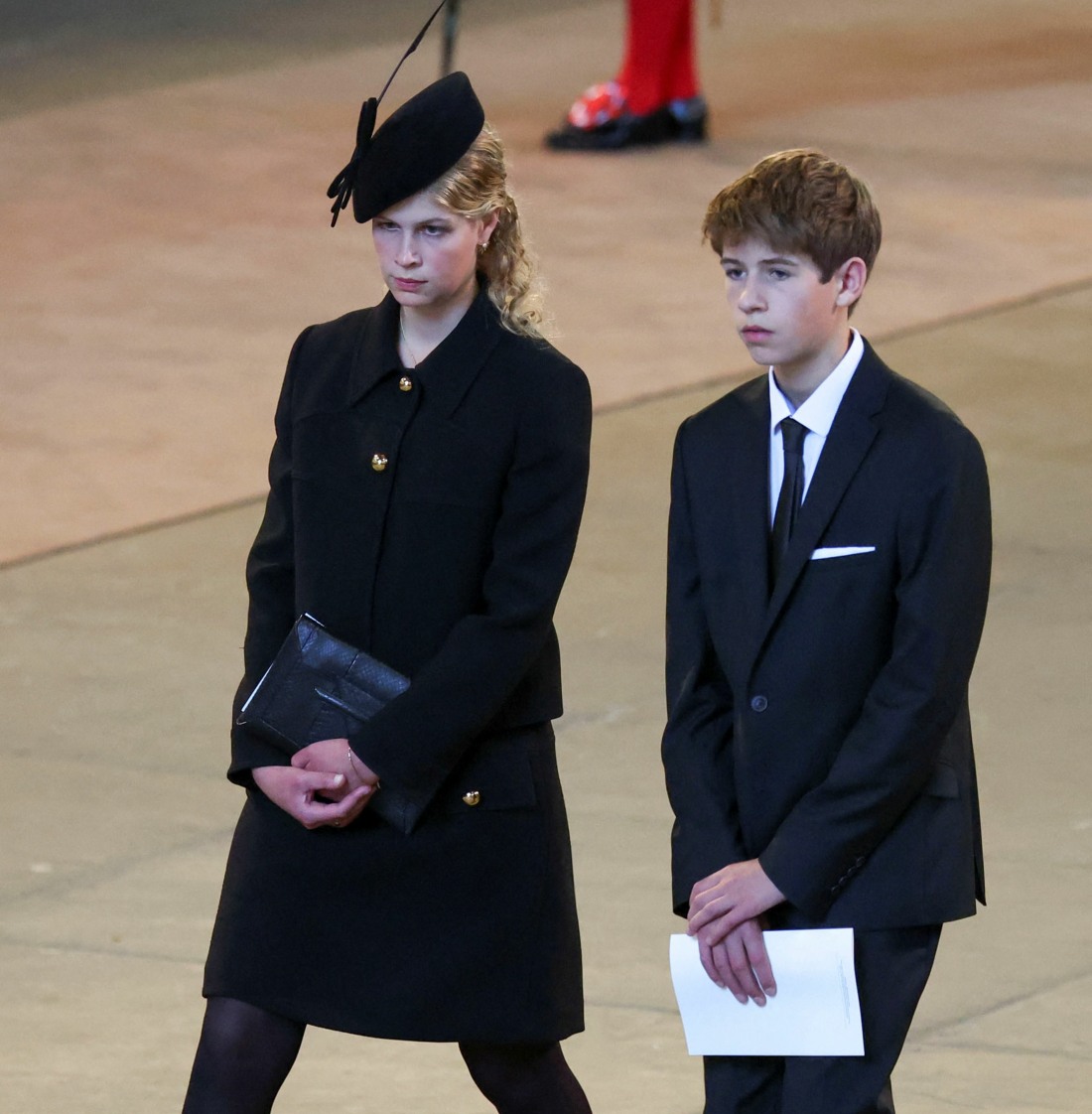 Photos courtesy of Avalon Red, Cover Images, Instar.