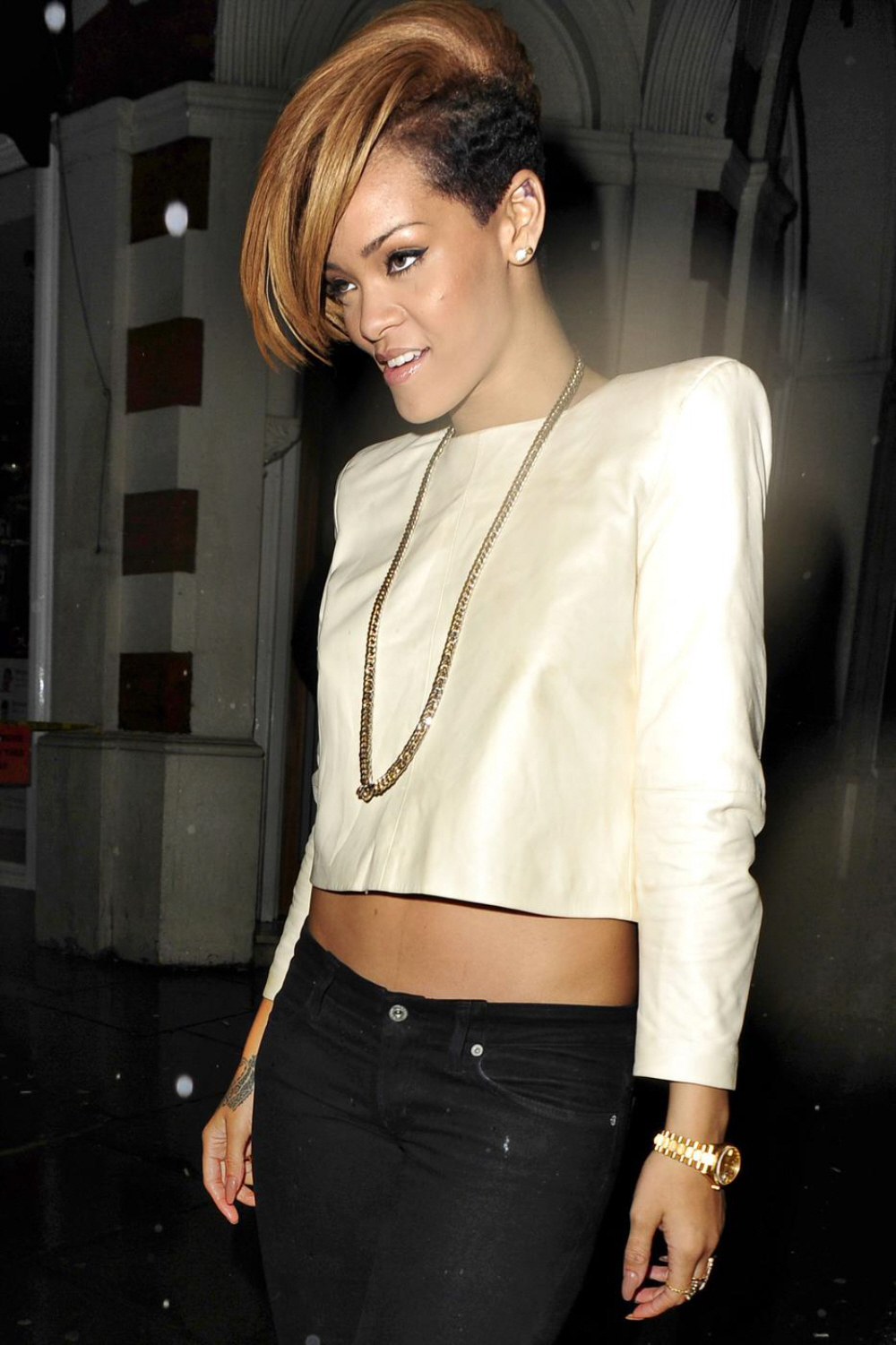 Here are new pictures of Rihanna club-hopping in London's natural state of inclement weather. According to the photographers, there was an unfortunate incident with Rihanna and an unbrella-ella-ella-eh-eh. Yeah… some guy just whipped out his umbrella, and a gust of wind turned it inside and out, and Rihanna thought it was hysterical. That's about it. Honestly, I find her Working Girl-esque shoulder pads to be more newsworthy. What's up, Tess McGill?
Anyhoodle, Rihanna was interviewed on Hot 97 the other day, and she was asked about those nude cell phone pics of her going around in May of this year. Rihanna confirmed that the pics were of her, and that she sent them to an ex-boyfriend. She also said the pics were "hot" and that she doesn't feel ashamed about it: "If you don't send your boyfriend naked pictures, then I feel bad for him." Oh, no… Rihanna, no!
R&B singer Rihanna has said the "humiliating" leak of naked photographs of her was "the worst thing that could possibly ever happen to me".

The star told US radio station Hot 97 she had originally sent the pictures, which appeared online earlier this year, to an ex-boyfriend. But she defended the initial decision to take the photographs, which she described as "hot".

"If you don't send your boyfriend naked pictures, then I feel bad for him."

The 21-year-old singer has had a rough year, after being assaulted by former boyfriend Chris Brown in February. Brown, himself an R&B singer, was sentenced to five years' probation for assaulting Rihanna in August. He has since apologised to fans for his actions.

The naked pictures of Rihanna appeared on the internet in May.

"I just felt like my whole privacy was taken before that and then, when that came out, I thought, 'oh great, so now there's nothing they don't know about me and my private life'," Rihanna told Hot 97.

"It was humiliating and it was embarrassing – especially my mum having to see that. It was two days before Mother's Day, so I was nervous. I sent her flowers first before I called and then she texted me – when the world is against me she's always there supporting."

The singer added: "If it's wrong, she will still let me know but she wouldn't come down on me like, 'oh my God, what were you thinking?'"
[From BBC]
Dumb kid. Way to encourage your young fan base to enter into amateur pr0n. It sounds like Rihanna was only really embarrassed by what her mom would think, not what everyone else would think. Here's the thing about naked photos – if you're just some average person, some dumb, drunk college girl or someone like that, I can understand why you wouldn't think it through, how you get caught up in something and suddenly your breasts are all over the internet. Take the Carrie Prejean stuff – like, I understand why she made masturbation videos and sent them to her boyfriend – because she was a dumb 20-year-old who wasn't famous, and didn't think the whole thing through for when she was going to be preaching "traditional" conservative values like breast implants. What I don't understand is how and why famous people do this stuff. If you're Rihanna or any somewhat famous celebrity woman, don't you understand that the photos will always get out? Always. Trust me.
Rihanna is pictured out and about in London, very late at night/early in the morning on November 29, 2009. Credit: Pacific Coast News.