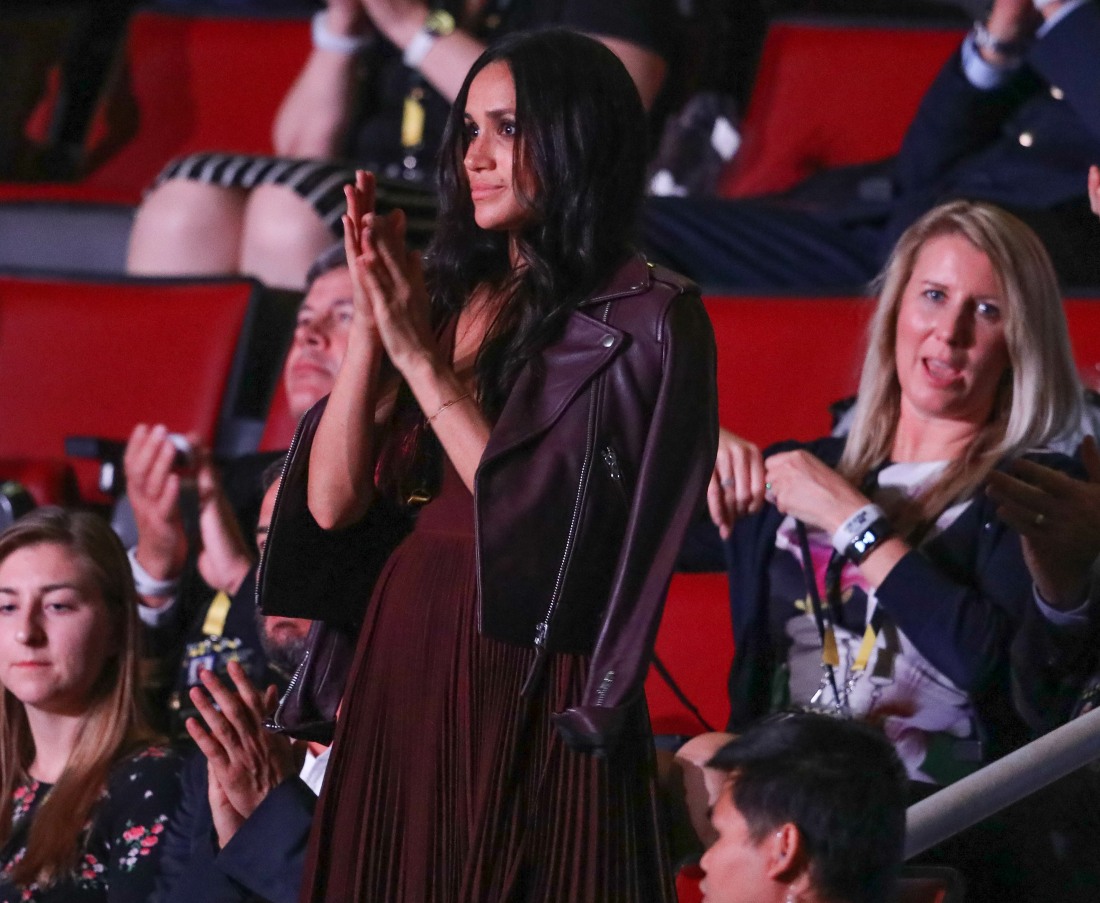 Taylor Swift usually sets up multiple concerts in a major city during her tours. That's especially true of Los Angeles – her concerts always sell out in LA, and if she wanted to, she could easily fill the SoFi Stadium every night for a full month. Let's be real – I'm a snake-skeptic about a lot of things, but everyone wants to go to Taylor's concerts. So, she arranged for a six-concert stop in LA, and on Tuesday, the Duchess of Sussex was apparently seen there. There was a story, weeks ago, trying to make it sound like Taylor has beef with Meghan because Meghan wrote her a letter, asking her to appear on Archetypes but Taylor said no. Looks like there's no BAD BLOOD.
Meghan Markle is a Swiftie! A source confirms to PEOPLE that the Duchess of Sussex, 42, attended Taylor Swift's performance at Los Angeles' SoFi Stadium on Tuesday during the Eras Tour's California leg.

As Swift launched into her Fearless era — telling the excited crowd, "Let's go back to high school!" — Meghan jumped up out of her chair to sing along to "You Belong with Me."

Page Six, which was first to report the news, said Meghan attended with her friend Lucy Fraser.

Although Prince Harry did not join his wife as he's overseas, he's been to SoFi Stadium since they located to Meghan's home state in 2020 after stepping back from their royal roles. In 2022, he attended the Super Bowl at the venue alongside his cousin Princess Eugenie, who was visiting from the U.K.
"You Belong with Me"? That's the song Meghan got up for?? Y'all know my feelings on Tay, but I would have been able to rock out to "Anti-Hero" or "Wild Dreams" or "Blank Space." Sh-t, maybe my preferred era is 1989 or Midnights. Never thought Meg would be a Fearless girl. (Also: Justice 4 Lover.)
Anyway, in all of the reporting about this, people are clutching their pearls that Meghan left her house while Harry was away in Japan and Singapore. Like, it's 2023? A wife can leave the house without her husband. A woman doesn't need her husband's permission to go to a concert. What is this retro – or purposefully regressive – era we're living in? Even if the argument is "it's notable because Harry and Meghan are not together, it lends fuel to the breakup rumors" – the rumors were always complete bullsh-t, there was never anything substantive there. A man is away on business for a week and a wife went to a concert with her friend.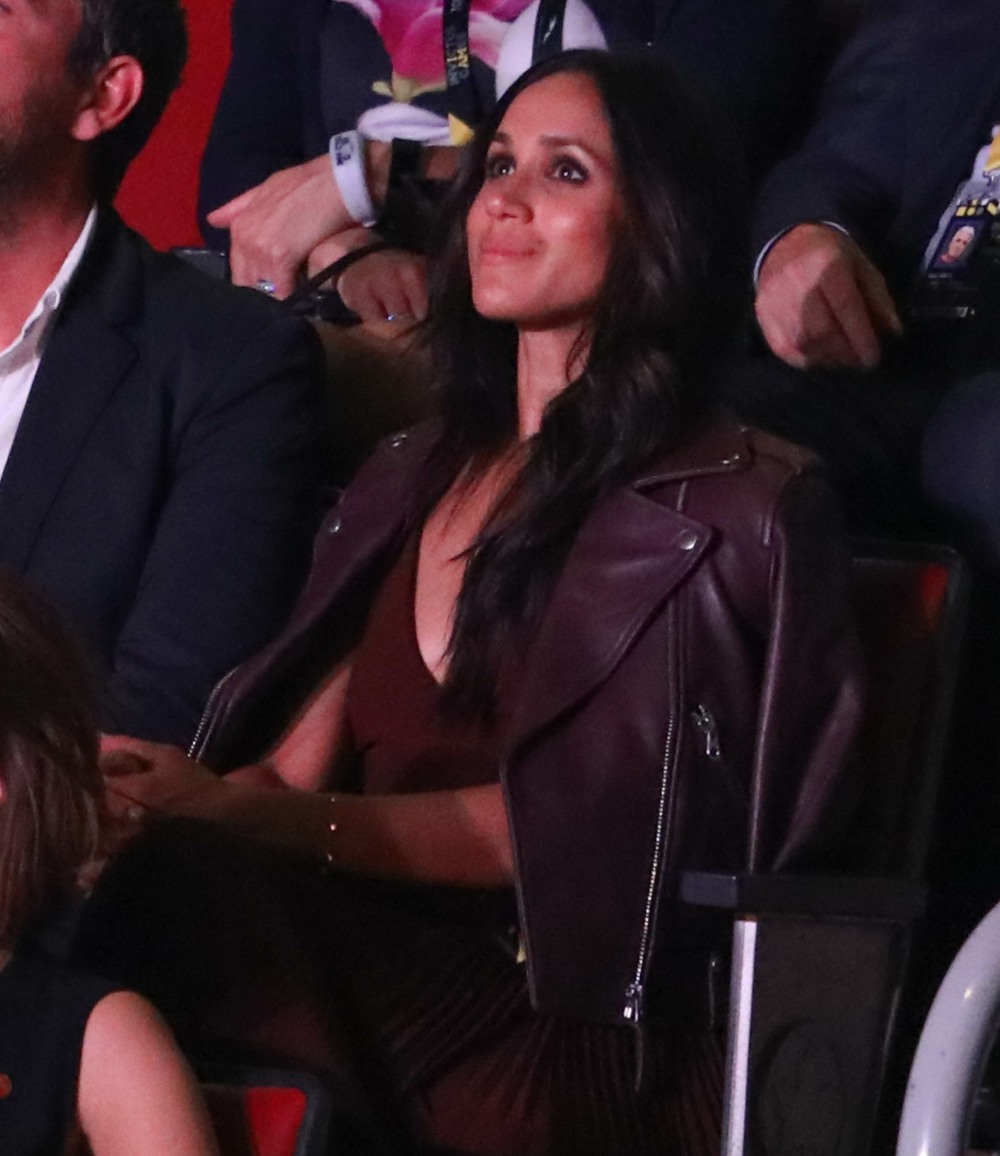 Photos courtesy of Cover Images.

North America Rights Only – Toronto, USA – 9/23/17 Meghan Markle attends the Invictus Games opening ceremony sitting 18 rows from Prince Harry in Toronto. -PICTURED: Meghan Markle -PHOTO by: INSTARimages.com -VN_Meghan_Markle_At_o_81-16.jpg Editorial Rights Managed Image – Please contact www.INSTARimages.com for licensing fee and rights: North America Inquiries: email sales@instarimages.com or call 212.414.0207 – UK Inquiries: email ben@instarimages.com or call + 7715 698 715 – Australia Inquiries: email sarah@instarimages.com.au  or call +02 9660 0500 – for any other Country, please email sales@instarimages.com.  Image or video may not be published in any way that is or might be deemed defamatory, libelous, pornographic, or obscene / Please consult our sales department for any clarification or question you may have – http://www.INSTARimages.com reserves the right to pursue unauthorized users of this image or video. If you are in violation of our intellectual property you may be liable for actual damages, loss of income, and profits you derive from the use of this image or video, and where appropriate, the cost of collection and/or statutory damage. Featuring: Meghan Markle Where: Toronto, Canada, United States When: 23 Sep 2017 Credit: INSTARimages.com **North America Rights Only**
North America Rights Only – Toronto, USA – 9/23/17 Meghan Markle attends the Invictus Games opening ceremony sitting 18 rows from Prince Harry in Toronto. -PICTURED: Meghan Markle -PHOTO by: INSTARimages.com -VN_Meghan_Markle_At_o_81-14.jpg Editorial Rights Managed Image – Please contact www.INSTARimages.com for licensing fee and rights: North America Inquiries: email sales@instarimages.com or call 212.414.0207 – UK Inquiries: email ben@instarimages.com or call + 7715 698 715 – Australia Inquiries: email sarah@instarimages.com.au  or call +02 9660 0500 – for any other Country, please email sales@instarimages.com.  Image or video may not be published in any way that is or might be deemed defamatory, libelous, pornographic, or obscene / Please consult our sales department for any clarification or question you may have – http://www.INSTARimages.com reserves the right to pursue unauthorized users of this image or video. If you are in violation of our intellectual property you may be liable for actual damages, loss of income, and profits you derive from the use of this image or video, and where appropriate, the cost of collection and/or statutory damage. Featuring: Meghan Markle Where: Toronto, Canada, United States When: 23 Sep 2017 Credit: INSTARimages.com **North America Rights Only**
USA Rights Only – Toronto, Canada – 9/25/2017 – Prince Harry and Meghan Markle at the 2017 Invictus Games -PICTURED: Prince Harry and Meghan Markle -PHOTO by: Danny Lawson/PA Images/INSTARimages.com Editorial Rights Managed Image – Please contact www.INSTARimages.com for licensing fee and rights: North America Inquiries: email sales@instarimages.com or call 212.414.0207 – UK Inquiries: email ben@instarimages.com or call + 7715 698 715 – Australia Inquiries: email sarah@instarimages.com.au Êor call +02 9660 0500 Ð for any other Country, please email sales@instarimages.com. ÊImage or video may not be published in any way that is or might be deemed defamatory, libelous, pornographic, or obscene / Please consult our sales department for any clarification or question you may have – http://www.INSTARimages.com reserves the right to pursue unauthorized users of this image or video. If you are in violation of our intellectual property you may be liable for actual damages, loss of income, and profits you derive from the use of this image or video, and where appropriate, the cost of collection and/or statutory damage. Featuring: Prince Harry and Meghan Markle Where: Toronto, Ontario, Canada When: 25 Sep 2017 Credit: Danny Lawson/PA Images/INSTARimages.com **USA Rights Only**