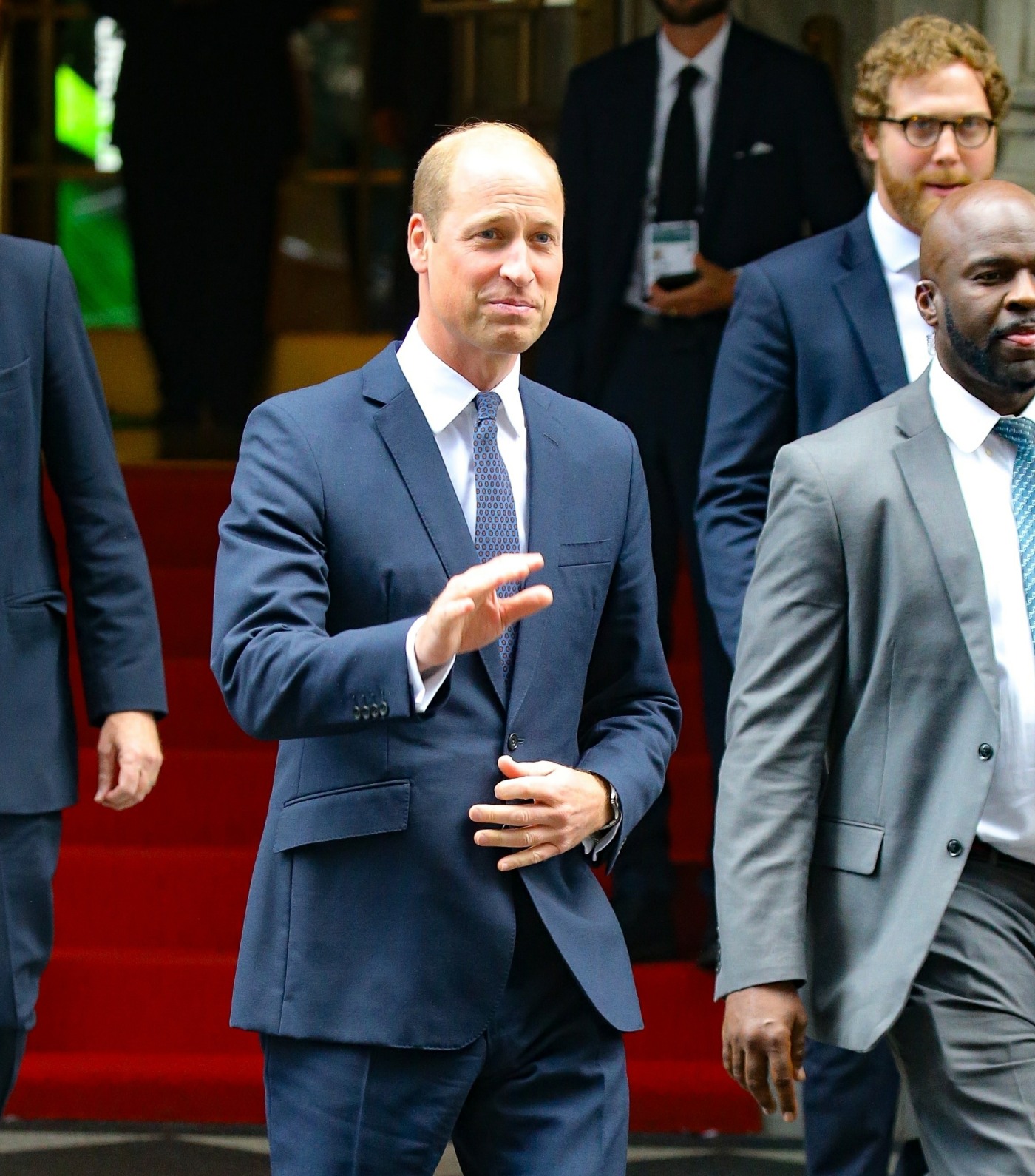 Here are more photos of Prince William on "Day 2" of his big New York trip. The British media gave away the game in about a million different ways, like mentioning Prince Harry repeatedly in their coverage of William's trip, to tagging stories about Peg's Big NYC adventure under their "Prince Harry" label, to claiming that William was in Harry's "backyard." We get it, guys – this trip was all about William copying Harry, wanting what Harry has, wanting to be a global statesman like Harry. William thinks that all it takes is a few careful photo-ops – he doesn't understand that people love Harry because he's charismatic, he works hard, he's authentic and he doesn't waste people's time with Jealousy Tours and bumbling photo-ops. Speaking of Harry, apparently New Yorkers heard that a prince was in town and they were disappointed that it was just William:
Prince William got an incredibly warm reception today during a visit to a New York City fire station right next to the World Trade Center, with some FDNY members cracking jokes about Kate Middleton's absence from his trip. FDNY Lieutenant Drew Kane said in an exclusive interview with Daily Express US: "Of course, we asked him where Kate was. We wanted to know why Kate wasn't here."

Kane laughed and said: "He didn't answer that."

The Prince of Wales, who is in the city for the Earthshot Prize Awards, received loud cheers from large crowds which had gathered outside the fire station while Princess Kate visited a youth intervention charity during a visit in central London.

The streets were blocked off for the arrival of the VIP guest, whose identity was unknown until he stepped out of a blacked out car which had been flanked by a police escort. Many questioned at first as to whether it was actually Prince Harry, and seemed pleasantly surprised when his older brother emerged.
The Express actually changed that last line – originally, it was "many tourists questioned where Harry was" but I guess the Express got an incandescent phone call from Kensington Palace. Still, even firefighters would have rather seen Kate than William. Something else happened – or didn't happen – around this FDNY photo-op. Mayor Eric Adams was supposed to show Peg around the fire house, but Adams canceled at the last minute:
Mayor Eric Adams quickly scheduled – and then 30 minutes later canceled – an appearance with Prince William Tuesday afternoon, causing a royal pain for any New Yorkers who rushed over to see Adams cross paths with the heir apparent.

Of course, most of the crowd outside the Lower Manhattan firehouse wasn't there to see Adams, but to catch a glimpse of the Prince of Wales. A sizable crowd and some British press gathered around the portion of Liberty Street shut down for William's visit. And while Hizzoner didn't show, FDNY Commissioner Laura Kavanagh was there to greet the prince at the firehouse, which is across the street from the 9/11 Memorial.

William's New York City tour coincides with the United Nations General Assembly and Climate Week. He already paid a visit to an oyster reef restoration project on Governors Island.

Representatives for Adams did not immediately respond to a request for comment about why Adams' appearance with Prince William was so quickly scheduled and then canceled. Maybe it's no great loss; if we had to pick one royal to watch Adams pal around with, it'd be Prince Harry.
The mayor canceled on him. Just two years ago, when Harry and Meghan visited New York, they did a photo-call at One World Trade with then-Mayor De Blasio AND New York Governor Kathy Hochul. And Harry was invited to speak at the United Nations. And Meghan fronted a UN campaign AND spoke at the UN well before she even met Harry. And Harry visited FDNY Ten House years ago, in his 20s. Such desperation from William, it's really so sad.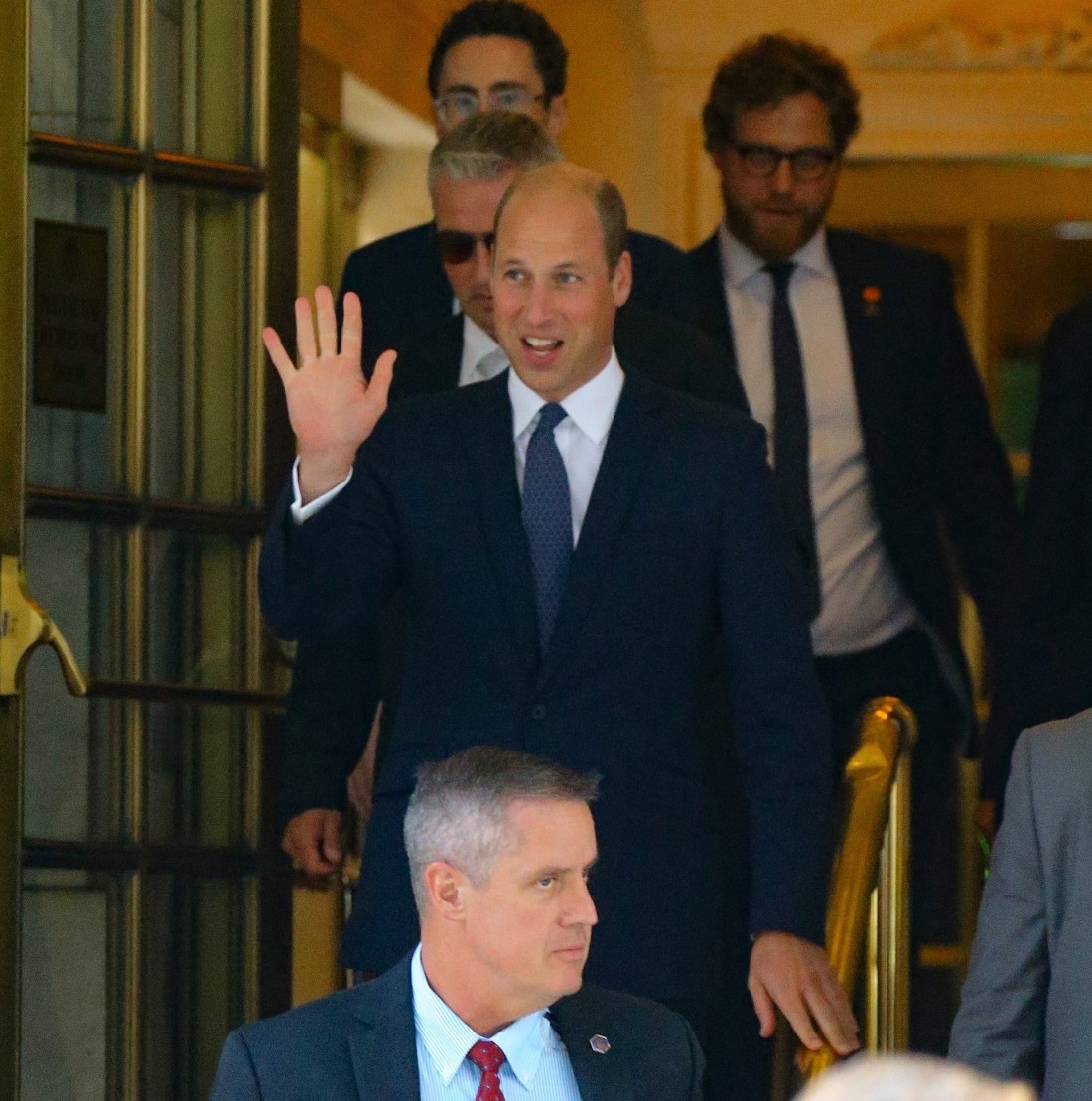 Photos courtesy of Backgrid.