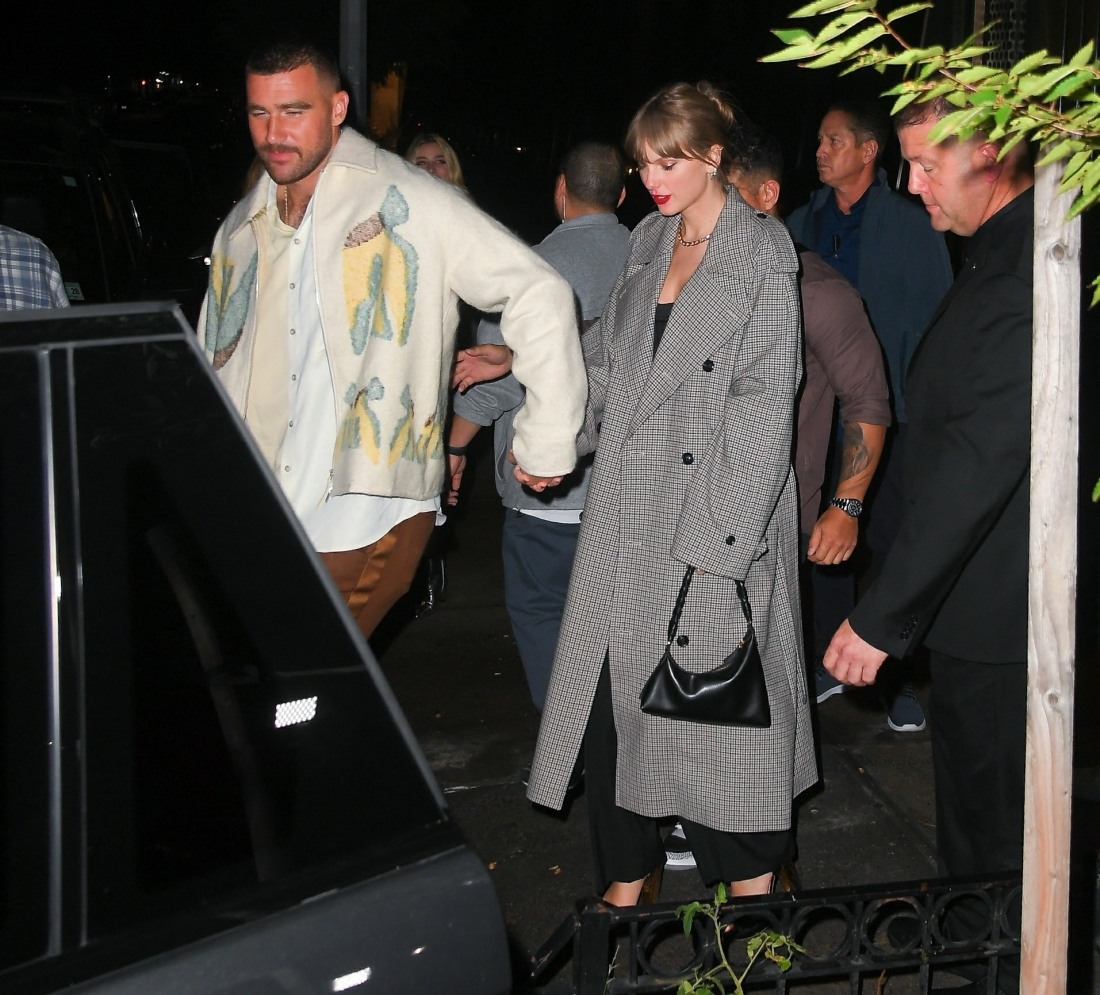 Travis Kelce skipped Taylor Swift's first Buenos Aires concert on Thursday night. He attended a charity fundraiser with his friend and teammate Patrick Mahomes… and then he hopped on a flight to Argentina right after. Travis arrived in Buenos Aires on Friday, and within hours of his arrival, Taylor canceled her Friday night concert!!! It wasn't because she wanted to bang Travis (although I'm sure that played a part) – she canceled because the venue is open-air and there was a big storm coming on Friday night. So she just rescheduled the concert for Sunday night, and Travis is apparently with her for the weekend. I wonder if it's his first time in Argentina? Probably. So they did manage to go sight-seeing. Well, not really, they just went out to eat.
Taylor Swift and Travis Kelce's romance never goes out of style! On Friday, the pop star, 33, and Kansas City Chiefs tight end, 34, reunited in Argentina for a low-key date night. The two grabbed dinner in a private room at Elena, a restaurant in the Four Seasons Hotel in Buenos Aires, and appeared to be joined by Swift's dad, Scott Kingsley Swift.

While it's not known what exactly they ate, Elena is well-known for their dry-aged meat, brasserie and charcuterie.

A source tells PEOPLE that the two "looked so cute on their low-key date night" and that "they also left holding hands." The source adds that "the crowd in the restaurant briefly cheered as they walked out" and that "Travis was beaming."

Their outing occurred hours after the NFL star was seen exiting a jet at an airport near Buenos Aires. Although Kelce is currently in the middle of the football season, he was able to make the trip abroad due to his team being on their bye week.
"The crowd in the restaurant briefly cheered as they walked out" – that is so sweet. It's like a global thing, people are like "yay, Taylor Swift might have really found the One this time!" Either that or they were simply cheering for Taylor, because she is a global superstar. As for dining with Taylor's dad… we'll see. She usually doesn't make it a huge priority for her boyfriends to spend time with her parents (meanwhile she prefers to meet the guy's mom after one date).
NO ES MÍO PERO MIREN LO HERMOSA QUW ESTAAAAAA pic.twitter.com/LUhSFf5W2G

— lucy (@soloinercia) November 11, 2023
Also: in her first concert in Argentina, she performed "Labyrinth" and people think it's a sign.
LABYRINTH #BuenosAiresTSTheErasTour pic.twitter.com/l86zxGhW1q

— vero 🩵 eras tour 🇦🇷 9/11, 10/11 & 11/11! (@inyourcardigan) November 10, 2023
Travis went to her concert last night and he was singing and dancing along to all of it. Then this happened.
GUYSSSSSW pic.twitter.com/sVB6Z9RwGw

— vero 🩵 eras tour 🇦🇷 9/11, 10/11 & 11/11! (@inyourcardigan) November 12, 2023
Photos courtesy of Backgrid.