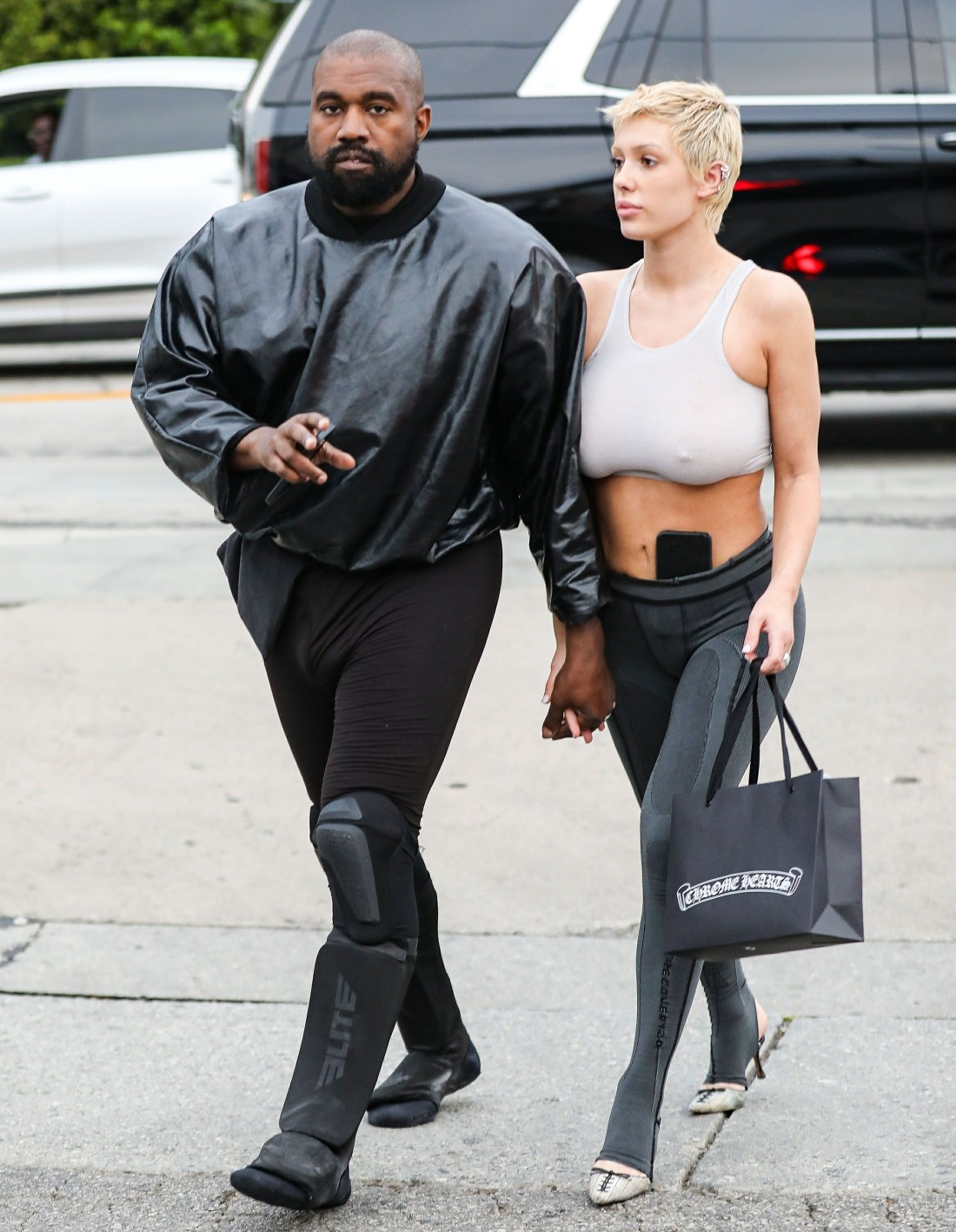 We're coming up on the one-year anniversary of Kanye West and Bianco Censori's loosey-goosey wedding. For much of this year, I thought the wedding storyline was a stunt and they weren't legally married, but the Daily Mail investigated everything and found out that it was legal. The Mail and other British outlets (for some reason) have also done a lot of reporting around the state of their marriage and how controlling Kanye is. Bianca has been wandering around for months in little more than sports bras and pantyhose, all while Kanye tried to rebuild his career after he was thoroughly outed as an antisemite, bigot and a–hole. Reportedly, Bianca's family has been really concerned about her for a while, but she always told them to f–k off. Now the Sun claims that Bianca and Kanye are taking a break. Hm.
Kanye West and Bianca Censori are 'on a break' as reports that her family has been begging her to leave him due to his 'controlling' behavior swirl, a source has told The U.S. Sun. The 46-year-old rapper married his Yeezy architectural designer in December of 2022, just one month after his divorce from ex Kim Kardashian was finalized.

Bianca and Kanye have been inseparable ever since and have been traveling together for months, but fans have expressed concern over how he treats her. After marrying the star, Bianca cut her hair short and embraced bizarre fashion, from revealing outfits to wrapping her entire body including her face in constraining gauze, which worried fans.Sources also told the Daily Mail that her family and friends have been pressuring her to leave him after he allegedly imposed a strict set of rules she had to follow, including eating certain foods.

As she remained in Australia after returning without Kanye earlier this month, an insider told The U.S. Sun the couple is "taking a break" after discussing her family's concerns.

"Her family has never been a fan of Ye, and those close to her have questioned whether marrying him was the right decision," the source said. "Kanye said they've been taking a breather since mid-October and his only focus right now is the music. He's really keen to get this new record out with Ty Dollar $ign. He is a very difficult person to be around and work for, and Bianca has been one of the most patient people ever to deal with him. She's been all about Ye."

The insider continued: "He has been a lot happier and more focused with her around, but I think the relationship has taken its toll on her a bit, with everyone having their opinion. She may go back to him for the album launch. She loves the lifestyle, but I think it's clear her family and friends would rather she didn't. Honestly, it seems he's not that worried about it and is just all about the music at the minute."
It's honestly the best case scenario if Kanye simply got bored with playing with his living doll and just forgets about her completely. I mean, obviously, Bianca is going to need a lot of therapy and a good divorce lawyer, but it's so much better if Kanye is completely over controlling her and dressing her up. It actually sounds like, if this separation is to be believed, Kanye was probably the one to want some distance.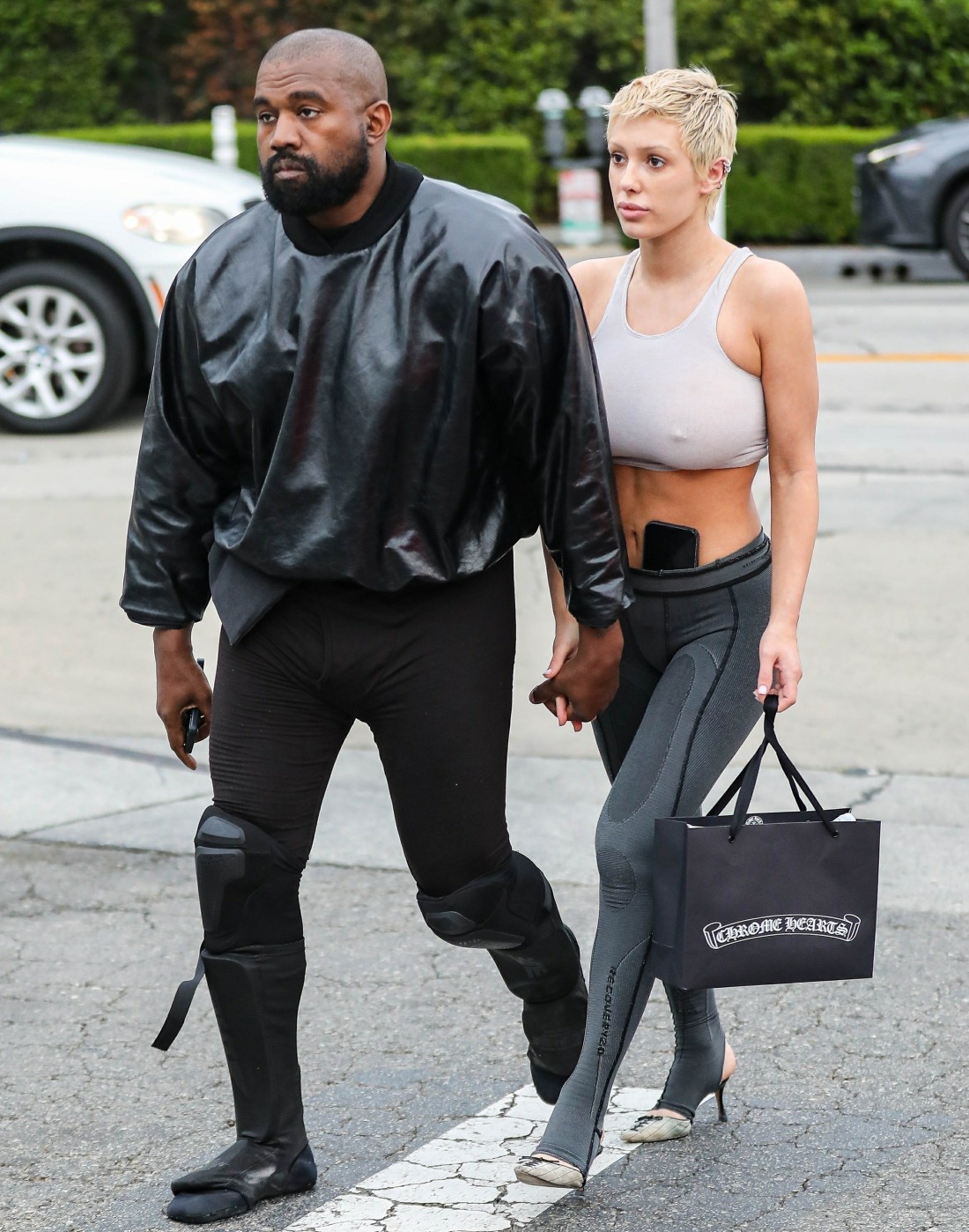 Photos courtesy of Backgrid.