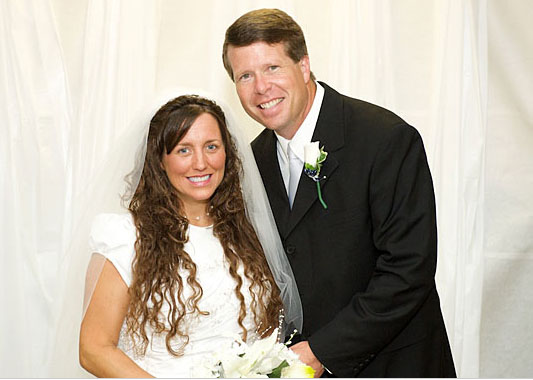 The prolific Duggar family are the stars of TLC's weekly reality show "18 Kids and Counting." The Duggars believe that children are a gift from God and use no form of birth control. They seek medical treatment and prenatal care but opt out of genetic testing, as is recommended for pregnant women over 35. All of their children have names that start with "J" and all of them are homeschooled under a Christian conservative curriculum that teaches creationism. The Duggars have no debt and raise their children under a "buddy system" in which an older child is assigned to watch out for a younger one once they're weaned from nursing.
Mom Michelle Duggar, 43, had to be airlifted to an Arkansas hospital over the weekend when she was experiencing early contractions. She had a gallstone that needed to be removed and was reportedly fine afterwards, but was kept in the hospital for observation. It's a good thing that they kept her there because she needed an emergency c-section. The baby wasn't due until the spring and is at least a few months early. Little girl "Josie" was delivered yesterday and weighed just 1 lb., 6 oz.
She arrived earlier than expected, but the 19th Duggar baby is here!

Michelle and Jim Bob Duggar welcomed daughter Josie Brooklyn, weighing 1 lb., 6 oz., at 6:27 p.m. Thursday, at the University of Arkansas for Medical Sciences, Arkansas.

Michelle, who has been in the hospital recovering from a gallstone, was taken to the OR for an emergency C-section. She is resting comfortably and the baby is stable and in the NICU for extended care, a rep for the network tells PEOPLE exclusively.

"The most important thing right now is for mom and baby Josie to get as much rest as possible," reads the statement to PEOPLE. "The family is grateful for all the prayers and well wishes during their recovery."
[From People]
From what I understand Michelle has had only one other c-section in her many pregnancies. I couldn't confirm that with a link, but I remember her saying it on one of the shows I watched and she was a big proponent of VBAC, or vaginal birth after cesarean. She has one set of twins so that could have been the other c-section. The woman should take a hint, though, and stop getting pregnant after this one. (Update: Ana points out that this is Michelle's fourth c-section. I must have seen the show several pregnancies ago.)
I've seen their show and they do seem to be great parents. They're very calm and loving with their kids and they have a whole system down so that everything moves smoothly in their house. You wonder how much they're addicted to having more kids though and if they'll be able to cope without a new addition every year or so. That said, I hope that the baby is fine and that Michelle is ok. 1lb, 6oz is very small but they have excellent neonatal care. Now that the 19th one was born will they change the name of their show?
Update: a lot of you are saying that the baby will face an uphill battle at that tiny size and that it's too early to tell how she will turn out.
Photos courtesy of TLC