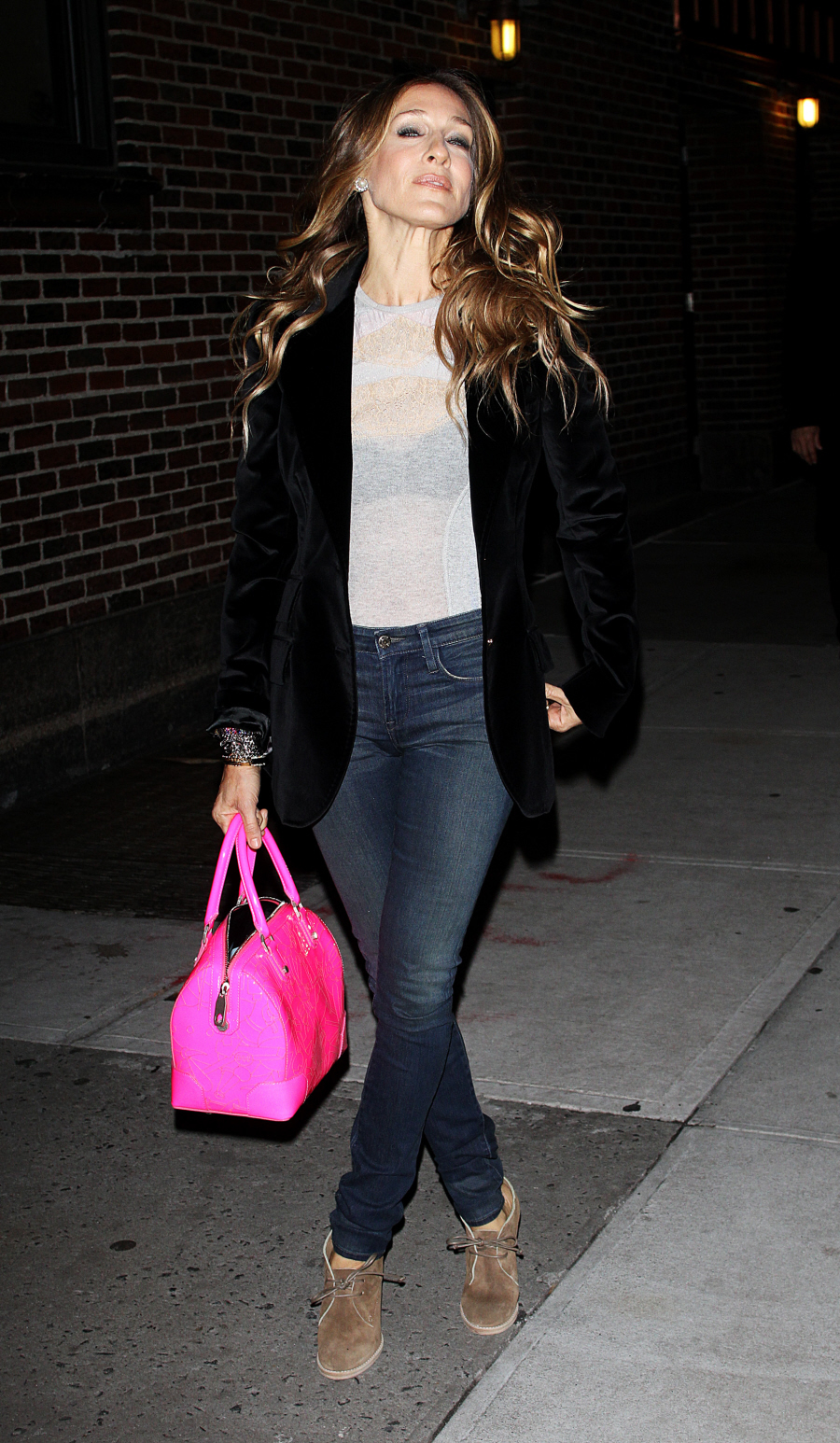 Last night, Sarah Jessica Parker went on The Late Show with David Letterman to promote Did You Hear About the Morgans? Sidenote: every time I type that movie title, I want to shoot someone. It's seriously one of the worst titles of the year. Anyway, SJP and Letterman covered a lot of different bases, and it makes me a little sad that I went to bed at ten p.m. rather than staying up to see this. First up: SJP talked about The Case of the Missing Mole. Her mole, you see, disappeared from this plane of existence at some point in 2008. SJP took the opportunity to admit that, yes, she got that sucked sliced off because she never had "strong feelings" one way or the other about the mole. Here's the video and HuffPo's coverage:
What happened to Sarah Jessica Parker's famous mole? Photos show it disappeared from her chin sometime during the summer of 2008 after she filmed the first 'Sex and the City' movie.

Parker told David Letterman Tuesday night that she had it removed by her plastic surgeon brother-in-law. It was no biggie, she said.

"I didn't have strong feelings," she said. "I didn't object to it. I just didn't care for it. And I had about six free days when I could be bloody and stabbed and no one will care and honestly I didn't think a thing about it and then apparently it turned into mole-gate."

Soon after the procedure, Parker said, a woman approached her on the beach, upset that she had gotten rid of her "signature."

"I was like, 'My mole was my signature? Isn't my brain my signature?'" Parker said. "For about the next 15 minutes I couldn't hear anything because I thought I'd make a terrible mistake. Can they put it back on?"
[From Huffington Post]
SJP also talked about her six-month old baby girls Marion and Tabitha, and how they are not "identical" in any way, with SJP saying "They are physically, intellectually spiritually, geographically, politically, ideologically and religiously as different as two small 6-month olds could be." Ah… cute? Maybe I don't get it, not being a mother. Anyway, SJP also released a truly adorable new photo of the twins on Letterman (below):
Oh, babies: Sarah Jessica Parker says her 6-month-old twin girls "are about as un-identical as twins can be."

On Tuesday's Late Show With David Letterman, she showed off a new photo of Marion and Tabitha, who were born in June with the help of a surrogate mother.

"They are physically, intellectually spiritually, geographically, politically, ideologically and religiously as different as two small 6-month olds could be," Parker, 44, said. She added that her 7-year-old son James Wilkie is taking well to his role as big brother. "He's been very hospitable and he's amused by them occasionally," said Parker, who is wed to actor Matthew Broderick.

Parker couldn't help but gush about her twins Monday at the NYC premiere of her new comedy, Have You Heard About the Morgans?

Asked to name the best thing about having twins, she told Usmagazine.com, "That's an impossible question to answer. You cannot put it into a little sound bite into a tiny tape recorder. It's amazing. It's the most perfectly overwhelming experience."

Soon after the twins were born, Parker began filming Sex and the City 2.

"It's a strain," she told Us of balancing work and motherhood. "But I'm not going to complain. We do the best we can like every other family. You juggle, you organize, you fail, you have triumphs. Most working mothers work much harder than I do and have far less help."

Despite the occasional obstacles, she said she wouldn't change a thing. Motherhood "is a total blessing," she told Us, "and we're thrilled."
[From Us Weekly]
I've noticed something strange about SJP's publicity tour for Morgans – she hasn't mentioned Matthew Broderick once. Of course, they've never been stuck to the idea of attending every red carpet event together and gushing about each other, so it's totally possible there's nothing there. The other possibility is that they're having real problems, and they don't spend any time together, et cetera. I know my theories about it, but I also acknowledge it could be nothing.
New photo of SJP's twins, courtesy of Us Weekly. Additional photos of SJP outside 'The Late Show' in New York on December 15, 2009. Credit: WENN.