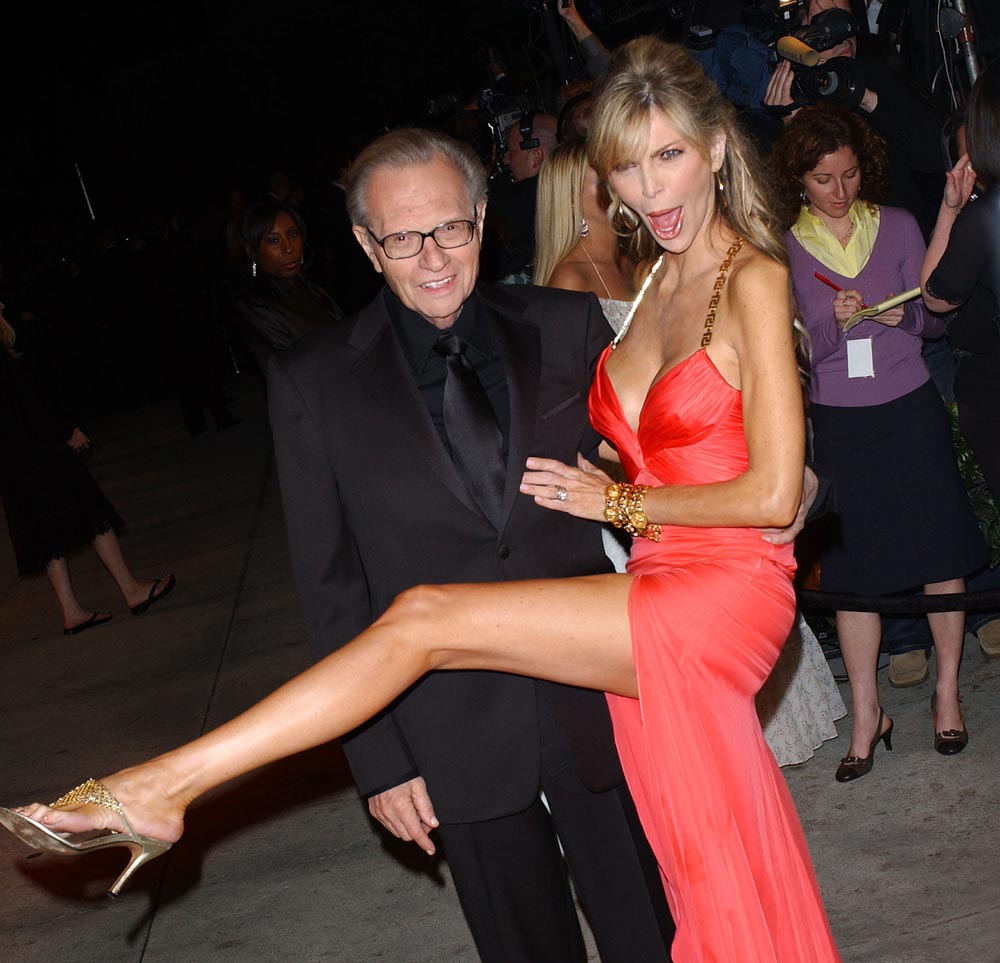 Larry King and his wife, Shawn
There's a lot of juicy gossip about 76 year-old high-waist pants wearing talk show host Larry King, particularly his relationship with his seventh wife, Shawn Southwick, 50. It's Larry King, though, so these stories tend not to get a lot of play. The Enquirer reported late last year that Southwick had a year long affair with her son's baseball coach, a 29 year-old aspiring actor. Around the time of the affair, Southwick went to rehab for an addiction to Vicodin. There were breakup and divorce rumors around that time, but Larry and Shawn stayed together. They have two sons, Chance, 10, and Cannon, 9.
Now the Enquirer has a follow-up that claims that Southwick's affair was revenge for the fact that King was secretly sleeping with her 45 year-old sister. They claim that King was lavishing Shawn's younger sister Shannon with gifts including a car and an all-expenses paid year and a half long stay at the Beverly Hill's Hotel. When Shawn figured out what was going on she flipped out.
Shannon – a voice-over actress and model – claimed she had an affair with Larry, telling a close pal: "I had sex with Larry, and he bought me an expensive car."

The car triggered an explosive confrontation between the two women in early July, sources say.

"To help her sister out, Shawn sold Shannon her Mercedes-Benz at a huge discount," a close friend of Shawn told The Enquirer.

"Just weeks later, Shawn saw Shannon driving a $160,000 car. When Shawn confronted her, Shannon said she'd traded in Shawn's Mercedes and bought the new car with money she'd earned from voice-over work for a movie. When Shawn asked which movie it was, Shannon claimed she couldn't remember."

A suspicious Shawn eventually learned her husband… actually bought the car for Shannon, said her close friend.

"Shawn said she also discovered that Larry had spent $1.5 million to put up Shannon at the swank Beverly Hills Hotel for 18 months," divulged the friend – who passed a polygraph test. "Shawn was furious! She said that she wouldn't have felt so crazy if she'd caught Larry fooling around with a stranger. The fact that he's cheating with her sister has made it so much worse."…

Shannon's story also triggered Shawn's affair with their son's baseball coach… sources say.
[From The National Enquirer, print edition, January 4, 2010]
Don't Larry King and his wife sound perfect for each other? Instead of dumping his cheating ass she got some on the side from the hot baseball coach and went back to him. Maybe she realized that her prenup wouldn't afford her the lifestyle she was accustomed to and she may as well suck it up.
The Enquirer has a photo of Larry out walking in NY with Shawn's sister, Shannon. Shannon is thin and blonde just like her sister and she obviously shares her sister's scruples. I wonder if Shawn and Shannon are able to put aside their differences for the holidays and flash each other fake smiles or if they avoid each other. There's always the alternative – a knock down sister fight. Larry King isn't worth it though. Just take the old guy's money with a shrug and a smile.
Larry King and his wife Shawn are shown at the Vanity Fair Oscar Party on 5/3/06. Credit: AXELLE/BAUER-GRIFFIN.COM. Other photos are of Larry and Shawn on 11/19/09 and 8/10/09. Credit: Fame Pictures