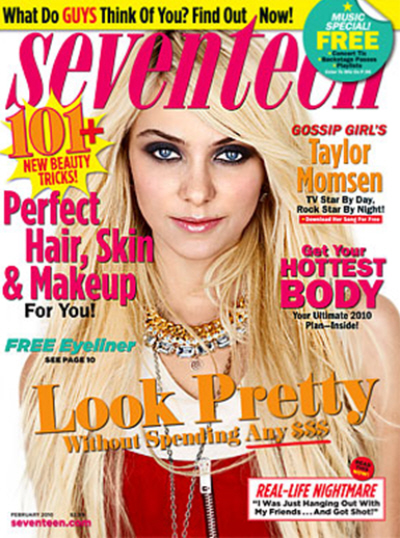 What little I know about 16-year-old Taylor Momsen, I tend to think she's a little brat. She comes across as unprofessional, narcissistic, dumb and wannabe hardcore – basically, a pretty normal 16-year-old. I think the problem might be that no one tells her "no". As in, "No, you can't go out of the house pantless wearing only eye makeup and a garter belt." Anyway, all of this is to say that my opinion of Taylor didn't really change when I read some new excerpts of Taylor's Seventeen cover profile for the February issue. She even name-drops Lindsay Lohan, as if that's supposed to impress us…?
Although 16 year-old Taylor Momsen's edgy, beyond-her-years look makes some onlookers uneasy, the Gossip Girl actress resents any comparisons to another former child star. "I get such a bad rap for being like Lindsay Lohan," Momsen says in the February issue of Seventeen magazine.

Momsen then qualifies her Lohan diss, saying, "I hate naming names because she's really sweet — and I'm really not. I don't go out. I have no desire to be some tabloid party girl. I'm entirely a loner. I have been my entire life."

But the actress, who made her big Hollywood debut in 2000's How the Grinch Stole Christmas, does embrace her reputation as an "angsty" teen. "I'll be angsty until I'm 80 years old," she quips. "I think that keeps things fresh. But I always think angst is such a derogatory word toward teenagers. It just means you're figuring s*** out."

Like Lohan, Momsen has music aspirations, and fronts the punk-rock band The Pretty Reckless. She complains that "people don't really take me seriously" because of her age. But she's a little different than other 16 year-olds, she insists.

"[People] think most 16-year-olds don't know what they want to do. But I actually really do, because I've been thinking about [music] since I was 2."
[From Us Weekly]
Oh, she's so hardcore, isn't she? Little half-dressed brat. That makes me sound like an old fart, doesn't it? In truth, I probably thought and said the same kind of bullsh-t faux-hardcore crap when I was her age or younger. I seem to recall I went through my "angst" phase around the age of 14, not 16. By the age of 16, I had gotten it out of my system and I had a job and a car and wasn't so obsessed with defending my bullsh-t angst. And that, people, is called maturity. When you still have bullsh-t, but you keep it to yourself.
Taylor Momsen's Seventeen cover courtesy of Us Weekly. Addition photos on Seventeen's website.